Abhishek powers Richmond to unlikely win
Text and pix by P.D. de Silva
114TH LOVERS' QUARREL RICHMOND VS MAHINDA
View(s):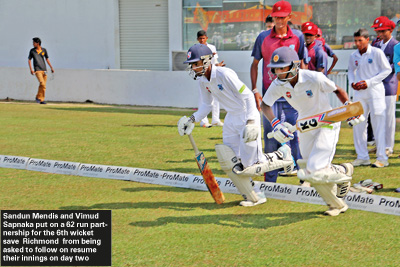 A captain's knock of an unbeaten 99 off 92 deliveries by Thaveesha Abhishek and a run-a-ball 42 by Dilum Sudeera helped Richmond College turn tables on the experienced Mahinda College team and win the 114th Lovers' Quarrel at the Galle International Cricket Stadium yesterday. Chasing a victory target of 215 Richmond cruised to a 6-wicket win three balls to spare.
With eight runs to get in the last over Thaveesha Abhishek hit consecutive  boundaries in the second and third balls  to help his team turn tables on the experienced Mahinda outfit.
Invited to take first lease of the wicket Mahinda were contained to 197 runs by spinners  Sandun Mendis, Dimuth Sandaruwan and Dilum Sudeera, who captured five wickets. Nipun Malinga topped the score card with 44 while opener Kawshitha Kodituwakku chipped in with 36.
Although the Richmond bowlers did their duty, the batting collapsed and the Richmondites were in dire straits on 56/6 when Sandun Mendis and Vimud Sapnaka figured in an unbeaten 33-run partnership to help them avert the follow-on and reach 99/6 at stumps. The duo went on to add 62 runs for the seventh wicket after which the Mahindians' managed to see them back in the pavilion for 144. Left-arm spinner Kushan Madusha captured five wickets and was given the honour of leading the Mahinda team back to the pavillion. It was nine years ago, in 2010, that Mahinda last secured a first innings lead over Richmond.
Mahinda declared their second essay at 161/9 about 25 minutes before tea giving Richmond a victory target of 215 to be scored in minimum of 45 overs. The most experienced player to take the field HansikaWelihinda contributed with 71 and opener Navod Paranavithana with 30 while the rest failed to make an impression in their second essay. Dilum captured four more wickets to end with a match bag of 9/106.
   Mahinda 1st Innings 197 all out in 63.3 overs (Navod Paranavithana 26, Kawshitha Kodituwakku 36, Nipun Malinga 44, Vinura Dulsara 27; Dilum Sudeera 5/49, Sandun Mendis 3/53, DimuthSandaruwan 2/33)
   Richmond 1st Innings 144 all out in 45.2 overs (Adithya Siriwardena 20, Sandun Mendis 36, Vimud Sapnaka 21, Chamath Dilsara 15; Kushan Madusha 5/20, Ashen Kandamby 2/8, Navod Paranavithana 2/21)
Mahinda 2nd Innings
Navod Paranavithana           b Nethsara                                 30
     Kawshitha Kodituwakku         c Adithya b Mendis                        13
 Hansika Welihinda              c Adithya b Nethsara                       71
Vinura Dulsara                  c Amshi b Sudeera                         10
Nipun Malinga                  lbw b Nethsara                            05
Kaweesha Maliyawadu         c Thaveesha  b Sudeera                   01
Ashen Kandamby               run out                                     18
Dhanuja Induwara              c and b Sudeera                           01
Pasan Pethnagoda              not out                                     00
Subhanu Rajapaksha            lbw b Sudeera                             05
Extras                         (2b, 1lb, 4wd)                             07
TOTAL                         (9 wickets declared: 24.3 overs)           161
Fall-of-wickets: 1-25 (Kawshitha), 2-70 (Navod), 3-83 (Vinura), 4-100 (Nipun), 5-107 (Kaweesh), 6-151 (Ashen), 7-154 (Dhanuja), 8-156 (Hansika), 9-161(Subhanu)
Bowling: Sandun Mendis 7-1-38-1, Dilum Sudeera 13.4-0-57-4, Dimuth Sandaruwan 1-0-7-0, Amshi de Silva 4-0-24-0, Kalpa Nethsara 9-0-32-3
Richmond 2nd Innings
Adithya Siriwardena            lbw b Rajapaksa                           26
Vinuja Kiriella                   c Ashen b Madusha                       01
Bhanuka Manohara             b Pethangoda                             40
Thaveesha Abhishek            not out                                     99
Dilum Sudeera                  run out                                     42
Sandun Mendis                 not out                                     02
Extras                                                                     00
TOTAL                         (4 wickets: 44.3 overs)                     215
Fall of Wickets: 1-7 (Kiriella), 2-56 (Siriwardena), 3-81 (Manohara), 4-204 (Sudeera)
Bowling: Nipun Malinga  10.3-2-38-0, Ashen Kandamby 3-1-14-0, Navod Paranavithana 8-1-31-0, Kushan Madusha 12-0-60-1, Subanu Rajapaksa 5-0-13-1, Pasan Pethangoda 6-0-31-0