Appreciations
View(s):

Police officer of the highest calibre who pioneered the PNB

Ramachandra Sunderalingam ("Police Sunda")

Ramachandra Sunderalingam, a Police Officer who was highly respected for his integrity, honesty and impartial execution of law, died in Chennai on December 29, 2018, where he was domiciled with his wife, during the past few years.

It is reported that after a fall at his flat at Mylapore, Chennai, he was treated at a private hospital where he passed away.  A stalwart of the Sri Lanka Police who had brought credit to the Police Department in many fields, his departure in such a manner, was indeed a considerable loss and sad news for the Police Officers of his era who had been subordinate Officers in various Police Stations and branches of the Police Department.

Mr.Sunderalingam joined the Police force as a probationary ASP, having graduated   from the Peradeniya University in 1954.   Whilst at University he was elected President of the University Students Council and President of Jayatilleke Hall, uncontested, which is said to be a rare occurrence and a 'first' in the history of the Peradeniya University.

On completing his initial training at the Katukurunda Police Training School, he went into the field.  He had served in almost all parts of the country from Ambalangoda to Kandy, Jaffna and Colombo. He performed his duties in a professional manner and was accepted by members of all political parties as a fair and just Police Officer. When he was attached to the Kandy District, the Peradeniya University   came under his purview. There was student unrest  and a hartal by the students, where the Police were called in to the campus by  the Vice Chancellor. He, being a past President of the university students, led the team of Police officers and dealt with the unruly students in a tactful manner to restore normalcy.

In the aftermath of the JVP insurrection in 1971, a group of graduates of the Vidyalankara University proceeded by train and motor car to Jaffna in a bid to rescue JVP leader Rohana Wijeweera who was incarcerated in the Jaffna Prison. This group was arrested by the Jaffna Police.  The Police Officers were highly agitated and were raring to attack any member of the JVP.  Mr. Sunderalingam made certain that none of the persons arrested were harassed, but safely locked up in the Hammenheil Prison in the Nainativu area in Kayts. Even Rohana Wijeweera was never harmed or tortured.

Mr. Sunderalingam was considered to be a fair and just officer when dealing with members of the public or Police officers of all ranks. He was a smart Police Officer who used to go into the Jaffna Town on duty riding a horse,  something the Jaffna public had not seen before.

He was transferred to Colombo subsequently and the Department established a unit known as the Colombo Detective Bureau (CDB) under his leadership.  The CDB became well known, solving many unsolved crimes.  Whilst being the head of the CDB, having realized the danger of narcotic drugs which would eventually become a serious problem, he established the Police Narcotics Bureau in 1973.

Though Mr. Sunderalingam was promoted as DIG Crimes and Operations, the subject of narcotics was also under his purview, and the Police Narcotics Bureau which was established as a sub-unit of the CDB, was legally and firmly established due to his untiring efforts and enthusiasm in April 1973. It was his foresight that made the Police Department establish this specialized unit which is continuing the fight against the drug menace which has grown out of proportion.

After retirement, he left for Germany with his family and with the help of Drug Law Enforcement Officers of the German Police, underwent training and worked with them for a few years.  He then joined the Interpol in Lyons, Paris in 1986. With his wide knowledge and experience, he was welcomed into the Drug section and ended up as a Drug Expert of the Interpol. He was assigned  by Interpol  to undertake lectures on Drug Law Enforcement to many drug law enforcement agencies in the Asian region and other countries. He was a regular representative of Interpol at U.N sessions on drug law enforcement. He served Interpol until 2002, until the age of 72 years ,which is said to be a record for an officer.

He was a kind and lovable personality, who won many friends in all the places he served and in Chennai where he spent the last few years. He leaves behind his loving life long partner Yaso and only child Radhakrishnan. He was a devoted and loving husband and caring, guiding father.  All of us who knew him and who served under his command extend our deepest condolences to his wife and son.

Siva patham adainthar

Om shakthi.

B.Anton Jeyanathan
---
A hundred good days: Celebrating and recollecting life with my father
Shibly Aziz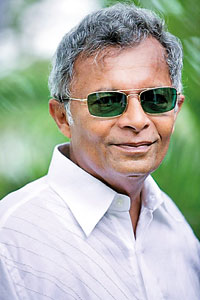 Last year, the news of the passing of Shibly Aziz took many by surprise. Many knew him as a public figure: a distinguished lawyer, a leader of the Muslim community, an Attorney General. I knew him simply as my father.
He was educated at Royal College, the University of Peradeniya, and the University of London. My father was appointed as a Crown Counsel in the Attorney-General's Department in 1969 and worked his way up to being Attorney-General in 1995, patiently, with dignity and respect. His father was a lawyer, his grandfather was a merchant in the Deep South. It still amazes me that he was able to come so far in two generations, and it is a testament to the wonderful supportive nature of his extended family, who have always loved and admired him throughout his life.
He was a man of deep integrity, of values and principles, that he held dear. At the same time, he was tolerant and a pragmatist. He would never judge someone because they had different beliefs to him. Rather, he was content to make his case and agree to disagree amicably if common ground couldn't be found-a quality that is much in need in this day and age.
But he was human. In his younger days, he had a terrific temper-sometimes he would fly into a rage and perform his famous trick of clearing all the plates off the dinner table in one fell swoop. My brother and I learned to eat really fast just in case we were going to lose our dinner too soon. Over the years, the tempestuousness of his youth mellowed into the calm, almost Zen-like approach he took to life where his anger calmed down and he became the genial, benevolent figure many knew. Much of this came from his deep and abiding faith and practice of his religion.
His faith was quiet and deep-it was not the kind that tries to impose itself on others. His was a moderate Islam, tolerant of other faiths, and progressive in its thinking. His devotion to his community was long-standing-the Ahadiya schools which were started by his father flourished and blossomed under his guidance, and have helped hundreds of thousands of children across the country get access to better education.
After leaving the Attorney General's Department, he entered private practice where one of his sacred traditions became the afternoon nap. He would go to courts in the morning, come back and have lunch, and then have a nap until it was time to start his meetings in the afternoon and into the evening. To this day, my idea of success isn't making a lot of money-it's having enough freedom and independence to be able to take a nap in the middle of the workday.
That devotion to self-care, by the way, extended to our family vacations: whenever we went away on holiday, we knew we were doing it properly when we had achieved two naps a day; one after breakfast and one after lunch. He lived life well. He loved going to the sea to swim and taught my brother and me to swim in it every weekend when we lived in Wellawatte.
He loved his food, and nothing made him happier than a good Sri Lankan rice and curry. He loved cracking jokes and had a few favourite ones: 'everything in moderation, even moderation' he would say as he reached for a second helping of lunch.
He loved music, especially jazz and rock and roll — it may surprise many to know that he was a drummer in a rock band in his university days, and still liked to play on a drum kit in our house, while my mother gamely tried to accompany him on the piano. I say gamely, because he unfortunately only knew one beat.
He loved to travel, and he and my mother instilled a deep love of it in me: we were privileged to travel around the world as a family, and it gave me a deep sense of curiosity about this amazing world we live in, and a fearlessness to be able to go anywhere and do anything that I hope to pass onto my own son.
He loved being a grandfather, first to my brother's sons Aiden and Tahir, and then to my own son, Nuri. In fact, as we navigated the difficult adoption process of Nuri, it gave me huge comfort to know that my son's first father figure, was my own father. Nothing made him happier than hanging out with his grandkids, taking them to movies, or just knocking about town. He was a devoted and loving grandpa.
He was the very definition of a patriot: someone who put his country first before himself. And if doing so meant giving up the thing he had worked for, for over 30 years because of his principles and integrity, then he didn't hesitate. I know his resignation as Attorney General after just over a year surprised many: but for him, it was a simple decision. If he couldn't act with integrity and decency in exercising the power of that role then it was not for him. He was a public servant with the emphasis on 'servant' — he understood that the responsibility of a leader is to be of service to the people that he represents and not the other way around — something I think many of our current leaders deserve reminding.
He helped hundreds of people in his life but he never told us about any of them. In fact, one of the things we would love to hear is stories of people that he helped.
He was a gentleman in both senses of the word — a man of honour, and also a man of great gentleness. He took care in his relationships with people to make sure they always felt valued, no matter what their background or views or status. His humility was a lesson to us all, that achievement doesn't necessarily need to be tied to ego; that humbleness and grace he had applied to everyone of every socio-economic class and background and religion and race.
He loved his country, his community, his family and his faith.
I can think of no better role model to have in my life than him.
A while ago I read this article which said that by the time a child graduates from high school he or she has already spent 90% of the time that they're ever going to spend with his parents. This is especially true, if like me, you left home at an early age and moved to another country. This struck me deeply. We were lucky to see my parents a lot of the time, when they visited us wherever we lived, or when we went to Sri Lanka. But I realized last year when my dad had a heart attack again, how precious the time we had left was.
So in the last year of his life, I flew to Sri Lanka for no other reason than to just be with him. We went on a boys' weekend down South, where all we did was eat, sleep and yes, have two naps a day…and have long conversations into the night.
In retrospect, I am so glad that I did that and was able to see him in good spirits…and be there for him when his health started failing rapidly after that. He had five heart attacks and a brain tumour in three months. He was 75 years old and he had lived a good life. It was time for him to go. We were lucky that his illness didn't drag on for years, and that his decline was mercifully swift. Lucky that he passed away peacefully in his sleep in the early hours of the morning, with his son (my brother Dr. Aadhil Aziz, who did a heroic job looking after him in his decline) close by his side.
It was, as the Romans say, a good death.
I realized that if you have parents who are older, and you don't live in the same place as they do, then you have perhaps one hundred good days left to spend with each other. So if you take anything from this, it is this: use those one hundred days wisely. Make sure you use those days to enjoy each other's company, to spend time travelling, or eating, or whatever it is that makes you happy.
Time is more important than money. Experiences are more important than things. And therefore time spent on experiences doing things you love, with the people you love, are the most important of all.
One hundred good days. That's all most of us have.
Make sure you use them well.
Afdhel Aziz
---
She transmitted her joy of life to others
Areenie Ratwatte Pethiyagoda
It's almost three months since the sudden death of Areenie Ratwatte Pethiyagoda but those who knew her haven't yet reconciled themselves to the fact she is no more.  Her husband Dilip Pethiyagoda and her sister Lilamani Sirimanne and family mourn her deeply.
Areenie Upendra Ratwatte was the younger daughter of A.C.L. Ratwatte, one-time Mayor of Kandy and then High Commissioner for Ceylon/Sri Lanka in Ghana and subsequently in Malaysia. Areenie and Lilamani schooled at the Good Shepherd Convent, Kandy, and then moved to Mahamaya College, co-founded by an ancestor – Chitravo Ratwatte. Areenie took to teaching in Ghana having undergone teacher training in Accra.
Returning to Sri Lanka from Malaysia, she joined the teaching faculty of Trinity College Kandy Kindergarten. After marriage too she continued teaching at TCK and much later at Gateway International School and CIS Kandy, counting 40 years with school kids. She was particularly loved at Trinity; not surprising being very pretty, youthful and lively.  Many were those holding high posts in the public and private sectors she had cared for as very young KG children who recognised her  and expressed gratitude. Dilip said that when they stayed over in a local hotel there would invariably be a Trinitian among the staff and hence a warmer welcome and special service.
Areenie and Dilip settled down to married life in Areenie's parental home along the scenic Cuda Ratwatte Mawatha between Kandy and Katugastota. They lived a full, truly happy life of perfect companionship, sharing a love of travel which they indulged in, visiting many countries and travelling around Sri Lanka. They were also film buffs and avid readers. Areenie was a member of a foreign ladies' book club in Kandy and then formed her own club where women would meet often to informally discuss books they had read and lend each other newly bought books.
She made a name for herself in the art of Ikebana exhibiting both in Kandy and Colombo. She was also interested in needlecraft. She was keen on social service and thus the service given the community as a member of the Inner Wheel Club of Kandy, which she served as President for a period of time.
Areenie was beautiful with a perfect complexion. But her beauty was definitely more than skin deep; much deeper. Her bubbly, happy personality shone through and anyone who met her felt she was good to be with. There was immense humanity in her, never even a trace of the negative. She was happy with herself and happy with others. We relatives would tell each other: "Yes, Dilip and Areenie visited and they laughed the roof down." Such was their joy in life complemented by their strong togetherness.
The news of her passing away was a shock to many. Areenie had been ill for a short while with heart trouble. She underwent a successful surgery in Singapore and was at home returning to normal routines rapidly. A fortnight after surgery, on January 3, she celebrated her birthday with a special breakfast attended by her nephew and grand niece. Her sister missed this birthday, being overseas. That evening she had another party with a few people where she joyfully cut and shared her birthday cake. Early next morning Dilip found her ill and transferred her promptly to the Kandy General Hospital, where she passed away the same day.
We mourn Areenie's death as it came too soon to her, leaving her husband and family members devastated.   We say goodbye lovely Areenie with sadness, but with appreciation to her for showing us how a woman could live happy and give of herself to others. The tapestries and flower arrangements she created spread beauty and also transmitted her joy in life.
Nanda  P. Wanasundera