No SLPP backing for Sirisena as presidential candidate
By Our Political Editor
View(s):
JO parties will form their own alliance under a new constitution 
Mahinda Rajapaksa will convey decision to President Sirisena
SLPP feels Sirisena may not win a presidential poll
New developments worsen SLFP's dilemma
The prospects for President Maithripala Sirisena to become the joint candidate of the Sri Lanka Freedom Party (SLFP) and the Sri Lanka Podujana Peramuna (SLPP) at this year's presidential elections have faded.
Even the chance that existed for a tie-up of the two sides in an electoral alliance evaporated this week. Ironic enough, that was even before President Sirisena and his predecessor Mahinda Rajapaksa, the de facto  leader of the SLPP were set to meet and discuss issues. This was to be a precursor to the two sides forming an alliance. Thereafter, the other smaller political parties were to join the two formidable players. President Sirisena's own conduct appears to have disqualified him.
Last Monday, the 'Joint Opposition' constituent partners decided that they should resurrect their earlier plans for a new alliance among themselves. These plans were put on hold after October 26 last year, when President Sirisena swore-in Mahinda Rajapaksa as Prime Minister. He held office only for 52 days, until the Supreme Court refused to quash an Appeal Court interim order suspending the Prime Minister, his Cabinet, deputies and state ministers from functioning in office. A seven-judge Supreme Court bench also held that the move to hold parliamentary elections was unconstitutional.
Put on hold at that time was another exercise. A technical committee headed by onetime Minister Dullas Allahapperuma to formulate a constitution for an SLPP-led alliance with partners in the 'Joint Opposition'. It was decided on Monday that this draft alliance constitution, almost complete, should now be quickly examined by a three-member committee. It is headed by SLPP nominal leader G.L. Peiris and includes Dinesh Gunawardena, leader of the Mahajana Eksath Peramuna, and Basil Rajapaksa, the national organiser cum architect of the SLPP.
Once finalised, it is to be signed by the leaders of the SLPP, the Mahajana Eksath Peramuna (MEP), the Lanka Sama Samaja Party (LSSP), the Communist Party (CP), the Pivithuru Hela Urumaya (PHU), the National Freedom Front (NFF), the Sri Lanka Mahajana Pakshaya (SLMP), the United Left Front (ULF), the Desha Vimukthi Janatha Peramuna (DVJP) and the Eelam People's Democratic Party (EPDP). Party leaders on Monday also decided to invite other smaller parties like former Minister M.L.M. Athaullah's National Congress, the People's Servant Party (SLP), formed by the late JVP leader Somawansa Amerasinghe and the Eksath Lanka Maha Sabha (ELMS).
A new name, to be agreed upon, will replace their 'Joint Opposition' identity. Thereafter, any other party willing to join the proposed alliance will have to make requests individually to the leadership. This shuts the door for President Sirisena and the now emaciated SLFP. If the SLFP wants to join, it would have to first make a formal request and thereafter abide by the terms to be spelt out in the alliance constitution. That would mean no request to become a joint presidential candidate is to be entertained.  There is also the question of how many SLFPers would join.
Sirisena-Rajapaksa talks
During the shortlived political honeymoon with Mahinda Rajapaksa as his Prime Minister, the President and the SLPP were engaged in talks for a common alliance. They even reached consensus on a name — Sri Lanka Podujana Nidhas Peramuna — a blend of  letters of the SLFP and the SLPP. Though it weighed seemingly in favour of the SLPP as a party, there was acceptance. However, sharp differences arose over the symbol the proposed alliance would use. The SLFP sought its own hand symbol whilist the SLPP wanted to have the Betel leaf – the symbol used by the SLFP-led United People's Freedom Alliance (UPFA). This was when political broker S.B. Dissanayake came up with a new suggestion — they use the Vee Muttiya or a pot of harvested paddy.
These talks ended inconclusively when then Premier Rajapaksa relinquished office after the Supreme Court ruling. By then, a section of parliamentarians within the SLFP, incensed by moves to join hands with the SLPP, established back channel connections with the United National Party (UNP) leadership. That détente grew and emboldened a weakened UNP.
Monday's decision has come as a dilemma for de facto SLPP leader Mahinda Rajapaksa. He and President Sirisena have maintained more than a cordial relationship after the political honeymoon that lasted 52 days.  Neither spoke against each other on public platforms. Though Sirisena did not attend Rajapaksa's younger son Rohitha's wedding in their ancestral home in Medamulana due to his trip to Singapore, he turned up at St Mary's Church in Bambalapitiya for a religious ceremony connected to the marriage. A Hindu ceremony was also held later.
Though they spoke on more informal matters during the church meeting, Rajapaksa has still not broached the subject of a common front with President Sirisena. One fear, it appears for him, is that he (Rajapaksa) would leave behind a wrong impression. It was over an SLFP argument that if he wanted to, he could have made Sirisena the joint candidate. This is by bringing his influence to bear on other 'JO' partners, a few of whom are in favour of Sirisena. This includes Wimal Weerawansa's NFF.
However, other than last Monday's decision by party leaders, the pressure on Mahinda Rajapaksa has weighed heavily against President Sirisena. So much so, ther are concerns over the wisdom of Rajapaksa taking the responsibility. A majority of parliamentarians, provincial councillors, SLPP stalwarts, party activists, analysts and even some UNPers have made strong points to support their claims to Rajapaksa, according to a highly placed source who did not wish to to be identified. And, that is where Rajapaksa's remarks made to the Sunday Times (Political Commentary) recently become relevant. He declared that his party wanted to select "a winner as a presidential candidate." Even if their move has still not been conveyed to President Sirisena, It has become inevitable that Rajapaksa does so within the coming weeks.
However unlikely it may seem, President Sirisena secured Cabinet approval last Tuesday for the conduct of Provincial Council (PC) elections before May 31 this year. UNF Ministers voted in favour of Sirisena's memorandum, though there still remains a serious doubt an election will be held. The UNP, despite many strong public assertions by its leader Ranil Wickremesinghe last year, has not been able to conduct PC polls. The question is whether the party will be in favour of the move now. Firstly, even before Sirisena presented that memorandum, a similar one was presented to ministers and approved last year. It came from Faiszer Musthapha, then Minister of Provincial Councils and Local Government. Like his, Sirisena's memorandum also stipulates the provision of 25% of the PC seats being reserved for female members. Provisions in the PC election laws would have to be amended for this purpose as well as to define the electoral system.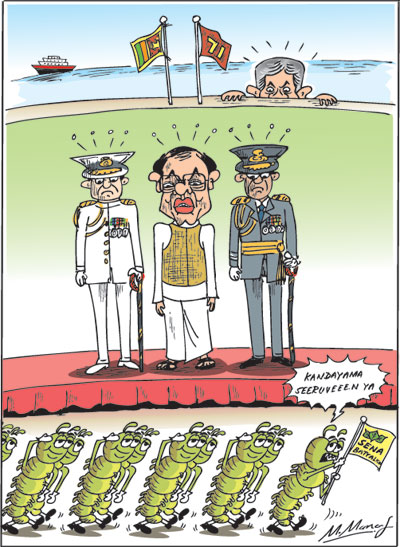 The critical question here, despite UNF ministers voting for the amendment is, whether they would still be in favour of conducting PC elections first. There is a potential threat for the UNF. Like at February last year's local council elections, a defeat would be devastating. Thus, a defeat at PC polls this year could come as a severe, debilitating setback. Besides this, UNF leader Wickremesinghe, who is lining himself as the party's presidential candidate will also face serious challenges in obtaining nomination. How the UNF could now avoid PC polls remains an important question, one on which its future political course hinges. Thus, it seems apparent that the UNF is aiming for a presidential election first, not even a parliamentary election for the same reason.
Problems with Sirisena
President Sirisena's protagonists argue that his move to go for PC elections was with the knowledge that prospects for the UNP would be dimmer. Hence, they claim that an SLPP victory would be a further step for an SLFP tie-up. At least formally, he is still unaware that his SLFP's equations with the SLPP has changed in the light of the decision on Monday. Though the SLPP is clamouring for PC polls early, its mood is one of not being appeased by the SLFP. With the SLPP's decision now to go it alone with its own alliance, President Sirisena inevitably has found himself isolated. The same source identified some key points the SLPP and its partners have endorsed from the representations received. They have been acknowledged by Mahinda Rajapaksa. Though not in the same order, among them are:
=  They strongly believe Sirisena will not be able to win this year's presidential election. Their own surveys and feedbacks from grassroots level organisations have contributed heavily to this belief.
=  Whether they could have trust and confidence in President Sirisena in view of his unilateral decisions on various matters, including appoitments both locally and overseas. He had not maintaned a dialoge between the two sides and not extended the courtesy of consulting them despite their 52-day close relationship. Neither have their nominees to one or two  top positions been considered. (It is noteworthy to mention one such instance – the recommendation to appoint Justice Eva Wanasundera as Chief Justice, before she retired as a SC judge. The SLPP believed Sirisena said he would do so. When NFF leader Wimal Weerawansa queried Sirisena why this was not done, he had replied that he had recommended her name not once but twice to the Constitutional Council. Weerawansa raised issue in Parliament. Speaker Karu Jayasuriya responding to him declared that he had not received any such recommendation).
=  Fears that Sirisena is promoting UNP Deputy Leader Sajith Premadasa and sections of the UNP. This is after he heaped praise on Premadasa at various public platforms. Within the SLPP, suspicions have arisen that he may be promoting a faction of the UNP to back Premadasa and there has been not even an informal explanation to SLPP leaders to obviate any suspicion. This was particularly so since he was seeking not only an alliance but wished to be the common presidential candidate.
=  Whether Sirisena would renege on assurances he would give to the SLPP when an alliance is formed. There is fear that the SLPP has no recourse available during such occasions.
=  They place the blame on President Sirisena for events, particularly the weeks before and the weeks after October 26.  He has failed in his judgement as President on such matters. (Note: President Sirisena in turn has blamed the SLPP for not being able to muster required numbers in Parliament. The SLFP, however, blamed it on S.B. Dissanayake who undertook the assignment. Dissanayake failed to muster the numbers as promised. Since then, his attempts have become public in the form of recorded telephone conversations).
=  Advice by a UNPer that what happened to their Prime Minister could well happen to a Premier who would emerge from the proposed alliance. In such an event, there were no safeguards until constitutional changes are effected. This issue in fact is one of credibility and trust.
=  Other than Sirisena, how many other SLFPers will he be able to bring along to the proposed common alliance? The SLPP and 'JO' leadership believe that it is not a substantial number. Hence, they believe he would not be able to make a significant impact at an election and fear Sirisena would be a liability.
The source explained that the previous dialogue with the SLFP got underway only when Sirisena was President and Rajapaksa was Prime Minister. "He summoned us and we went there. He called for parliamentary elections and we began talking about an alliance. However, the Supreme Court ruling put paid to it." The source added, "we are now in the Opposition. For many reasons, we have been left to decide on our own future. We have naturally taken into consideration all the reccent developments."
These events make clear that former Defence Secretary Gotabaya Rajapaksa is emerging as the front runner as the proposed alliance's candidate at the presidential election. Though earlier reports spoke of his having renounced – or moved to renounce, his US citizenship, the Sunday Times learns that he had not done so. He is confident he could do so within five to six days if he is chosen as the presidential candidate. In his own way, Gotabaya Rajapaksa has been making campaign preparations and different professional groups have rallied round him. So have groups from the Buddhist clergy. Remarks earlier by his brother Chamal Rajapaksa, a former Speaker, that he, too, was on the line to contest, it appears, came in a move to appease President Sirisena. The message was that no decision has yet been made. That was at a time when Sirisena was still seeking SLPP backing.
Adding to the decision by the SLPP and its allies to go it alone and subject Sirisena to abide by their conditions if he wished to be on board, were supporting statistics provided by Basil Rajapaksa, the key ideologue of the SLPP. He has made a compelling statistical presentation of recent polls performance. One among a string of examples makes the point. He noted that Maithripala Sirisena won 6.2 million votes and Mahinda Rajapaksa 5.8 million votes at the January 2015 presidential elections. However, at the August 2015 parliamentary elections  where the two of them got together and contested under the Betel leaf (Bulath Koley), the vote for them jointly dropped to 4.8 million. He has opined that the SLFP votes did not split but it was Sirisena's votes that lessened by one million. Giving an electorate by electorate statistical comparison, he had demonstrated the gains made by the SLPP and made the point that SLFP votes did not contribute in large measure.
Bad news from Rajapaksa (which Sirisena is yet to formally hear) and the crisis within his own party will no doubt set a serious poser for him. With no backing from the SLPP or its allies, Sirisena is left with a debilitated SLFP. True, the SLFP has decided that Sirisena will be its presidential candidate. This decision coupled together with moves for a common front with SLPP and its allies, it was believed, would be a formidable tieup at the presidential election.
However, the SLFP is engulfed in a crisis of its own. At least a part of the SLFP parliamentarians now supporting Sirisena want to join the UNF, either as SLFPers or as independents. They want Sirisena's permission. Next week, they will seek a meeeting with him to place their request. The number has dwindled from 18 after some were appointed District Organisers. Present estimates place at eight the SLFPers wanting Sirisena's permission to leave. It is only with nine months before preparations for a presidential election to begin that Siriena has named Dayasiri Jayasekera, a newcomer once with the UNP, to re-organise the party. There is little or no signs of support at the grassroots level and Jayasekera is spending most of his time giving news conferences on extraneous issues.
National Govt.
Even without a response from dissident SLFPers to join their ranks, UNF Minister and House Leader Lakshman Kiriella on Friday gave notice of a motion the UNF would move in Parliament. It read:
"Whereas the United National Party being the Party with largest membership in Parliament is in the process of forming a National Government, Parliament determines in terms of Article 46(4) of the Constitution of the Democratic Socialist Republic of Sri Lanka that the number of Ministers in the Cabinet of Ministers shall not exceed 48 and the number of Ministers who are not Cabinet Ministers and the number of Deputy Ministers shall not exceed 45."
The UNF wished to form a "national government." It is to be called the Democratic National Front (DNF) to conform to constitutional provisions to enlarge the Cabinet of Ministers to 48. In a rather unusual way, the UNF wants to form an alliance with the only Sri Lanka Muslim Congress (SLMC) parliamentarian, Ali Zahir Mowlana. All other SLMC parliamentarians including its leader Rauff Hakeem contested under the UNP and its elephant symbol. Whether such an effort would conform to constitutional requirements and will be allowed by Speaker Karu Jayasuriya remains to be seen.
This is how the Sunday Times (Political Commentary) reported it on December 16: " ….Since Sirisena has prohibited a formal SLFP-UNP tie-up, a case is being made for a "national government" by the UNP seeking to form an unusual alliance –- one with the Sri Lanka Muslim Congress (SLMC) parliamentarian Ali Zahir Mowlana. Earlier, he was on the verge of being sworn in as Deputy Minister of Health by President Sirisena. Whilst all other SLMC members have contested under the UNP ticket, it is only Mowlana who was a candidate from the SLMC in the east. Thus, funny enough, the UNP alliance under consideration will be with the SLMC through Mowlana and that is to be called a "national government" — a requirement in terms of 19 A to expand the Cabinet of Ministers. It's virtually an exercise to provide more jobs for the boys…."
There is a tragic irony in this move. As reported, this was considered by the UNP leadership as far back as last December and the party dropped the idea largely on the grounds that it would be unethical. Ali Zahir Mowlana, the man with whom the UNF wants to form a "National Government" now serves as State Minister of Social Empowerment. In other words, he is very much with the UNF government now.
This UNF move is in disregard to the country's interests. It was none other than UNF leader and Prime Minister Ranil Wickremesinghe who declared publicly that there was a loss of more than fifty billion rupees due to the 52-day-long political turmoil. Others in his party have acknowledged that the economy is  facing a serious downturn. At a moment like this, the prudence of Premier Wickremesinghe and his UNF leaders to form a "National Government" raises a number of issues. Main among them is the use of taxpayers' money for perks and privileges to more ministers. This is when a new breed, Non Cabinet rank are being appointed.  Funny enough, for one Minister there is also a non-Cabinet rank one, a Deputy Minister and a State Minister. None of them has offered to work without perks and privileges. Thus, the priority for the UNF, it is clear, is to first look after the comfort and welfare of its supporters. Turning the economy around comes only thereafter. That the UNF is blunt enough to go ahead during a presidential election year speaks of its insensitivity for public opinion. No one seems to be concerned.
There is a more serious dilemma for President Sirisena. Perhaps energised by the hope that he would be the SLFP-SLPP joint presidential candidate, he launched a major anti-corruption drive. At the crosshairs were UNP leaders. A detailed probe into the dealings of two senior UNP ministers is now under way. The Sunday Times has learnt that substantial material over alleged misdemeanours has so far been unearthed. In one case, there are serious allegations over proposed investments in Sri Lanka. One probe extended to China where the prospective investor had claimed that funds were to be moved to Sri Lanka at a politician's request.
Mahendran dossier
Last week, President Sirisena, contrary to denials, handed over to Singapore authorities a dossier on actions of former Central Bank Govneror Arjuna Mahendran, over the Central Bank bond scandal. An uncorrected typographical error in one sentence of this column referred to it as the "bomb" scandal. Though much more explosive than a bomb, Mahendran's alleged involvement led to enormous damage to the country's economy. During the one-on-one segment of talks with Singapore Prime Minister, Lee Hsieng Loong, Sirisena did raise the Mahendran issue and referred to the dossier.
The only response he had was that the matter would be examined and they would respond – a diplomatic way of dodging the issue. It is largely on the grounds that legal procedures are yet to be followed. As reported last week, the Singapore leaders have been made to believe that the search for Mahendran was a witch hunt by President Sirisena for "political reasons." Last week, the Presidential Media Division denied he was raising the Mahendran issue. So did the acting SLFP General Secretary, Dayasiri Jayasekera who has been speaking of a non existent American miliatary base in 36,000 acres of land in Trincomalee. Quite apart from anything else, if one were to take his claim as true, he was only casting aspersions on the leader of his own SLFP, President Maithripala Sirisena. He is the Minister of Defence and Commander-in-Chief of the Armed Forces.
On top of that, Sirisena has also appointed a Presidential Commission of Inquiry to probe a string of irregularities including bribery, corruption, criminal breach of trust, abuse or misuse of power among other matters. The five-member Commission led by retired Supreme Court Judge Upali Abeyrathne is now making arrangements to conduct public sittings after calling for representations.
This brings one to the most pertinent question – With no SLFP ministers in the cabinet and threats of more members deserting ranks, with no support from the SLPP and politically isolated, how would President Sirisena give effect to the findings. This is not only of the Commission which has been called upon to submit a report, first within three months and the final one in six months. If he wanted to put the UNP leadership on the mat, it seems a tragic irony that he is being thrust on it by political developments. That is not to say the four-year rule of the UNP government has remained lily white with no corruption or bribery. They have crossed the breasting tape when compared to what happened in the Rajapaksa administration.
Ahead of the 2015 presidential and parliamentary elections, the UNP's oft-repeated public pledges were to bring to book those in the previous administration. Some of the UNPers at the highest levels felt investigating such matters and taking punitive action would only strengthen President Sirisena's hand. So they not only went slow but a minister weilding personal influence intervened to soft pedal investigations and even helped those facing investigations. This is all in the name of good governance. As a result of this, there is only one breed – some very corrupt Police officials – who benefitted and became filthily rich. Believe it or not, some are millionaires. Tragic enough, the two sides continue to woo them.
President Sirisena, vowed to take a sword in his hand, to fight bribery and corruption. He has taken over the Police Department and launched a campaign where the findings are designed to end at the doorsteps of the UNP leadership. Whether he will succeed in nine months what he failed to do in the past four years is one thing. The other is whether his stepped up exercise will lead to more investigators becoming rich by both probing as well as by sharing what they have found out with the targets. The fact that successive governments have been totally blind to this reality is, to say the least, highly outrageous.
This week's political developments, unbelievable but true, have politically isolated President Sirisena. His former ally, the UNP-led UNF is no more friendly. The only form of protest he could direct at one time partner in governance is to ask acting SLFP General Secretary Jayasekera to raise issue at news conferences. The latter had a news conference this week to criticise Finance Minister Mangala Samaraweera. The honeymoon with the SLPP, which later became an estranged marriage, is now no more. Those within his own SLFP are now deserting him. Though some blame it on President Sirisena's advisors, others claim he does not listen to advice and often takes decisions without looking at the pros and cons.
Challenges before Ranil
This is not to say all this has come as New Year bonus for Premier Ranil Wickremesinghe. For different reasons, he also finds himself facing a number of political challenges. In the party, there are sections who say they would need a new presidential candidate. Hence, his priority is to please as many parliamentarians as possible and garner their support. There are also complaints within the party that some of his closest ministers did not play fair by him and engaged in humonguous corruption. There were others who continuously received priority treatment. The economy is in bad shape and the UNP is being accused of not ensuring a turnaround. The cost of living has skyrocketed and the rupee, vis-à-vis the dollar, has dropped to historic levels angering in particular the private sector.  This has seen a spike in prices of consumer goods.
Thus, both President Sirisena and Premier Wickremesinghe face challenges. Paradoxical enough, both have created most of the issues for themselves and are now fighting to resolve them. Can they do it in the next nine months?