So close yet so far
View(s):
Epic Thisara Perera heroics in vain as New Zealand clinch series
Equals Sanath Jayasuriya's best knock in ODI's in Kiwi land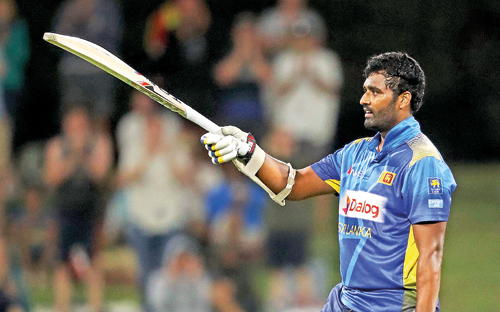 A rollicking maiden century by Sri Lanka's Thisara Perera was ultimately in vain as New Zealand wrapped up the one-day series with a 21-run victory in the second ODI at Mount Maunganui.
With Sri Lanka chasing New Zealand's 319 for seven, they were on the ropes at 128 for seven when Perera opened up.
He faced 74 deliveries and cracked 13 sixes and eight fours before he was the last wicket to fall and Sri Lanka were out for 298 with 22 balls remaining.
Sri Lanka reached 112 for two when Ish Sodhi captured the wicket of Kusal Mendis for 20 to trigger a collapse which saw five wickets fall in six overs.
But Perera refused to give up as he bludgeoned the New Zealand attack with brute force. He made 58 in a 75-run stand with Lasith Malinga for the eighth wicket, and scored 45 of the 51 runs for the ninth wicket with Lakshan Sandakan.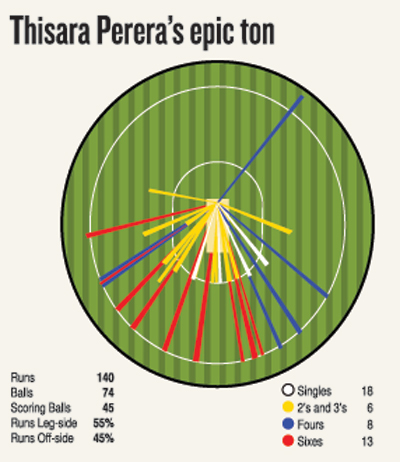 But when an seemingly impossible victory seemed on the cards Matt Henry had Perera caught by Trent Boult at long-on.
Opener Danushka Gunathilaka played his part at the top of the order with 71 but elsewhere the Sri Lankan batsmen failed to fire.
It continued a dismal tour for Sri Lanka who also lost the Test series 1-0 and lost the first ODI by 45 runs. When New Zealand won the toss and elected to bat, Sri Lanka had their tails up when they removed first-match centurion Martin Guptill and Kane Williamson cheaply to have New Zealand at 39 for two. But Ross Taylor (90)and Colin Munro (87) swung momentum New Zealand's way with a 112-run stand for the third wicket, while all-rounder James Neesham lit up the tail with a whirlwind 64.
Lasith Malinga was the pick of Sri Lankan bowlers with two for 45 while bowling for New Zealand Sodhi took three for 55. The final match in the series is in Nelson next Tuesday and the tour closes with a Twenty 20 match in Auckland on Friday.
 Results
New Zealand
M. Guptill c Dickwella b Malinga 13
C. Munro run out (K.Perera/Sandakan) 87
K. Williamson c Sandakan b Pradeep 1
R. Taylor run out (Sandakan/Dickwella) 90
H. Nicholls c Dickwella b Malinga 32
J. Neesham run out (Pradeep) 64
T. Seifert run out (T.Perera) 22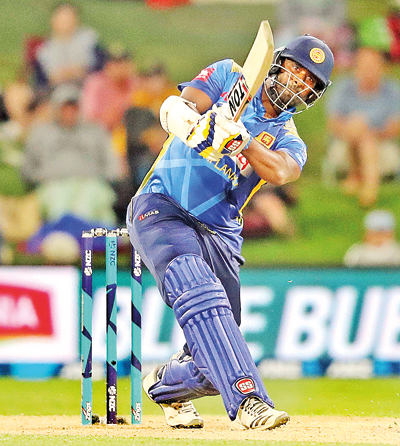 T. Southee not out 1
Extras: (b 4, lb 2, wd 3) 9
Total: (for 7 wickets; 50 overs) 319
Fall of wickets: 1-34 (Guptill), 2-39 (Williamson), 3-151 (Munro), 4-208 (Nicholls), 5-262 (Taylor), 6-302 (Neesham), 7-319 (Siefert)
Bowling: Malinga 10-0-45-2, Pradeep 9-0-59-1, Gunathilaka 1-0-10-0, T. Perera 7-0-69-0 (2w), Sandakan 10-0-56-0 (1w), Prasanna 5-0-34-0, Gunaratne 8-0-40-0
Sri Lanka
N. Dickwella b Southee 9
D. Gunathilaka c Seifert b Neesham 71
K. Perera c Boult b Henry 4
K. Mendis c Seifert b Sodhi 20
D. Chandimal b Sodhi 3
D. Gunaratne run out (Neesham/Siefert) 6
T. Perera c Boult b Henry 140
S. Prasanna b Sodhi 0
L. Malinga b Boult 17
L. Sandakan c Taylor b Neesham 6
N. Pradeep not out 3
Extras: (lb 6, wd 13) 19
Total: (all out; 46.2 overs) 298
Fall of wickets: 1-28 (Dickwella), 2-63 (K. Perera), 3-112 (Mendis), 4-116 (Gunathilaka), 5-121 (Chandimal), 6-128 (Gunaratne), 7-128 (Prasanna), 8-203 (Malinga), 9-254 (Sandakan), 10-298 (T. Perera)
Bowling: Boult 10-1-61-1 (3w), Southee 8-0-68-1 (4w), Henry 9.2-1-52-2 (2w), Williamson 2-0-8-0, Sodhi 10-1-55-3 (2w), Neesham 7-0-48-2 (2w)
Rifts between players in the cricket team
A serious rift has emerged in the Sri Lankan national cricket team that is currently playing in New Zealand with centurion Thisara Perera openly criticising a senior player and his wife for having made demoralising comments about him on social media.
"Just let me do my work peacefully please," he said on his verified Twitter account, along with a screenshot of a longer status update he had posted in Sinhala on his Facebook page in response to snide comments made by the said cricketer's wife.
"I kindly request the husband and wife couple that is trying to sling mud at me through gossip sites and Facebook not to involve my job in any personal grievance they might have with me," Perera's Facebook post said. "I am who I am and I don't have to go after anybody to secure my place in the side as my performance in 2018 speaks for itself."
"If you have any allegations against me, please come out with evidence," he continues. "It would be easy for us if the wives minded their own business."
The unpleasant exchange started on December 21 when the said cricketer's wife shared a meme on Facebook clearly targeted at Perera which implied in Sinhala that Perera, dressed in a "cheethaya" had ingratiatingly gone to Harin Fernando's house soon after he took oaths as Sports Minister. "Lajjai ney", it said.
In response to that, Perera's had shared a meme on her Facebook page saying that a fox will never become a lion even if it dresses itself in a lion skin. "When the fox opens its mouth, it's still a fox," it said.
A few days ago, former Sri Lanka Cricket President publicly criticised the appointment of Lasith Malinga as skipper, predicting that it would divide the team.