New Minister, old strategy
By Champika Fernando
Sports Minister to convince ICC to buy more time before cricket election
View(s):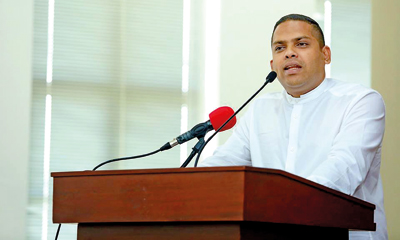 Despite dates being fixed for the long-overdue cricket election, the new sports minister wants to go for an interim arrangement instead of a poll. However, he will be hard pressed to convince the International Cricket Council (ICC) to agree.
The ICC in August extended a December 31 deadline to hold fresh elections, agreeing to have them on February 9 next year after former Sports Minister Faiszer Musthapha and his entourage begged for time to sort out issues. But now Harin Fernando, the new Minister, hopes to meet ICC Chairman Shashank Manohar this week in Dubai, where the global watchdog body is headquartered, or in India, where he lives. The Minister confirmed to the Sunday Times that he is yet to get an appointment.
If the ICC accepts Mr Fernando's request, an interim committee will be appointed under Roshan Mahanama for a specified period of time. Asked whether Mahanama–a former cricketer with an unblemished record on and off the field–has agreed to take up the position, he said, "Yes on principal".
Legal experts believe, however, that it is prudent to study the law first and only then approach the ICC, provided strong grounds are found to postpone the election.
"If not it may lead to another court case," said one. "We will have to give them strong reasons for why we need to postpone the scheduled elections. They gave time after the last Minister explained to the ICC that time was required to amend the Sports Regulations, especially to introduce an Independent Elections Committee. The ICC agreed after considering these matters. So we need a strong case to justify our action."
The election, initially due on May 31 this year, was postponed on a court order. With the term of the then administration headed by Thilanga Sumathipala ending on the same day, the Sports Minister appointed his top ministry official Kamal Padmasiri as the Competent Authority despite appeals from various quarters to install an interim committee.
Soon after assuming duties at the Reid Avenue plush ministry premises, Minister Fernando vowed to clean the proverbial Augean stable. And that he preferred an interim administration to run affairs till the election.
The SLC's voting structure has long been seen as corrupt with allegations of vote-buying by businessmen to win office in the country's richest sporting body.
Even though Thilanga Sumathipala has withdrawn from the race, he backs the candidature of Mohan de Silva–a Vice President of the previous democratically-elected committee. Along with de Silva, businessman Jayantha Dharmadasa (who has no first class cricket experience, a mandatory requirement under the Sports Law), K. Mathivanan, a respected cricket administrator, and Shammi Silva have decided to throw their hat for the top post.