Bringing on the Christmas spirit with 'Silver Bells'
By Joshua Surendraraj
View(s):
It's that time of the year again, where the familiar sound of Christmas carols resonate all around you. The stockings go up, along with the tree and the familiar joy of the season fills you inside .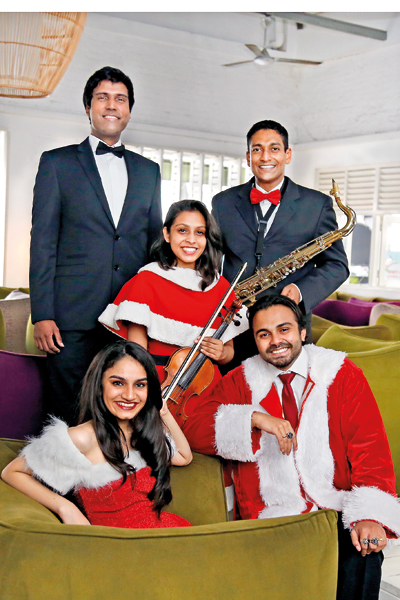 Just as he has done it for the past thirty years , Jith Peiris presents 'Silver Bells' once again. It will take place at the Lionel Wendt auditorium on November 24, starting at 7.30p.m.
This week we caught up with a section of the faces behind the show . Neatly clad in their Christmassy outfits , the performers talk to us about their repertoire and why the season means so much to them.
First up is Daniella Perera, who will be taking a Broadway / theatrical styled approach to Christmas songs that people know and love.
Daniella tells us , she is an ardent fan of musical theatre and broadway . Aside from this, she also describes herself as a "Christmas fanatic". This is just why 'Silver Bells' is a combination of her most favourite things.
Her preparation for Christmas begins from the moment Christmas finishes. In fact, she carries the spirit of the season all year long.
As our conversation progresses, Daniella gleefully notes that the first of December is just around the corner and soon it will be Christmas.
"I'd wake up to carols on the first and text messages from people telling me Christmas is here, she adds in excitement.
She is confident, the show will be interesting because "we've got a good lineup and hopefully the audience will enjoy themselves."
Next up is Amarsha Tissera, who describes herself as "a very Christmassy person". This is why she is excited for the show.
Amarsha will be a part of the string quartet performing 'Silver Bells.' Aside from this, she will also be doing a recital of "a night before Christmas."
The poem itself is a child's perspective of Christmas Eve. When Amarsha read it for the first time , it painted a "magical picture of Christmas" for her . She hopes to communicate that same feeling to her audience .
"I want to spread a lot of Christmassy joy and get our audience in the mood for Christmas ," she tells us.
Kovindu de Seram had a different approach when it came to Christmas. He tells us , Christmas was more of an acquired thing for him, since he's not a Christian.
What struck him the most was the joy and the cheer that Christmas brings . "For some reason even if you're probably having a bad day , the fact that you know Christmas is coming, gives you an unusual cheer," he explains.
He will be performing "Let it snow" and Rudolf the red nosed reindeer" and wishes to dedicate them to his wife, he tells us.
Professionally trained Gehan Cooray, who lives in the United States , explains that he's in Sri Lanka just for the season .
Gehan looks forward to 'Silver Bells' and adds that it is extra special to be performing for one of "Uncle Jith's concerts , because I've known him for the past 15 years."
He tells us , his repertoire includes a renditions of "O Holy Night" . Gehan will be performing a verse of the song in French, since the original version was written in French.
Later on in the show, he will also be showcasing a few lighter Christmas carols such as "All I want for Christmas is you," he tells us.
The thing that Gehan loves the most about the concert , is the fact that "Uncle Jith includes a myriad of genres in the show ." He tells us, music shouldn't be limited to a particular genre because a singer should have the flexibility to sing any type of music.
Also joining Gehan on stage are Contempo', 'The Old Joes Choir', Harin Amirthanathan, Joanne Aloysius, Trudy Herft, Gananath Dassanayake and Shenelle Fernando.
'Silver Bells' promises something for everyone and it definitely looks to get you feeling all Christmassy.
Tickets for the show are priced at Rs. 3000, 2500, 1500, 1000 and 700 balcony. They could be obtained at the Lionel Wendt Auditorium.