President refers to the end of an illicit affair
View(s):

President Maithripala Sirisena had an interesting analogy for naming Mahinda Rajapaksa as Prime Minister and forming a new government.

"In our society," he said, "there were accusations of illicit affairs by both wives and husbands." They separate and it was the children who suffered.

"Let us unite again, we have lived together," he said speaking at the party's Central Committee meeting at the Presidential Secretariat on Thursday night. He had to conclude the meeting before 9 p.m. since he was expecting a telephone call from UN Secretary General Antonio Guterres.

He later told Mr. Gutteress that his removal of Prime Minister Ranil Wickremesinghe and replacing him with Mahinda Rajapaksa was constitutional.
---
Drama behind Viyalendran's crossover
The TNA's Batticaloa District Parliamentarian S. Viyalenderan, who was sworn in as Deputy Minister of Regional Development (Eastern Development) on Friday kept his plans a secret from a Parliamentarian colleague though they spent nearly 24 hours on a flight from Canada to Colombo with a transit.
Mr Viyalendran and TNA National list MP K. Thurairatnasingham were invited by the Tamil community in Canada.
After the event they boarded the flight together and were seated in adjoining seats during the journey.
When they landed Mr Thurairatnasingham was informed that Speaker Karu Jayasuriya had summoned a meeting at the Parliament complex and his presence was essential. Attempts by the TNA to convey the message to Mr Viyalenderan were not successful.
Instead from the airport he had been driven to a hotel near Katunanayake where he rested awhile and then driven to the newly appointed Prime Minister Mahinda Rajapaksa's residence.  A former UNP Parliamentarian reportedly brokered the deal while the MP was still in Canada.
---
Rajapaksa rejects Sampanthan's devolution demand
"How can I go back to 'Carlton' (his Tangalla residence) if I agree to your demands?" asked  newly appointed Prime Minister Mahinda Rajapaksa, during an informal chat with Opposition and Tamil National Alliance (TNA) leader Rajavarothayam Sampanthan.
The TNA leader had sounded him on the removal of the Concurrent List from the Constitution. This list, the result of the 13th Amendment to the Constitution, is where some subjects are shared between the Central Government and the Provincial Councils.
Mr. Rajapaksa had told Mr Sampanthan he could discuss details related to the release of prisoners, police powers or land issues. However, he had said that the demands of Mr Sampanthan amounted to seeking a federal state that could not be granted.
---
Dinesh named as Leader of the House
Dinesh Gunawardena will be the new Leader of the House, the government parliamentary group decided yesterday.
Leader of the Mahajana Eksath Peramuna (MEP), a partner of the "Joint Opposition," he has functioned as the de facto leader of 'JO' in Parliament.
---
MR on Police Chiefs FCID proposal
The newly appointed Prime Minister Mahinda Rajapaksa had just moved into his new office at Flower Road, adjoining the Russian Embassy, last Wednesday.
Police Chief Pujith Jayasundera, who walked in to the office room, stood to attention and saluted Premier Rajapaksa. Then he declared, "Sir, I want to disband the Financial Crimes Investigation Division (FCID) and move the personnel out. I will send the Senior DIG in charge home."
Mr. Rajapaksa's response was brief. "You don't decide on that. We will take a decision and let you know," he said.
---
Rajagiriya banner gives presidency to Rajapaksa
Soon after the swearing-in of Mahinda Rajapaksa as Prime Minister, there were celebrations in various parts of the country. Posters and banners were put up congratulating him.
But, one such banner put up in Rajagiriya raised confusion among those passing by.
The banner said 'Warm Congratulations to 'President Mahinda Rajapaksa' (Mahinda Rajapaksa Janadhipathithumani, obtata apage unsum Subapathum').  Hours later the persons who put up the banner had got the message that the banner was creating more damage than good for Premier Rajapaksa.
---
UNP supporters in wrong bus
The UNP's protest against the removal of Prime Minister Ranil Wickremesinghe from his position concluded mid-afternoon, Tuesday, but party supporters were leaving Colombo until late in the evening.
Two of the supporters who appeared to be intoxicated got into a passenger bus operating between Maharagama and Colombo Fort. They believed they had got into the bus organised by the party to transport them to Colombo.
One of them started delivering a speech in which he was trying to explain as to why they should defend Mr Wickremesinghe.
The conductor moved closer to them demanding that they purchase the tickets. One of them shouted out 'This is our party bus, why should we buy tickets?
The conductor responded:  "This is not the UNP bus, but a public transport bus."
One of them then nudged the other and said "I think we are in the wrong bus and we better get off."
---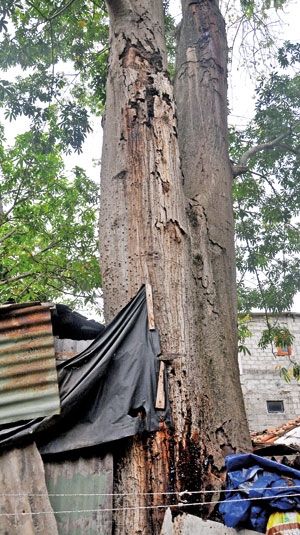 MMC seeks more than half a million rupees to cut down huge cotton tree
A Colombo Municipal Council (CMC) member has allegedly pleaded with Mayor Rosy Senanayake to allocate more than half a million rupees to cut down a large tree in the Maligawatte area.
Chamila Pathirana, a UNP MMC, says that contractors are demanding more than Rs 650,000 to cut down the large cotton tree towering more than 60 ft and located in the midst of small houses.
The question most members were raising as to why the member should be pleading to get a tree cut down at such a cost as the Disaster Management Centre could step in to provide assistance if there was a real threat to the people.
---
Both parties woo Ven. Rathana Thera
The Venerable Athureliya Rathana Thera, the Jathika Hela Urumaya Parliamentarian, has returned from China where he represented Sri Lanka at an international Buddhist conference.
Prime Minister Mahinda Rajapaksa's representative called on him for a two-hour meeting.
Hardly had he left, did three UNP parliamentarians turn up. They were former Ministers Rajitha Senaratne, Daya Gamage and Chathura Senaratne, Gampaha District MP. They were seeking the Ven. Rathana's support for the UNP.
One of the trio, accused the US Central Intelligence Agency (CIA) of being behind the ouster of Ranil Wickremesinghe. "How can that be," asked Ven. Rathana who declared "the United States has issued statements in favour" of the UNF.
---
Ranil's Maithree insists on buth packet equality
Thousands of United National Party (UNP) supporters have spent days and nights at Temple Trees since President Maithripala Sirisena "sacked" Prime Minister Ranil Wickremesinghe on October 26. The UNP high command has been distributing packets of rice or 'buth packets' through this time.
On Thursday night, a dinner had been organised for all MPs who were gathered at the official residence of the 'deposed prime minister.
A UNP MP told the Sunday Times that Mr Wickremesinghe's wife, Prof. Maithree Wickramasinghe, however, had intervened and insisted that the dinner should be cancelled, noting that MPs should not have better meals than supporters who had come to protect party leaders.
All UNP MPs who were present agreed with her wholeheartedly and the dinner was cancelled, with the MPs deciding to eat the same packets of rice given to supporters, a source disclosed.