Constitutional quagmire continues; President says he sleeps well but people restless
By Our Political Editor
View(s):
Contradictory and confusing reports as to when Parliament will be reconvened; both sides claim they have majority
Speaker Karu Jayasuriya meets party leaders; Kiriella says no-confidence motion will be moved by UNF and other parties
President under international pressure to respect democratic values; EU says GSP concessions may be withdrawn
For nine long days, Sri Lanka remains plunged in chaos and confusion. Every morning, the nation and its people wake up to see what is in store for them with a new Prime Minister and a government in office.
Behind closed doors, the week has seen small groups of Ministers, State Ministers and Deputies being sworn-in by President Sirisena. More are to come. They are tweeted by the Presidential Media Unit – the main source of information to anxious Sri Lankans. If that is the only source of information to them, to the world outside it was another story.
The well-known NEWSWEEK magazine declared, "A political crisis is gripping Sri Lanka as fears deepen over a possible resurgence of violence — and even civil war." This is just a day after the Lonely Planet described Sri Lanka as one of the world's best travel destinations. There indeed is a political crisis, with most of the goings on cloaked in secrecy. As the date for the re-opening of Parliament is held in abeyance, with one date after another being announced, bargaining is under way. Those backing the new government are trying to buy over their rivals and vice versa.
Many other news reports on Sri Lanka, particularly in the social media, spoke of bloodshed in the streets, exacerbating violence and even the re-emergence of the "white vans" — the ones used under the pre-2015 regime to abduct detractors and kill or injure them.
That Sri Lanka's diplomatic missions, headed at the top by President Sirisena appointees, did not do their job at times of crisis is very badly exposed. In Colombo, the Foreign Ministry had turned more ineffective. Last week, it was dishing out news releases on Sri Lanka's envoy Azmi Thassim meeting Dr. Abdullah ibn Mohammed ibn Ibrahim Al-Sheikh, President of the Shura Council of Saudi Arabia. This is at a time when the whole world is talking about the brutal murder of Washington Post journalist Jamal Khashoggi at the Saudi Consultate in Istanbul. That a kingdom which protects Islam's holiest places of Mecca and Medina had played a role in this most disgraceful saga, to say the least, is shameful.
Another was the case of the "High Commissioner designate" to South Africa (who had not even presented his credentials) conducting a meeting to promote trade. Diplomatically such a practice is only after he is accredited since he or she is not an envoy until then. Then, according to an e-mail doing the rounds, Sri Lanka's Ambassador to Russia and social media columnist, Dayan Jayatilleke, has told Mahinda Rajapaksa that a recent US State Department statement on Sri Lanka is "a blatant interference in Sri Lanka's sovereignty." Is it the job of all-knowing Jayatilleke as Sri Lanka's envoy in Russia?  Sri Lanka's diplomatic missions did not receive any information on the new set of cabinet ministers sworn in on October 29 for over 24 hours.
Since his ouster, Prime Minister Ranil Wickremesinghe and his close backers including former cabinet ministers have remained cloistered at 'Temple Trees', once the official residence. A key task for them has been to monitor reports as to who and who, in their ranks, were being wooed to cross over. A case in point was how former Minister and businessman Daya Gamage flew out in his private helicopter to locate S.B. Nawinna (former UNP Minister of Internal Affairs and Wayamba Development) in Wariyapola near Kurunegala. His house was closed. He took off to his estate to find Nawinna, but he was not there too. On Friday night, at the Presidential Secretariat, Nawinna took his oaths as the Minister of Cultural Affairs, Internal Affairs and Regional Development. There was the case of Tourism and Wild Life Minister Vasantha Senanayake whose onetime colleagues in the UNP  had asked him to resign his new portfolio.
An average of more than 200 persons stayed overnight at Temple Trees during the past week. With the Navy cooks being withdrawn, well-wishers brought in packets of food. It took two chairs for one person to eat, one to unfold the packet and spread it out. Empty packets, most partly eaten, overflowed from bins and air conditioners worked throughout day and night. Water from a tank used for washing purposes outside flowed nonstop. A newly built hall that adjoined the older building, given for limited wedding receptions, was crowded with supporters taking selfies or when some made mock speeches. They slept the night there. Security was considerably lax and visitors were not subject to tighter checks. Groups of Buddhist monks took turns chanting pirith from a tent almost at the entrance to the main building.
Both Wickremesinghe, who leads the United National Party (UNP) and partners of the Rajapaksa government, insisted that they had more than 113 MPs backing them — a majority in the 225 seat Parliament. A wide belief was that both sides had no majority and a secret bidding process unbeknownst to the public was still under way. Giving credence to this belief was the delay, particularly after a move to re-convene Parliament early was pushed back time and again.
The mood appears to have changed yesterday. President Maithripala Sirisena told the Sunday Times in brief comments, "We have the necessary majority. The Parliament will reconvene soon. The transition will be peaceful and we will further strengthen good governance principles. We have assured the international community that we will stand by our international commitments including those on reconciliation. We will strengthen democracy."
Prime Minister Mahinda Rajapaksa re-iterated the same sentiments. He told the Sunday Times, "We are quite certain that a majority of MPs will support us in Parliament. I am now considering whether or not to present the On Account budget on the same day Parliament reconvenes. My immediate priority will be to alleviate the economic hardships imposed on the people by the UNP government."
However, former Finance and Media Minister Mangala Samaraweera, now playing the role of a party spokesperson, told the Sunday Times, "Never before has there been an illegal, unconstitutional and undemocratic transfer of power. For the first time in history, Sri Lanka has an illegal cabal masquerading as a government." He charged that what was happening today was "a resort to jungle law and is nothing less than a coup d'etat".
Earlier, after Wickremesinghe had written to Speaker Karu Jayasuriya, the Speaker, in turn, wrote to President Sirisena urging him to reconvene Parliament. Thereafter, Jayasuriya sought and obtained an appointment for a meeting with the President.  It was held at 5 p.m. on Wednesday. Jayasuriya told the Sunday Times he appealed to the President to re-convene "Parliament on Monday (November 5) or Tuesday (November 6) and that his meeting was "was very friendly and cordial." Whilst Jayasuriya's remarks were brief, other sources said, President Sirisena directed strong criticism against ousted Premier Wickremesinghe. They were an elaboration of the accusations Sirisena made during his address to the nation last Sunday. Sirisena had said he would respond to Jayasuriya's request to summon Parliament the same night but did so only the next (Thursday) morning.
After the discussion, according to these sources, Sirisena telephoned Premier Rajapaksa who was at a meeting with a group of university students. He said that he was at a meeting with Speaker Jayasuriya who had asked that Parliament be re-summoned on November 5 or 6. On October 26, Sirisena prorogued Parliament and the date of opening was set to November 16. Rajapaksa had responded that he had the majority numbers and there was no problem in re-summoning Parliament on November 5.
President Sirisena first broke the news (on Thursday morning) to four envoys who presented credentials to him. They are Alaina Teplitz (United States), Akira Sugiyama (Japan), Eric Lavertu (France) and Ashraf Haidari (Afghanistan). He also directed his officials to prepare a Gazette notification. The fact that he told Ambassador Teplitz was in fact significant. Both the US Department of State and even the United States Embassy in Colombo had called for the early re-convening of Parliament.
Both the acting Head of Mission Robert Hilton and Political Officer Anthony Renzuli met Speaker Jayasuriya. A US Embassy spokesman told the Sunday Times the meeting was "to underscore US support for democracy in Sri Lanka. We call on the President, in consultation with the Speaker, to immediately reconvene Parliament and allow the democratically elected representatives of the Sri Lankan people to fulfil their responsibility to affirm who will lead their government."
Later on Thursday morning, President Sirisena informed Speaker Jayasuriya by telephone that Parliament could now meet on November 7 and a Gazette notification was being issued. However, there were still serious doubts over this date.
When Speaker Jayasuriya chaired a meeting Friday afternoon to make plans for the reconvening of Parliament on November 7, he received a telephone call from the President's Private Secretary. He had told the Speaker that a Gazette notification would be issued on Monday (November 5) by the President giving the date of Parliament sittings. That made clear sittings could not be held on November 7. Parliament Standing Orders require at least three working days for the Parliament staff to make arrangements for the reconvening. Assuming that the Gazette is issued on November 5, the latest would be a date beginning November 12. This is taking into consideration that November 6 is a holiday due to Deepavali, the Hindu festival of lights.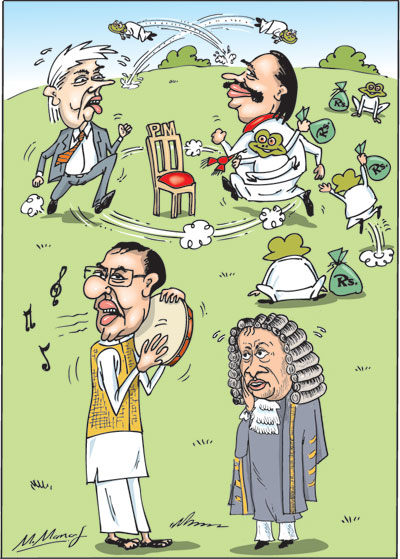 As the meeting was under way, Speaker Jayasuriya excused himself to move away to speak to President Sirisena. He was, however, unable to reach him on the telephone. The three government ministers who took part in the Speaker's meeting, Dinesh Gunawardena, Nimal Siripala de Silva and Mahinda Samarasinghe pushed the government position at the meeting – the Speaker cannot reconvene Parliament and only the President was empowered to do so in terms of the Constitution.
There were heated exchange of words between JHU leader Patali Champika Ranawaka and the three government representatives. One of them, Mahinda Samarasinghe, was also locked in a heated argument with House Leader Lakshman Kiriella. The latter had asked officials present to ensure Parliament is convened on November 7. Samarasinghe raised objections and argued that it was only the President who had the constitutional authority to do so.
A more significant meeting took place Friday evening when the Speaker met eleven Colombo-based envoys, mostly representing western nations. One of the strict understandings they reached ahead of the meeting is that their names should not be divulged. The team collectively urged Speaker Jayasuriya to re-convene Parliament so they could determine which the government in Sri Lanka was. Speaker Jayasuriya replied that it would place him in direct confrontation with the executive. Earlier, a similar request had also been made to the Speaker by two senior UNP stalwarts. He had pointed out that he was powerless to reconvene Parliament on his own and such a move would also place state officials there in a very difficult position.
The numbers game appeared to be the delay. It transpired that the new government was also busy to woo United National Party (UNP) members so that their coalition could be even broader. In such an event, they felt that it would enable them to have a cabinet of ministers with 45 MPs – a move they claim would further isolate Ranil Wickremesinghe. The subject of a broader coalition had in fact been discussed by UNP's deputy leader Sajith Premadasa when he met Sirisena this week. After a pro-UNP television network reported the meeting, the party said it has been undertaken with the party leader's knowledge. Premadasa avoided the media and his officials did not respond.
Despite each side's claim they have the numbers, the move to delay a re-convening of Parliament did raise concern and became the subject of a public debate. Former Minister and Jatihika Hela Urumaya  (JHU) — National Heritage Party – leader Patali Champika Ranawaka – told the Sunday Times,  "We have demonstrated to the Speaker today (Friday) that we have 118 MPs backing us. Therefore, the Mahinda Rajapaksa government is illegal and unconstitutional. We have asked the Speaker to summon Parliament." His remarks came after the MPs met Speaker Jayasuriya. He said the number was without four JVPers and three MPs from the Tamil National Alliance (TNA).
After visiting Parliament, Ranawaka went to the Megapolis Ministry and was busy in his office. Pouring cold water over the remarks was a United People's Freedom Alliance (UPFA) senior member who did not wish to be named for obvious reasons. "Some went with our permission since they want to go to Parliament," he claimed. He also claimed "that the request from the MPs was to re-open Parliament." Whether this is factually correct remains a serious question.  Yet, a list containing 118 signatures to reconvene Parliament had been handed over to Speaker – an indication that the UNP had the required number of votes. However, that included most members of the Tamil National Alliance (TNA) and the Janatha Vimukthi Peramuna.
On the date of re-convening Parliament, there are two options for President Sirisena. One is to make a Policy Statement on behalf of his new government. The other is to issue a proclamation that would only re-convene Parliament and allow usual business to be taken up. It is likely he would opt for a policy statement. The numerical strength in the House, other than in an unlikely event, could be tested either through a confidence or no-confidence vote. A notice of a motion would have to be given and a date for a debate, agreed to by party leaders, would have to be held before a vote. The other avenue is to defeat the On Account vote twice which will lead to the dissolution of Parliament and conduct of elections.
In what seems a move to cope with this situation, Lakshman Kirielle, the UNP Leader of the House, on Friday gave notice of a motion to Speaker Jayasuriya. He has said that "the office of Prime Minister becomes vacant only if he dies, resigns, ceases to be a Member of Parliament (by removal or otherwise), if a Statement of Government Policy or the Appropriation Bill is defeated, or if a no confidence motion is passed against the government."  Since "the Office of the Prime Minister has not become vacant at any time after the appointment of Ranil Wickremesinghe MP as Prime Minister," and "on October 26 the President has "purported to appoint Mahinda Rajapaksa as Prime Minister," Kiriella has said "This House resolves that:
= "There was no vacancy or occasion for the appointment of a Prime Minister on 26th October 2018, and as such Gazette Extraordinary No 2094/43 dated 26th October 2018 and Gazette Extraordinary No 2094/44 dated 25th October 2018 are null and void and of no force or effect in law; and
= "In Any event, this House has no-confidence in the purported Prime Minister Mr Mahinda Rajapaksa, or the purported government appointed on or after 26th October 2018."
Adding to this is another development. Deposed Premier Wickremesinghe sought a meeting with his successor Mahinda Rajapaksa on Thursday. Rajapaksa replied that it would be inappropriate for him to have such a meeting. Hence, he suggested, that he would send brother Gotabaya, the former Defence Secretary, so he could discuss whatever matters he wished. Ahead of the meeting on Thursday evening at Temple Trees, Gotabaya Rajapaksa informed President Sirisena and Basil Rajapaksa, the Sri Lanka Podu Jana Party (SLPP) ideologue, about the meeting.
When the former Defence Secretary arrived at 'Temple Trees', he told Wickremesinghe that he would wish to have a "one-on-one meeting" with him. Yet, there was one other – Ishini Wickremesinghe, daughter of Shan Wickremesinghe, the brother of the ousted Premier. He owns the Teleshan television network. "The TNA and the JVP are supporting me," said Wickremesinghe to which Gotabaya Rajapaksa replied, "Sir, you will have to have 113." The former Defence Secretary had asked how Wickremesinghe could govern under the present scenario. He had conceded it would be difficult and that the people should be allowed to decide for this purpose, Parliament had to be reconvened, he has said.
Gotabaya Rajapaksa had assured that Wickremesinghe's security would be ensured when he left Temple Trees during a peaceful transition and he would help ensure adequate personal security is provided to him. The meeting lasted less than ten minutes.
Though Gotabaya Rajapaksa does not hold any official position in the new government, he has in fact been overseeing security matters related to Premier Rajapaksa. Last week, a front page report in the Sunday Times said he "is to be Defence Secretary." He has declared that he would not accept any positions in the government. It was President Sirisena who told Prime Minister Rajapaksa that he could appoint Gotabaya as either Secretary to the Prime Minister or even Defence Secretary. For many months now, he has been engaged in his own political pursuits for the next presidential election. He had scheduled to open a branch of his Viyath Maga (Professionals for a better future) last Sunday. However on the advice of Premier Rajapaksa, it was called off.
Ahead of the reconvening of Parliament, both supporters of the SLFP and the 'Joint Opposition' will hold a rally in Colombo tomorrow. The SLFP Central Committee, which met on Thursday night under the chairmanship of President Sirisena decided that all party organisers should muster large crowds for the event. The meeting had to be curtailed since President Sirisena had to be in his office room to receive a telephone call from UN Secretary General Antonio Guterres. The UN Secretary-General said he was following political developments in Sri Lanka and expressed the need to "safeguard democratic values, uphold the rule of law, and ensure the safety and security of all Sri Lankans." UN sources said President Sirisena had told Secretary General Guterres that Parliament would be convened before November 14.
But more diplomatic displeasure was to come when Ambassadors, High Commissioners, UN Resident Co-ordinator and representatives of the International Monetary fund (IMF), World Bank, ADB and the Japan International Co-operation Agency (JICA) met Sirisena last Monday evening. Sirisena took the opportunity to take a swipe at Wickremesinghe for his remarks that he (Sirisena) did not know what even an infant knew about the Constitution. The President declared that his onetime Premier does everything in English and forgot to fix the equivalent Sinhala version of some provisions in the Constitution that related to removal of a Premier under the 19th amendment.
He was alluding to article 48(2) of the Constitution, in the Sinhala text, (the final text for interpretation in the event of a dispute). Sirisena argued that he was empowered to remove the Prime Minister — a position which Wickremesinghe disputes. A more significant development came when European Union Ambassador Tung-Lai Margue warned that Sri Lanka faced the threat of losing the GSP plus tariff concessions. Strong statements were also made by envoys of the United States, Germany, Britain, Norway and Canada. In what seems a move to counterbalance, Russia's envoy Yuri Materiy declared that Russia would support the new government. He said that in fact on that day (Monday) the Russian national carrier Aeroflot had begun direct flights from Moscow to Colombo. President Sirisena appealed to the western governments not to impose travel advisories on Sri Lanka. Sirisena said that a long prorogation of Parliament has been decided by him to allow officials to prepare the On Account budget.
A three page-document prepared by G.L. Peiris, former Professor of Law at the Colombo University, was circulated. He argued in the document that if one party withdraws from the coalition, the Cabinet of Ministers would stand dissolved automatically. "The Cabinet has ceased to exist and the President was "obliged to appoint a new Prime Minister," he said.
President Sirisena confided in a close friend that after the ouster of the Prime Minister, Ranil Wickremesinghe, he could sleep well now. However, millions of Sri Lankans seem restless with fears of a further worsening of the economy if western nations, disturbed by the ongoing developments, impose curbs on aid and concessionary tariffs. Like Doris Day's golden oldie, it would be Que Sera Sera or whatever will be will be.