He loves singing and compering; yes, it's Clifford Richards
View(s):

A one-to-one with Clifford Richards as he gets ready for yet another concert full of razzle dazzle, bonhomie, sing-alongs and prizes and surprises….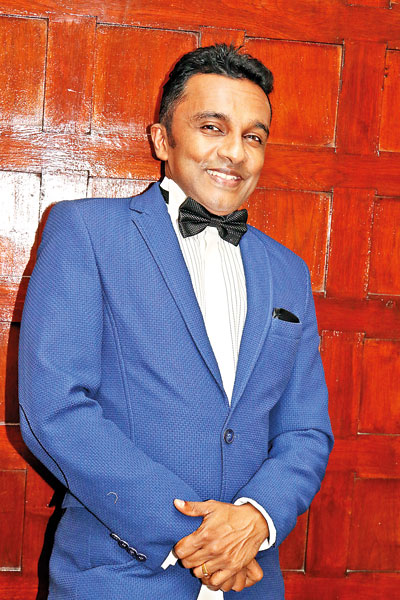 Q:Music was your first love and it was music that led to compering. But now many people immediately associate you with the podium- as master of ceremonies. How do you feel about this?
Compering came by accident. I went to sing for a show and there was no emcee and the organisers wanted me to do it. I had no choice but to do it. That was the start. Today in fact compering has overtaken singing. But I enjoy both.
Q:Would your children, Jacinta and Alvan, be sharing the stage with you this time as well? They share your passion for performance, so could you tell us about them?
Both will be singing. Jacinta will be 18 this year and Alvan is 12. They are from Gateway International School Kandy.
Q: During your years at Trinity College and Peradeniya university, how did your love for music shine forth?
I was involved in school and university musical shows and talent contests.
Q: Who were your musical inspirations?
Tom Jones, Elvis. Locally Sunil Perera, Desmond De Silva and Ronnie Leitch.
Q:You possess many talents on the stage, not just singing. Could you talk about those other ways you function as an entertainer?
A: I play a little bit of saxophone. I love dancing. I am a student of Kevin Nugara. So I use dancing steps wherever possible to enhance the performance.
Q: Would any other guest stars be sharing the stage with you this time?
It will be Stephanie Siriwardena. Also Anthony Surendra will be performing 'cause I'll be launching one of his songs that he has done for me. This will be the first time that I'll be singing that song on stage. Also I'll be launching another song composed by Rukshan Perera as well.
Q: Is there anything novel about the upcoming concert?
Expect something different to what you've seen before.
Q: Something about the musicians and dance troupes joining you?
Channa Upuli dancers and El Latino dancers.
Q: Your concert has become an annual fixture to look forward to. Could you talk about the response from your fans over the past years?
Response has been great. This is what keeps me going and wanting to do more.
Q: Whose songs do you particularly enjoy singing?
A: Elvis, Tom Jones, Engelbert and Cliff Richard.
Q: The support given by your wife Marcelle?
She is my biggest critic. She has been a great source of encouragement right through.
Q: Your performances have the touch of Sunil Perera, Desmond de Silva and Ronnie Leitch. Tell us about your affiliations with these entertainers?
They are all very good friends of mine and their performance on stage has definitely inspired me.
Q: Anything else you would like to add?
Come for the show and let's have a great time. There will be opportunities to win prizes as well.
Clifford Richards in Concert will be on Sunday, August 12 at 7 p.m. at the Bishop's College auditorium. Tickets are priced at Rs. 3000 (reserved),
Rs. 2000 (reserved), Rs. 1000 and balcony Rs. 750.