"Shikhandi – The inner quest": Dance indeed is the hidden language of the soul
Reviewed by Ramanathan Srivathsala
View(s):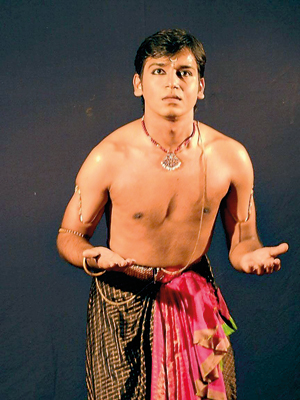 Himanshu Srivastava, a notable Bharatha natyam dancer and painter from Delhi, India, kept the audience spellbound for about 80 minutes during his Bharatha natyam recital at the Indian Cultural Centre, in Colombo on May 7. A highly promising disciple of Smt. Rama Vaidyanathan, he commenced the recital with "Alarippu" followed by "Shikhandi – The inner quest" which at once demonstrated his prowess in Nritta and Nritiya. This was followed by Govindhabaje, a piece about Lord Krishna and the programme concluded with Ardhanarishwar Ashtakam where Himanshu did ample justice.
"Shikhandi" – the inner quest' was the performance which drew long applause from the audience. It would have definitely been a surprise for anyone who entered the place expecting a regular recital with traditional Bharatha natyam items, just as I did!
Much research has been carried out about transgenders and this area of study all around the globe stressing on the unique character of transgenders' identity and their struggle for equality, freedom of speech and expression revolving around their socio-economic life with reference to multiple dimensions of exclusion within the Sri Lankan and/or Indian context. A dance performance holding such a powerful and sensitive message to society was a challenge which he succeeded in achieving.
This performance was about Shikhandi – a lesser known warrior figure from Mahabaratham who is a transgender, who was laughed at, rejected by society and the norms of the battlefield but who was also later given a gender transformation which resulted in the cause of the destruction of Bhishma. Krishna reminds him of his previous birth as Amba, princess of Varanasi, who despite being in love with another man was wrongfully abducted by Bhishma from her wedding (she later immolates herself) and all his struggles of life and how his soul had suffered at the hands of his own people and how he was given gender transformation to accomplish the task of defeating Bhishma. The awakening is thus triggered by Krishna, who asks Shikhandi to accept himself first and then only can he make reforms in society.
This performance recalled so many memories from my university days where I had to work with socially excluded transgenders and understand their perspectives and struggles. It was not that easy for me to put in words, but brilliantly presented by Himanshu through his performance and expressions. The impeccable Abhinaya captured the attention of the audience.
Not only did this performance speak about the mythological character but showed how society has an important role in the growth and personality development of a child. As Shikhandi born as a girl was forcibly brought up like a boy at the whims of her own father, children today bear the load of the expectations of family and society. The connection between the mythological character and the theme of acceptance manifested by Himanshu was mind-blowing. Every individual may have been born with some defects or irregularities. But if focused on carefully and meditated upon, these can be later used to benefit one and all. Accepting and celebrating the inner strengths are super important and the message "Every child is like a seed to be grown and allowed to thrive on its own" was beautifully conveyed.
Yes. Such excellent messages can perfectly be manifested through dance and music. It was truly a blessed opportunity to see him performing. "Shikhandi – The Inner Quest" was premiered at the National Centre of Performing Arts, Mumbai, then performed in Mangalore, Puttur and then in Sri Lanka. Shikhandi should travel across the globe and spread awareness.
Indeed dance is the hidden language of the soul.