Appreciations
View(s):

To my heroic cousin who died for his country

Captain Theja Mangala Liyanagamage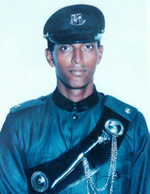 It is 20 years since the passing away of Mangala Liyanagamage, the gallant young soldier who was gunned down by the LTTE on June 8, 1998  in  the Kilinochchi  jungles  when he was only 27 years old. Although two decades have passed since his tragic demise, he still lives in my heart, not only as a beloved cousin but also as a young hero from the South whose precious life was snatched away in  the prime of his life.
Theja Mangala Liyanagamage, born on November   26, 1971, was the youngest  of the three sons of Piyasena Liyanagamage (All Island J.P.) and Prema Liyanagamage (nee Samaranayake), both Government servants, of Hapugala, Galle.  Like his two elder brothers, Mangala too had his entire schooling at Richmond College, where he was an outstanding sportsman. His forte was Hockey in which he captained the college team and later represented the Southern Province and the Army.
When he finished his school education, his parents wanted him to select a career  other than in the forces, as his  two elder brothers were  already in the forces by that time.  But that was not to be. Without telling anyone, he applied to join the Army and when he appeared for the interview, with his nearly six foot  stature  and brilliant achievements in sports as well as his  family background, the Army had no questions to ask. He was readily recruited to the Army on  August 26, 1991 as  a Cadet Officer. It was the beginning of a brief  but brilliant  military career.
Having undergone preliminary  military  training at the Diyatalawa Miltary Academy, Mangala was commissioned as a  2nd  Lieutenant and  thereafter, during his entire career  in the Army he served only in the operational areas in the North, including  Elephant Pass, Paranthan, Venthalaikeni and  Kilinochchi, at a time  when  LTTE  terrorism was at its  peak.
Mangala was one of the pioneer members of the 10th Battalion of Sinha Regiment, which was set up in 1997. He was well known and popular as an officer who served the Army with commitment and dedication. In 1995, he was promoted to the rank of Lieutenant in recognition of his bravery and commitment, and awarded the  prestigious gallantry medal Weera Wickrama Vibhooshana  (WWV).
Having served in the war torn areas in the North for a continuous period of over six years, Mangala was  eligible  to  apply for a transfer to a congenial area in the South. But he did not want to leave the battalion which he led with courage and dedication.  Then came the fateful day, June 8, 1998, when he was actively engaged in the battlefields in Kilinochchi, he was  killed by a LTTE  bullet. He died with his boots on.  It was the most pathetic  end of  a promising  military  career.
Mangal's eldest brother, Ravi  (Air Commodore Ravindra Liyanagamage), who joined the  Sri Lanka Air Force in 1988 as a Cadet Officer is now  the Base Commander of the Ratmalana Air  Base  and his other brother, Jagath (Captain Jagath Liyanagamage), who joined  the  Sri Lanka Navy in 1990 as a Cadet Officer, is now Captain, Logistic Department -South East Naval Command. If Mangala had not become a victim of terrorism, by now he would have risen to the highest echelons in the Sri Lanka Army. But unfortunately, fate decreed otherwise.
Dear Mangala malli, we are proud of you. You are our hero. You sacrificed your life for the sovereignty of Sri Lanka. Although we cannot see you, fond memories of you are  still  fresh in our minds and will  never be forgotten. Since your departure, every year in June, your parents give a Sangika Dana to the Maha Sanga in your  memory and to invoke blessings on you. All of us in our family circle as well as a large number of your friends participate in these annual alms givings. After the demise of your parents, this tradition  is being continued by your brothers.
May the blessings of the Noble Triple Gem be with you always throughout your journey in Sansara.
Damitha Samaranayake
---
Those unforgettable memories of visits to Radio Ceylon with Amma
 INDRANEE HERAT GUNARATNe
Much has been written by Amma's colleagues about her professional achievements as a top educational broadcaster for 35 years at both Radio Ceylon and Rupavahini.  However, on her second death anniversary, I wish to highlight some pleasant childhood/teenage memories personally experienced by me.
When we were in Grade 2 at Ananda in 1966 some of us were members of the junior band and Amma arranged for the boys to visit Radio Ceylon.  My good friend and classmate Muditha Dayaratna, recalls even after 50 years how Amma treated all boys with 'ice palam' at the Radio Ceylon canteen.  Also I still recall during that visit how we were introduced to that great civil servant and Amma's Peradeniya batchmate Neville Jayaweera who was Director General of Radio Ceylon– an encounter recalled by uncle Neville when he called me from London to condole over Amma's death.
It was Amma who took me to Radio Ceylon studios to see C.T. Fernando perform live in 1967 and also view a live recording of 'Vinoda Samaya' during which programme Anil Barathi sang his evergreen hit 'Ma Adarei Nangi' for the first time to radio audiences in 1973.  Also one morning in 1974 walking along the famous SLBC corridor, we met Dr. Victor Ratnayake and K.D.K. Dharmawardhana and exchanged pleasantries and Victor invited our family for his next "SA" musical show to be performed that weekend at Navarangahala.   During our A/L days, we were crazy about Hindi films and songs and when Hindi legends Mohamed Rafi, Mahendra Kapoor and Manna Dey visited Sri Lanka to sing at the Govt. May Day celebrations, Amma took me to get a glimpse of these great singers when they did unscheduled whistle stop visits to the SLBC/ITN studios at Torrington Square.
At Rupavahini she trained several young producers who went on to become high ranking TV personalities.  Of them Hema Nalin Karunaratne (who passed away recently), Sudath Devapriya (Director of Ambayahaluwo) and Bertram Nihal (Director of Gamperaliya) come instantly to my mind and these gentlemen paid a glowing tribute to her during the special programme telecast by Rupavahini in her memory shortly after her demise.
A little known fact is that in 1976 when she was Controller Education Service – SLBC she was offered a long term consultancy assignment through the BBC to establish the Educational Channel at St. Kitts Island Radio in the West Indies.  She was on the verge of leaving the country but at the last moment fate decided otherwise for reasons unknown to me.  However, she told me subsequently that if she had left Sri Lanka at that time she would have lost the opportunity to be involved as a pioneering member of establishing TV in Sri Lanka in 1980.
I conclude this article with the words of Neville Jayaweera now living in retirement in London who wrote me a long letter during the last stages of Amma's life.  He wrote "please inform your Mum that she was the most efficient, dedicated, unassuming official of the highest integrity I came across during my long professional career in Sri Lanka and overseas".  Such a tribute from a person of the calibre of uncle Neville is overwhelming and speaks volume of her capabilities.
May she attain Nirvana!
                         Mangala Herat Gunaratne 
---
The cousin who none of us could hold a candle to
KUMARINI DE MEL-WICKRAMASURIYA 
"We honour the Creator when we honour  the memory of those who honoured Him."
Kumi  -  our  cousin passed on to her eternal rest on May 20.
Having known Kumi from our childhood, it was taken for granted that she was someone special, selected and surely set apart, especially by our elders, due to her unique talents and all-round capabilities.   We remember our Grand aunt (Kumi's grandmother) who chided us incessantly and rated us as so inadequate in our capabilities when compared to Kumi.   We did not in anyway resent Kumi but certainly felt hard done by and inferior when our elders, who knew no 'child-psychology' during that era, repeatedly emphasized our shortcomings.  The fact remains – she was extremely talented, a cut above the rest, and none of us could hold a candle to her!
Kumi inherited the supreme knowledge of creative cookery from her dear Mother.  Her multi-faceted creative personality was able to execute exceptionally beautiful handcrafts whenever required – at Christmastime and special events; and she made herself always available to family and friends…  a   truly reliable, dependable soul.
It was her resilience, capacity for hard work and caring for the needs of our marginalized society, especially in her beloved Tangalle, that propelled her to be the Founder of Navajeevana.We know there would be many others to expound her vision, her excellence and her many caring pursuits.
Kumi well deserved the many awards she received, which included the Zonta Woman of Achievement Award for Community Service.  If we attempt to list all her achievements, it will fill many pages.
We also recall her beloved late husband, Dr. Sena Wickramasuriya, also remembered by us as a 'seafarer', who had a strong commitment towards helping the needy of Tangalle his home town;   her loving son Arun, daughter-in-law Kishani and little Ananya, her pride and joy, who will surely miss her loving presence, and we cousins, who have childhood memories that overwhelmed us at that time, will miss her enigmatic presence more than we can ever express.
May she rest in eternal peace.
Ruani, Delini and many cousins
---