Minister suggests "extra compensation" to include ex-LTTE members and next-of-kin
By Our Political Editor
Amount not stipulated, Cabinet will consider on Tuesday; senior military officers worry over move -- Coalition partners and Opposition parties step up efforts to woo North, East in view of next Presidential election -- Strike cripples postal services
View(s):
A United National Party (UNP) Cabinet Minister wants "enhanced compensation" paid to Tiger guerrilla ex-combatants who were defeated in the separatist war that ended in 2009 and their next of kin.
Ministers last Tuesday discussed a memorandum by Rehabilitation, Resettlement and Hindu Religious Affairs Minister Deva Manoharan Swaminathan for this purpose. He has recommended that compensation to "all affected persons, without any discrimination," be paid but he did not stipulate an amount. He expects the ministers to decide. They put off a decision until next Tuesday to enable them to make a careful study.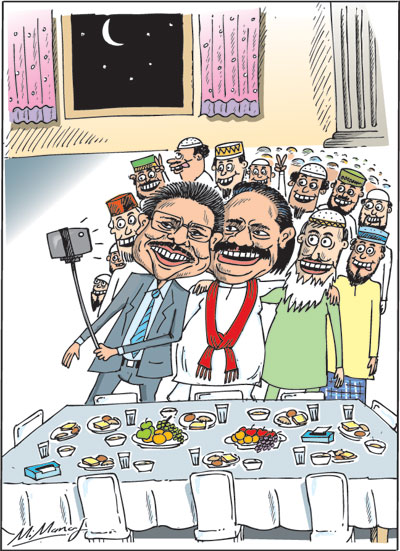 The paradox in this proposal is the fact that the Government wants to pay "enhanced" compensation to those who took to arms to create a "separate homeland" in Sri Lanka. For this purpose they raised funds in one part of the world and procured sophisticated weaponry from other parts. They were dubbed as one of the deadliest guerrilla groups worldwide.Today, military academies in world's leading capitals have made theLiberation Tigers of Tamil Eelam (LTTE)'s military campaign a subject of study. This is to learn how, as a non-state actor, it transitioned during three separate phases of "Eelam Wars" in a time span of nearly three decades to become a deadly force.
Initially the LTTE's military campaign, like other like-minded groups in the north, began by robbing weapons of the state – shotguns and archaic Royal Enfield .303 rifles of World War II vintage. The LTTE attacked police stations mostly in the north. In the second phase, its inventory expanded to AK 47 Kalashnikovs and the equivalent Chinese built T-56 assault rifles. The LTTE formed rag tag 'naval' and 'air' arms and a 'police.' A variety of explosive devices were produced and branded after their dead cadres. The third phase saw even more sophistication with the acquisition of shoulder fired surface to air missiles and a rise in the LTTE's air and sea capability. The LTTE constructed a runway and operated an aircraft. Though symbolic, it did cause serious concerns in the south. It also established a shipping network to induct military hard ware including large stocks of ammunition. For a period of time, it dominated the ground, first in the Wanni and thereafter in the Jaffna peninsula. It ran a virtual parallel government.
Though the elected government's writ did not run in these areas, it was forced to send food and medical supplies. So was money to pay for personnel in state sector agencies including nurses and teachers. The LTTE first distributed medicines to "Maveerar" or 'great heroes' families and then to civilians. The LTTE also helped itself to medical stocks from hospitals to treat its wounded when they arrived in the north.
One of the LTTE's suicides quads' assassinated Indian Prime Minister, Rajiv Gandhi on Indian soil in May 1991. In Sri Lanka, those squads also assassinated President Ranasinghe Premadasa, two years later, in May 1993. Ministers, parliamentarians, politicians, military officials, police officers, members of the clergy and countless civilians were killed by assassins and improvised explosive devices. What is described in brief here were all the handiwork of combatants who took on government troops. Only the identities and the groups they worked for at the early stages of the separatist war need to be established. In the later stages, it was the Tiger guerrillas that launched a fierce campaign to eliminate rivals and became the only group to dominate. It over ran fortified military encampments and seized artillery guns, vast stocks of shells for them and a whole variety of other items. The LTTE destabilised the City of Colombo and other key towns with surprise attacks. And now, for all their known and unknown deeds, here is a move to reward them as well as their next of kin financially – perhaps a rare move in any part of the world.
Of course Minister Swaminathan argues that "enhanced compensation" to combatants would be salutary to government's reconciliation efforts. Yet, some of the major areas for reconciliation have not been implemented. A new Constitution with that in mind is yet to be introduced. It has been relegated as an item of low priority and more than three years have lapsed. Meanwhile, the Janatha Vimukthi Peramuna (JVP) has handed over to Speaker Karu Jayasuriya a draft 20th Amendment which seeks to further strip powers of a President and seeks to strengthen those of the Prime Minister.
All this is while those who militarily defeated the combatants are facing war crimes and other egregious allegations before the United Nations Human Rights Council (UNHRC) in Geneva. Western diplomatic missions have blacklisted some of the senior officers on grounds of violating human rights and refused visas to them. The current government co-sponsored a resolution moved by the United States. It pledged to "establish a judicial mechanism" to "investigate allegations of violations and abuses of human rights and violations of humanitarian law" and affirmed that a "credible justice process" should include "commonwealth and foreign judges." In doing so, the government acquiesced on the need for a probe acknowledging in the process the outcry by western nations that such charges would have to be probed.
However, Minister Swaminathan has based his latest call for "enhanced compensation" on a recommendation made by the Lessons Learnt and Reconciliation Commission (LLRC). The Commission has said that "in broad reconciliatory perspective" a decision has to be taken for those involved in the LTTE.The Commission "takes the view in principle, ex combatants and next of kin should also be considered eligible for compensatory relief."Former President Mahinda Rajapaksa appointed this seven member Commission headed by late C.R. de Silva, then President's Counsel and later Attorney General on May 15, 2010. The Commission completed its voluminous report on November 15, 2011.
The Commission had a fivefold objective: (1) facts and circumstances which led to the failure of the Ceasefire Agreement operationalized on February 21, 2002 and the sequence of events that followed thereafter up to May 19 2009 (2) Whether any person, group or institution directly or indirectly bears responsibility (3) the lessons we would learn from those events and their attendant concerns, in order to ensure that there will be no recurrence (4) the methodology whereby restitution to any person affected by those events or their dependents or their heirs, can be effected. (5) the institutional, administrative and legislative measures which need to be taken in order to prevent any recurrence of such concerns in the future, and to promote further national unity and reconciliation among all communities, and to make any such other recommendations with reference to any of the matters that have been inquired into.
Minister Swaminathan has said that "compensatory relief for the deaths and injuries of those who were involved in suspected terrorist activities and their next of kin" is based on an LLRC recommendation. This is how he has quoted it:
"A decision has to be taken on compensatory relief for death and injury for those involved with the LTTE. From the broad reconciliatory perspective, the Commission takes the view that in principle, ex-combatants and next of kin should also be considered eligible for compensatory relief. However, the priority of REPIA should be with the affected civilians who are most in need."
REPIA refers to the Rehabilitation of Persons, Property and Industry Authority whichcomes under Minister Swaminathan. He has said that "relief to persons affected by ethnic violence, terrorist activities and other similar violence through payment of compensation" had been provided by REPIA. Though assistance for properties of state officers began in 1989, he has said that "no major changes have been made to the rates of payments." Noting that the "last change in the rate of payment was effected on September 11, 2006," Minister Swaminathan has recommended changes in other compensation payments. They are:
Death compensation to the General Public and Government Servants should be increased to Rs 500,000 and compensation for injuries to both categories to be increased to Rs 250,000.
At present Rs 100,000 is being paid to dependents of the person killed due to terrorist and related activities.
Property Compensation to the General Public and Government Servants should be increased to Rs 400,000.
At present of Rs 150,000 is being paid for damaged property of government servants.
Compensation for religious places should be increased to Rs 2.5 million for fully damaged institutions and Rs 1.25 million for partly damaged institutions.
At present Rs 1 million is paid to a fully damaged and Rs 500,000 to a partly damaged religious place.
Noting that four different compensation schemes were "introduced several years ago," Minister Swaminathan has argued that "paying different rates to the general public and public servants "would be considered as discrimination." If the weekly meeting of the ministers on Tuesday approves his memorandum, the actual costs from the exercise cannot still be determined exactly. This is because the amount of "enhanced" payments to be made to ex-combatants and their next of kin would have to be determined. Ahead of that, the ministers would have to decide whether such payments would be made as a matter of policy and in the light of government's moves at reconciliation. In addition, Minister Swaminathan has also forwarded two more cabinet memoranda where the financial commitments involved would total more than Rs 1.1 billion.
One memorandum relates to the payment of "special compensation" to Beruwala and Aluthgama families who "lost their properties" due to the incidents that took place between June 15, 2014 and June 16, 2014. He had sought Rs 185,962,050 to pay compensation for the affected persons in accordance with the recommendations made by a Valuation Committee appointed by the District Secretary. The sum sought earlier was higher but Finance and Media Minister Mangala Samaraweera pointed out at a ministerial meeting that the Treasury has re-imbursed the Sri Lanka Army and hence amounts spent to repair properties should be deducted. Now, money for compensation is being sought for destroyed or damaged household equipment. The REPIA has already formulated a scheme for this purpose.
The other cabinet memorandum is for "relocation of families who live in welfare centres in the Jaffna District." According to Minister Swaminathan, in the Jaffna District there are 34,248 families who were temporarily resettled in their own land up till October 31, 2017 and 721 families are yet to be resettled from 29 welfare centres. In addition, he has said that 8,987 families need to be resettled as they are living with friends and relatives in the Jaffna District.
Minister Swaminathan has revealed that the Government spent Rs 400,000 on land lots twenty percent a parcel of 156 extents. It had been distributed among 156 families. The remaining 64 families, he has said, could not be provided land since lots were not available at the price of Rs 400,000 for twenty perches. He adds "Identified government land has been divided and allocated to 25 families at Keerimalai. Twenty five houses have already been constructed in these lands with the local funding and distributed among 25 families. Therefore the balance 300 families are to be provided lands for their resettlement purpose. All these 300 landless families have now given their consent to resettle them in the alternative lands. A land has been identified at the rate of Rs 700,000 for a land lot of 20 perches which could be distributed to the balance 300 landless families." As is clear, there is ambiguity in Minister Swaminathan's claim about Rs 700,000 and 20 perches. Are the 20 perch plots going to cost Rs 700,000 each? It is inconceivable that 300,000 families could be settled in just twenty perches.
He is seeking Rs 697.92 million for this project and adds that 240 families are still claiming their own lands which are located within the Security Forces Headquarters (SFHQ) in Palaly. He wants the Army to expedite the process of surveying the land and declare the area that could be released. Provision of alternative land, he has pointed out, would cost Rs. 240 million in their own land in the SFHQ area. Otherwise they could be persuaded to buy their own land if compensation is paid.
Minister Swaminathan is seeking Cabinet approval to "instruct the Army Commander, the Surveyor General and the Jaffna District Secretary, to take necessary steps to identify lands which can be released to their owners from Palaly Cantonment area in order to resettle," those in welfare centres and "close down all welfare camps."
Though it is entirely within Minister Swaminathan's purview to make a recommendation to the Cabinet based on the "broad reconciliatory perspective" of the LLRC, the Sunday Times learnt that top brass of the security forces or the Police have not been consulted. This is to ascertain their views on how the matter should be approached in the light of its sensitivity. A serving senior officer, who did not wish to be identified, said "we were at the receiving end. We defended the territorial integrity and sovereignty of the country by fighting the terrorists. We defeated them. That not only tends to under value our sacrifices but is most disrespectful to those wearing a uniform."
These new developments come amidst a relative lull in the country's political firmament except for some increasing embarrassment for the ruling UNP. This is the disclosure of their members having collected cheques for different amounts from companies associated with Arjun Aloysius. He is now in remand custody over the Criminal Investigation Department (CID) probe into the Central Bank bond scam. International Trade and Development Strategies, State Minister, Sujeeva Senasinghe, claimed that he had not directly received cheques totalling Rs. 3 million from two of Aloysius' companies – Walt and Rowe and W.M. Mendis and Company. He told CID detectives that his election campaign staff had received the money and he was unaware of its origins then. However, CID investigations have revealed there were no elections during the period he received those monies.
Police sources said yesterday that the names of at least two more prominent UNPers would surface in the coming weeks. This is after detectives had uncovered details of cheques issued to them by companies linked to Aloysius. They are also not sure what laws have been violated by politicians accepting moneys from companies either for a polls campaign or otherwise. The names have surfaced during the CID investigations into the Central Bank bond scam. These sources said all the evidence they uncover would be placed before the Attorney General's Department who will determine whether the recipients have transgressed any laws. The process, these sources added, would be time consuming.
A noteworthy development this week has caused a division among the group of 16 SLFP parliamentarians who now sit on opposition benches. It began with a meeting last Tuesday of party leaders of the 'Joint Opposition.' The Sri Lanka People's Party key strategist Basil Rajapaksa hit out strongly at the group saying they would have to decide on which side they wished to remain, the SLFP or the SLPP. He was alluding to most in the group receiving key positions as officials in the pro-Sirisena SLFP.
In a strong speech, which also drew some counter views, Rajapaksa thanked the group for backing the vote of no confidence against Prime Minister Ranil Wickremesinghe. He said there were only two known major forces in the country. One force is anti-government whilst the other is pro Mahinda Rajapaksa. This was demonstrated at the local council polls on February 10. He said the group has to decide on which side they would remain. They cannot take office bearer positions in the SLFP (pro Sirisena) and still do business with the 'JO.' Otherwise they would become the laughing stock of the people who would think they were on both sides. He said this was a matter on which they would have to take an immediate decision.
He referred to the Tamil National Alliance (TNA) which had earlier remained an anti-government force. The TNAwas now stronglybacking the UNP. It lost the local polls badly. He said it was the same with the Janatha Vimukthi Peramuna (JVP) which was also backing the UNP. He said the group of 16 should decide whether they would go along with Sirisena's SLFP or Mahinda Rajapaksa's Pohottuwa (bud of the Lotus flower, the SLPP symbol). The message was that the group should give up one. If they were to back the SLPP, their parliamentary group would be open for them. Otherwise they would have no option but to back Sirisena's SLFP.
The group met President Sirisena on Thursday to discuss the latest position. A notable absentee was Susil Premjayantha who is said to be indisposed. In what seemed surprising, even before members of the group could take their seats, he started the conversation with a reference to a previous meeting. It was the one held by the group ahead of the meeting with the President. He was aware of the matters discussed. Members of the group had explained matters relating to their latest dialogue with the rival faction whom they have befriended. Now, the question is how many of the 16 will remain and how many will join the "Joint Opposition"? They may have to make a public declaration of their planned actions and disassociate themselves from Sirisena's SLFP. One source said that the majority would work with the 'JO' group but there was no confirmation yesterday.
It is clear that Minister Swaminathan's efforts to obtain "enhanced compensation" to war combatants and their next of kin, is related to the 2020 presidential as well as the next parliamentary elections. A number of measures to woo Tamil votes both in the north and east are on UNP's planning board. Similarly, the SLPP is also making plans to set up branches and increase political activity there. However, the political journey of the key stakeholders in the ruling party continues to be riddled with many an issue. Despite assuring claims by pundits, the economy remains an area of serious concern. Postal workers are on strike demanding higher wages and others are threatening to follow suit. With the government on 'auto pilot' how it hopes to cope with upcoming polls issues is unimaginable.