Stepping into a future that was once only a dream
By Tarini Pilapitiya
Celebrating 10 years in their mission to help young women to reach their educational goals, Educate Lanka partners with Mastercard to broaden their mission
View(s):
With determined faces and steely resilience, this group of young women carry some powerful invisible weapons  – their education. The supportive wielders of this instrument is a nonprofit organization by the moniker Educate Lanka that has over the years empowered economically deprived youth by bridging the gaps they face in their access to education, mentoring them and providing them employment opportunities.
Educate Lanka recently joined hands with Mastercard to build a more inclusive future for young women in Sri Lanka under Mastercard's initiative "Doing Well, Doing Good". Mastercard will help fund scholarship programmes as well as skills development and mentorship platforms in line with their global commitment to advancing social and sustainable causes within communities.
Daughter of a retired principal from Kurunegala, Sanduni, 27, is in her 4th year at the Department of Pharmacy at the University of Peradeniya. Although grateful for the loan schemes the State offered, these were insufficient to meet the cost for her higher education. She wrote to Educate Lanka who promptly came to her assistance.
Sanduni is resolute in her ambition – she chose pharmacology as"I wanted to somehow serve the people".
Having received a scholarship to Kandy Girls' High School, Sakunika Amarasinghe (22) gained 9A's for her O'Levels and 3B's for her A'Levels in the Science stream. Her father, a public servant and her mother, a housewife, have made it their mission to ensure their children are well educated.
Now a 1st year Science Faculty student at the University of Peradeniya, she says with a glint in her eye that her education helped her "break the box" that she was confined in. Currently studying microbiology and being supported by the Educate Lanka Foundation for the past five years she has discovered the world.
In addition to helping to fund Sakunika's education, Educate Lanka provided her her first opportunity to go abroad. Celebrating their 10th anniversary last year four scholars from the foundation, Sakunika included, were invited to the annual Global Citizenship Institute in Massachusetts, USA. Sakunika is ecstatic when describing her experience meeting students from various other states, to her first plane trip and even her first barbeque.
The people behind Educate Lanka have "shown me how broadly the world works" she says gratefully. Her visit with the Educate Lanka benefactors and organizers also allowed her a tour of Ivy League universities MIT and Harvard. Her first wistful thought was, "What would happen if I too could go there?"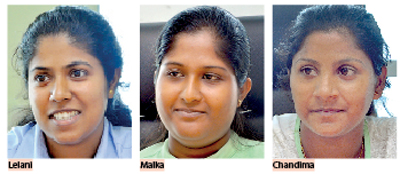 24-year-old Malka Thilini, a third-year Estate Management and Valuation student of the University of Sri Jayewardenepura describes her vision to create an organic economically friendly cholesterol-free butter! Malka laughs that her desire to dip her fingers into the Food science sector is partly due to her creativity and her family background. A daughter of a farmer and housewife from Ganemulla, Gampaha, Malka says her knowledge of the food sciences stems from a deeply personal place and that the support given to her education ensures that she too may one day help both suppliers and consumers.
For the soft spoken Chandima Ekanayake the support given by Educate Lanka is overwhelming. For a long time Chandima had to face her "economic burden alone" but her one year with Educate Lanka has strengthened her belief that no one is truly alone and help is an application away.
Lelani Kandegamage's story also has us in silent awe. Having no father figure and a sick mother, there was a time higher education was out of Lelani's reach.  A third year Management student at the University of Jayewardenepura, she put on hold her ambition of being a corporate accountant/ entrepreneur and gave up almost a year's schooling to help her mother and sister.
These inspiring young women from various backgrounds all have a common passion – their desire for learning and growing. They also do not hold back with the problems many youth face in their hometowns. Malka, the proud recipient of 2A's and 1B for her A'levels shares that tuition is a luxury for most in the area. "Sometimes even an extra Rs. 800 was a big fee for our education," she says. However, she holds herself as an example stating, "We're bridging the gender gap for education in our areas by showing people from home that investing in a girl's education is extremely valuable."
Lelani who was raised by a persevering although uneducated mother also states "My mother is my role model. Her support is my motivation." Sanduni says  that the hardships faced at home never deterred her from pursuing her ambition to study Pharmacology.
The support provided by Educate Lanka has also paved the way for her to turn to her other passions– music, literature and art.
Malka and Lelani also reap the benefits from being affiliated with Educate Lanka's mentorship programme. "Through the meetings and gatherings at the programme I am able to share my experiences with people of similar situations," Malka shares. Through contacts at the mentorship programme Malka proudly says that she obtained an internship at the Sri Lanka Ports Authority.
Having lived in Vavuniya all her life,Nathiyarasi Sivagnanam saw the destruction caused by war. Now 22 years old, the 1st year student at the Media Studies and Psychology Department at the Jaffna University has been supported these past three years by Educate Lanka after the passing of both her parents.
The youngest in the family with two older brothers, Nathiyarasi was referred to Educate Lanka by her school principal. She would walk one km to the bus station and then take the bus to her school Pudukulam Tamil Maha Vidyalaya. Despite all the difficulties, Nathiyarasi scored 1 A and 2Bs at her A Levels in the Arts Stream.
Nathiyarasi whose ambition is to be a journalist shares that her driving factor is her late mother. "She's watching over me. She always wanted her children to be in a good place in society," says Nathiyasiri. Her parents instilled the values of dreaming big in their children, she adds.
 (For more information please see their website-educatelanka.org)
It's a learning process for those behind Educate Lanka too
Educate Lanka's Founder and President Manjula Dissanayake shares that his vision was to create a "meaningful and long term impact" in the lives of the youth. A banker by profession and philanthropist by nature, Manjula who helped restore a village after the devastating 2004 tsunami, heard stories from students who struggled under dire economic circumstances. Soon his mother, a former teacher, helped Manjula secure funding for 20 underprivileged students.

After a life-threatening car accident which incidentally "saved me" Manjula reflected and revaluated his own life's purpose. "I started exploring the field of social entrepreneurship," kickstarting Educate Lanka in 2007. It took him two years to finetune a model that would create a sustainable impact on students. The model currently contains three major components –the online Micro scholarship, the mentoring and targeted guidance and skills and employment connections.

To date Educate Lanka has helped students,  through referrals, word of mouth and  benefactors like Mastercard etc. This organically grown educational nonprofit even has an alumni database, many of whom have joined the ranks of the organizers in volunteering their efforts to help others much like them.

"Education will break the endless cycle they live in," says Manjula. Mastercard's involvement as benefactors is also helping bridge the learning gap by exposing these young adults to training, skills, contacts and endless opportunities. "I'm just interested in investing in the future talent of my country," Manjula says humbly.

Educate Lanka's Country Coordinator Dhanusha Amarasinghe who has been a part of the team for the past 4 years or more shares that the experience has been a rewarding "roller coaster ride".

The results of the organization's efforts and the people who get in touch with the organizers are the just rewards of the job we're informed by the beaming Manjula and Dhanusha. "Education is the common denominator here" Dhanusha shares with Manjula adding "We just have to scale it to a level to make it fully sustainable."

"We want to hone in on their own talent and allow them to become their own boss and to shape their future," Manjula emphasizes.

Conducting their own empirical case studies, the organizers are "still learning ourselves" Manjula grins. "My vision is to simply create an empathetic global community where Sri Lanka meets the stature it deserves and and the only way to do this is to develop the human capital of the country."