President reveals plans to stop him from visiting Iran
By Our Political Editor
No details on where the pressure came from but proposed oil deal ruined by Donald Trump's move and oncoming sanctions - Iranian Presidential Guards over-react on security; Euro, not US dollar now favoured foreign currency in Teheran
View(s):
That international power play has reached newer levels in Colombo was underscored by President Maithripala Sirisena during his state visit to Iran this week. "They tried to stop me from coming to Teheran," he told a small group of journalists accompanying him. However, he did not identify who brought pressure on him, whether it came from Colombo-based Western diplomats, local officials or both.
Sirisena appeared relaxed as he sat at the head of the dining table in the 20th floor Presidential Suite of Espinas Palace Hotel. An extraordinary feature of the US$400 dollar a room luxury hotel, atop one of the tallest mountains surrounding the Iranian capital, is the bird's eye view it offers of the town with its myriad buildings. A row of snow-capped mountains form the source of water supply as it melts and fills a reservoir. The supply has now become inadequate to the town and the Iranian government is negotiating with neighbouring Afghanistan for more water.
Sirisena's remarks came in the backdrop of the decision by the United States President Donald Trump to cancel the nuclear deal or the Joint Comprehensive Plan of Action (JCPOA) with Iran — a move that shocked the International Community. This is a framework agreement signed in 2015 between Iran and a the world's 6 most powerful nations, known as P5 plus 1 — the five permanent members of the UN Security Council, the Unites States, Britain, Russia, France and China. The aim of the deal was to limit the Iranian nuclear programme and it was initiated by the then US President Barrack Obama.
Trump pledged during his 2016 election campaign to exit the deal though the International Atomic Energy Agency (IAEA) and western intelligence assessments, after extensive monitoring, have said there have been no violations by Iran. Now, the US President wants to re-introduce sanctions on Iran. Such a move which would include an oil embargo will affect efforts by Sri Lanka to obtain oil supplies from Iran. During talks with Iranian leaders, Sirisena appealed for Iranian crude at concessionary terms though Colombo still owes US$ 257 million (Rs. 40 billion) for previous purchases made during the Mahinda Rajapaksa administration.
"This is not the first time I have come under pressure," Sirisena revealed adding that "we are a sovereign nation and we have to decide what is good for our country. I did not pay heed to the demands asking me not to go." He said the same pressure came when he planned a visit to Qatar in October last year. "I was asked not to go," he said. He rejected that advice too and made a state visit. Today, Qatar's Emir Sheikh Tamim bin Hamad Al Thani has become a good friend of Sri Lanka. When Sirisena broke journey at the VIP Lounge of Al Hamad International Airport in Doha en route to Teheran on Saturday for five hours, the Emir had sent him lunch. It had been prepared at the latter's palace. Sheikh Al Thani, a wind surfing enthusiast, is known to unobtrusively slip into Sri Lanka's east coast without the glare of publicity for brief holidays. This is under the watchful eyes of personnel from the Sri Lankan Presidential Security Division.
The request not to visit Qatar came during what was then known as the Gulf crisis. In June last year, the Foreign Ministries of Bahrain, Saudi Arabia, the United Arab Emirates and Egypt declared they were severing diplomatic relations with Qatar. Saudi Arabia then shut its land borders with Qatar, and together with three other countries, imposed a land, sea and air embargo. Later, Jordan also announced it was severing diplomatic relations. These countries charged that Qatar supported "terrorism," maintained cordial relations with Iran and meddled in the internal affairs of their countries. Qatar hit back saying there was no "legitimate justification" for the actions by the countries involved and rejected their claims.
Sirisena revealed that yet another previous occasion on which pressure was brought on him was over a visit to Pakistan for three days from March 22 this year. "This was an occasion when the President of Sri Lanka has been invited to be the chief guest at their Independence day ceremony. I had happily accepted this because it was a great honour for Sri Lanka and also for the office of the Presidency," he said. "I know there will be some people who are upset by these decisions I have taken. I believe strongly that I have taken them correctly, and therefore have no cause for fear or worry," he added.
The President dealt frankly with a variety of issues. The Editorial Director of a newspaper group asked about Minister Sarath Fonseka and whether he held back gazetting of subjects assigned to him after the latter's outburst. Both at a news conference and at the UNP's May Day rally, Fonseka severely criticised Sirisena for not appointing him as Law and Order Minister. Fonseka also said choosing Sirisena to contest the presidency in 2015 was a mistake.
The President replied "yes", and went on to explain. He (Fonseka) had made offensive remarks against him for not being given the Law and Order portfolio. This was serious misconduct. As a Field Marshal, Fonseka came under a chain-of –command with him (Sirisena) at the apex as Commander in Chief of the Armed Forces. Fonseka was thus liable for disciplinary action. He had chosen to ignore that. He was unable to appoint him to the Law and Order portfolio in view of protests from various quarters. That had included Police higher ups and the Attorney General's Department. In the light of human rights violation allegations against Fonseka, several countries including the United States, Australia and those in the European Union have refused him (Fonseka) visas to travel to their countries. "The Police Department comes under the Law and Order Ministry. The vast volume of cases of alleged human rights violations emanates from there. How could I therefore give him this ministerial portfolio," he asked. "Also what would have been my position if he had made those offensive remarks after taking over the portfolio? He has shown that he is capable of doing so," said the President.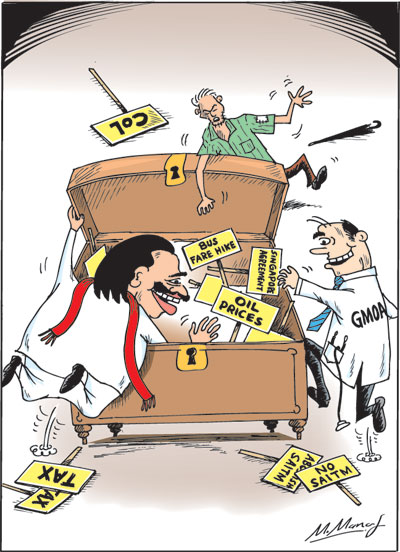 Sirisena disclosed that it was only after a meeting he had with Fonseka that he directed the subjects assigned to him be published in a Gazette notification. According to UNP sources, accompanying Fonseka for the meeting with Sirisena were Prime Minister, Ranil Wickremesinghe and former UNP Chairman Malik Samarawickrema. The previous week, official spokesperson Rajitha Senaratne announced at a media briefing that Fonseka "apologised." This drew an angry retort from Fonseka who claimed he had not apologised. This week, Senaratne, known well for his contradictory and sometimes comical declarations, said Fonseka had only "expressed his regrets" and "not apologised." Evidently he has been jolted by Fonseka's denials. Call it whatever, Fonseka quite clearly recanted his remarks which Sirisena said were offensive. That was how Sirisena agreed that the subjects assigned to him as Minister of Sustainable Development, Wild Life and Regional Development be published.
As revealed exclusively in these columns last week, before Fonseka directed his tirade against Sirisena at a news conference, he had a meeting with the President. There, he sought to seek the release of retired Major General Amal Karunasekera. He was the Director General of Military Intelligence (DGMI) when Fonseka served as the Commander of the Army. This week, a state counsel told Mount Lavinia Additional Magistrate Lochana Abeywickrema that the Criminal Investigation Department (CID) was now probing whether Fonseka was involved in the abduction and torture of Keith Noyahar, Associate Editor of the now defunct Nation newspaper. That incident had occurred in May 2008. Maj. Gen. Karunasekera who was arrested in connection with the same incident was further remanded till May 30 by Magistrate Abeywickrema also this Wednesday.
Speaking further on corruption, Sirisena said in Teheran that two of the government departments where corruption was most prevalent were the Customs and the Excise Department. He said surveillance cameras were installed at various points in the Customs to determine what was going on. Soon they were damaged and were not working. He noted that the Excise Department served little or no purpose and there was a strong need to shut it down and create another body to deal with its functions.
Sirisena cited an example of corruption levels at the Excise Department. He had helped a Polonnaruwa District youth who had the requisite qualifications to join the Excise Department. Sometime later the youth had called on him to express his gratitude. Sirisena had asked how he was and whether his work was good. "I was shocked at his reply. He said he had already built a new house and had plans to buy a new car soon," lamented the President. "Why are we allowing such a department to continue," he asked.
Essentially, Sirisena's visit to Teheran was just for one day, (last Sunday), though the media team had arrived early and left late. The only informal exception for the President's official programme was a visit to Golestan Palace on Monday morning en route to the airport. This is one of the oldest historic monuments in Teheran and is a world heritage site. "After seeing Teheran, I wished I could have stayed for three or four more days to learn about Iran", he declared whilst heaping praise on the country's civilisation.
In some aspects, the visit was a nightmare for the Presidential entourage, including the media. A day ahead of Sirisena's arrival, media personnel accommodated in rooms on the 19th floor, just one below the Presidential suite on the 20th, were asked to vacate their rooms with their valuables. They were allowed to return only in the late afternoon that Saturday. The rooms were screened. It did not stop there. Every day, after the media personnel left their rooms in the morning for coverage, their electronic door keys were jammed. A ride in the lift to the 19th floor meant having to come down to the reception on the ground floor for a new key. Instructions were shouted out in 'broken English' by a Presidential Guard in civvies with a pistol strapped around his waist. He walked from one end to the other on the 19th floor.
There were embarrassing moments for Sri Lanka Muslim Congress (SLMC) leader and Minister Rauff Hakeem. Some Iranians mistook him, with his overgrown stubble, for an Iranian and spoke to him in Persian language. Much worse was when he accompanied Sirisena as a member of the Sri Lanka delegation for joint negotiations with President Dr Hassan Rouhani. A guard kept looking at his face and at his photo identity card (issued by the Iranian authorities) many a time. He may have thought there was a difference and wanted to make sure it was the same person. An Iranian official tried to point out that he was a Sri Lankan government minister but he was brushed aside. Hakeem was cleared after the guard had moved his head many times between his picture in the card and his face. Not only for the guard, but also for others who watched it, it was a pain in the neck.
There was equal embarrassment for Dharmasiri Bandara Ekanayake, Senior Media Director to the President. He was one of those listed in the official programme for talks between Sri Lankan and Iranian presidents. A Presidential Guard said "you no go." When Ekanayake asked "why," he replied "you media, you media. Media no go." It was lost on the guard that it was internationally recognised practice for an official handling the media on behalf of a head of state to be present at such discussions. The idea is to brief the media, in this instance an essential element in the promotion of good relations between Sri Lanka and Iran. Ekanayake did not give up. He fought his way through after arguing with the guards and protesting to the bureaucrats.
Sirisena and Rouhani had a one-on-one meeting for more than 45 minutes. Sirisena said he did mention the money Sri Lanka owed to Iran for fuel imports but the Iranian leader had made no comment. This was followed by the joint negotiations which lasted around 90 minutes. Thereafter, in terms of the official programme, agreed to by Colombo and Teheran, the next engagement was: "Signing documents – Press Conference (No Q & A)." Presidential Guards directed all media personnel without cameras to leave the upper floor of the Iranian Presidential Secretariat immediately. They were forced to a garden outside. Thus the statements made at this news conference, though questions were not allowed, was not open to those who would have reported on it except for the cameramen. Here was a case of the Iranian government scurrying to get its message across whilst is own guards were working against it. That overt security consciousness had buried Iran's own diplomatic initiatives was lost on them.
If one thought it was all over, more ugly encounters were yet to come. The media entourage received named, individual invitations for the "official banquet to be hosted by H.E. Dr Hassan Rouhani, Hon. President of the Islamic Republic of Iran, in honour of H. E. Maithripala Sirisena, Hon. President of the Republic of Sri Lanka" at the Talar Building in the same Sa'dabad complex. It is here that the Iranian President's office is also located. This engagement was soon after the signing of the documents.
The media entourage was told by a person described as a top official of the Presidential Guard that they cannot go for the official banquet. Here was a case of the President of Iran being overruled by one of his underlings. He withdrew to the Presidential Secretariat after his ruling and confusion reigned. None of his subordinates was willing to accept the argument that the President of Iran had extended invitations. One of them told the drivers of the two coaches the media travelled that they should be taken back to the hotel immediately. Midway, there were two different points at the security complex. At the last one, the invitation was produced and after a protracted discussion one media coach was allowed. I was lucky to be in. The other was driven to the hotel and some of my colleagues missed the event. The venue was a modest hall with crystal chandeliers and colourful drapery. Otherwise, the laden tables resembled a Colombo restaurant reflecting less ostentation and extravagance.
The banquet lunch was under way and the seats assigned to the absentees in different tables were noticeable. The menu: Appetisers: Shrimp Cocktail, Vegetable Soup Main Dish: Salmon fillet with special dressing, cooked vegetables, Saffron-flavoured white rice, Spicy rice, Different types of Kebabs (Barg-kebab, Koobideh-Kebab, Rolled Chicken), Saffron-flavoured Tachin, Fesenjan Stew Desert: Honeydew Melon Ice Cream with Strawberry topping Hors d'oeuvre: Green Salad, Rolls (Zuchchini, Eggplant, Spinach) with a special cheese Kuku sabzi with Barberry and Walnut Shaami Pook, Different types of Olives. Mixed Pickles and Spinach Borani.
Seated at the main table between Presidents Sirisena and Rouhani was an interpreter. As they ate, they began exchanging views. Occasionally, President Rouhani was interrupted by officials who showed him documents. He spoke to them as they solemnly nodded in agreement.
There is no gainsaying that security precautions are the unquestionable right of any nation and are determined by threat factors, known and perceived. In this instance, with President Trump's exit from the nuclear deal, Teheran is not taking any chances. Added to that are also perceived threats from ISIS. Naturally, these add up to utmost security measures to ensure nothing untoward happens to create a world scandal. However, some of the measures could easily have been avoided by the Iranian authorities if they had evolved a mechanism together with their Sri Lankan counterparts. After all, the objectives of both Colombo and Teheran are to enhance the goodwill that exists between the two countries, increase co-operation in different fields and bring about greater understanding between the people of the two countries. All their aims were being undone by the brashness of the guards.
A question that also begs answer is the role played by Sri Lanka's Foreign Ministry they could have liaised with their counterparts in Iran or their Embassy here and ensured President's Sirisena's visit went off even better. After all, any foreign visit Sirisena undertakes is in the capacity of the leader of a sovereign nation. It is incumbent on them to uphold the dignity of his entourage, which includes the media personnel who have a key role to play in informing the Sri Lankan people. A failure is letting the President and the country down.
Of course, the Iranian security authorities maintained an extremely cordial relationship with the Presidential Security Division team led by DIG Rohan J. Silva. Unlike in most countries, they were allowed to bring in their weapons. Usually such weapons, sealed in a package, are handed over to the pilot of an aircraft during travel and collected at the destination. However, their Iranian counterparts did not allow them to carry out any close protection tasks and undertook them on their own. Thus, they were very much in the outer ring like the Sri Lankan media. This, however, is not unusual in some countries.
The welcome extended to Sirisena last Sunday morning outside the Jomhouri, building in the Sa'dabad complex, the Iranian president's office, was colourful. Sirisena arrived there in a black Mercedes Benz led by mounted escorts bearing the national flags of the two countries. The motorcade rolled from the hotel with different security contingents and an antenna mounted vehicle to block mobile phone communications. There was a tri-forces honour guard. To the strains of namo namo maatha, Sirisena alighted to be greeted by President Rouhani who was in flowing robes. Then followed the Iranian national anthem –
"Soroud-e Melli-e Jomhouri-e Eslami-e Iran." A chorus of stentorian voices echoed the Iranian national anthem played out as Rouhani and Sirisena stood by. A noteworthy feature at the Iranian President's office was the security. Commandos in black wearing balaclavas and carrying automatic weapons stood guard outside. Inside, most of those in suits wore pistols around their waist. In the surrounding garden, hiding behind trees and bushes were men in suits armed with rifles.
On Sunday afternoon, Sirisena met the Supreme Leader of the Islamic Republic of Iran, Ayatollah Seyyed Ali Khamenei. Sirisena told the Sri Lankan media that the Iranian leader's house was a very modest one. He had sat on a cushioned bench and Ali Khamenei had also sat similarly on another one. The Iranian Supreme Leader had told him that from his younger days he has been drinking 'Ceylon Tea'. He had noted that both Iran and Sri Lanka were not together exploiting the potential available in the two countries. He had said without delay they should identify such priority areas and move forward.
As Sirisena left Teheran last Monday morning, Iran was bracing itself for more fall-out from the US exit from the nuclear deal. A nation that earns US$ 400 million a day from oil and natural gas exports will yet feel the effects of the new sanctions the US will re-impose. Officially, the US dollar is equal to Rials 40 at banks. However, the previous Saturday (May 12) it rose to Rials 60 and the next day (Sunday) to Rials 70 in the black market. Prices of goods are mostly labelled in millions of Rials. I was at a supermarket in downtown Teheran when a newly introduced friend telephoned me on my Iranian mobile phone. He asked me not to change any dollars in the black-market since there was heavy surveillance by intelligence authorities. Hotel waiters preferred a tip in dollars instead of their own currency. Credit Cards – American Express, Master Card – are not accepted in Iran. Euro remains a preferred currency.
Shortcomings notwithstanding, Sirisena's visit to Iran was still successful. Five agreements were signed and follow-up action is on the drawing boards. The fact that the US exit from the nuclear deal stood in the way ahead of his visit, no doubt, is disappointing for Sirisena. Otherwise, there was every likelihood he would have clinched a deal for import of oil from Iran. Now, despite a request, the threat of an embargo, stands in the way. This is despite Sirisena ignoring all pressure and boldly choosing to visit Iran.
Iran uses President's visit to speak to the world on crisis with Trump

Dr Mohamed Shariff Anees, a senior lecturer on political science, at he University of Sri Lnaka has served as Sri Lanka's Ambassador in Iran for the past seven months. The twice put off state visit of President Maithripala Sirisena finally took place successfully last week, he says. Here is a brief Q & A:

THE OUTCOME OF THE VISIT: It opened a new chapter in the political, diplomatic, economic and cultural histories of both countries. President Sirisena met with Iran's President Dr Hassen Rouhani and the Supreme/Spiritual Leader of Iran Ayatollah Seyyed Ali Khamenei. Both leaders agreed that the geographical and strategic locations of their countries are very important in the present world politics and international trade. It was stated by the Iranian side that the current level of bilateral trade ties is "much lower" than the potential capacities. It was agreed to develop the relationship at least up to the level of what prevailed in 2011.

Discussions took place in the fields such as bilateral trade, foreign direct investment, tourism, scientific-technology, agricultural industry and railway.

WORLD ATTENTION TO THE VISIT: This was the first State Visit of a Head of State after Donald Trump, the US president, withdrew from the nuclear deal or "Joint Comprehensive Plan of Action (JCPOA). Therefore, the entire world not only was closely watching this visit but also was alert on the opinions expressed by both leaders. Some political analysts believe that Iran benefited immensely during this visit as the Political as well as the Supreme leaders of the country utilized this opportunity to express their views on the present political dilemma of the world. Both of them used this visit as a political platform for conveying their message to the rest of the world about their stance on the current situation. For instance, the supreme leader Ayatollah Ali Khamenei said that "Asian countries must further co-operate and work with each other, because such cooperation will make them strong".

At the same time, what President Dr. Hassan Rouhani conveyed in this regard is very important ;"The basis of foreign policy is built on morality, trust and attention to international regulations, and we are very pleased that Iran has been abiding by its obligations under any agreement it has signed and at the same time, we are so sorry that the US as one of the parties of this accord, announced its withdrawal from the agreement and the US withdrawal is "a violation of morals/ethics, politics, the proper diplomatic path and international regulations". Therefore it seems that Iran has used this state visit as a forum where it could clearly express its stand over the latest nuclear issue.
However, President Sirisena avoided making any serious comments about the nuclear issue and he focused more on further developing and promoting bilateral relations between the two countries. He made clear that Sri Lanka was nonaligned and maintained good relations with all countries.

ON THE DOCUMENTS SIGNED: We were able to sign five (05) MoUs in different fields. They are:

MoU in the field of Health, Medical Science, Pharmaceutical and Medical Equipment
MoU between the Institute of Standards & Industrial Research of Iran (ISIRI) and Sri Lanka Standard Institution (SLSI) on Cooperation in the field of Standardisation, Meteorology, Training
MoU on the Cooperation in Combating Illicit Trafficking in Narcotic Drugs between Sri Lanka and Iran
MoU for Cooperation in the field of Cinema and Television and
MoU on Programme of Cultural, Scientific and Technical Cooperation

I firmly believe that at the 12th Joint Economic Commission of the two countries, which is to be held in Tehran soon, all issues in economic, trade and technical-engineering services will be followed up.

ON OIL IMPORTS FROM IRAN: Iran has agreed to export oil to Sri Lanka. It was highlighted during the talks that Iran was the first country to assist Sri Lanka to develop an oil refinery in the country. President Sirisena requested Iran to assist Sri Lanka to explore the oil resources in Sri Lanka. ON TRADE TIES: They discussed various issues such as selling oil, petrochemicals, and construction materials and technical-engineering services from Iran to Sri Lanka. The Iranians stated that their companies and experts are ready to provide technical-engineering services to Sri Lanka in different fields such as construction of dams and power plants, as well as developments of refineries, railroad construction and delivering power to villages in Sri Lanka. Furthermore, both leaders discussed scientific cooperation between the two countries especially in the field of medical sciences and exporting pharmaceutical products to Sri Lanka.

Direct flights between Teheran and Colombo were also discussed to facilitate travel between the two countries. Promoting tea exports from Sri Lanka to Iran, developing a new mechanism for banking systems for financial transaction between the two countries were also taken up. Both sides agreed that the banking system is very important for promoting bilateral trade, tourism and foreign direct investment.