On the trail of tramadol abuse
By Kumudini Hettiarachchi and Musaffa Mafaz
Known among addicts as 'apple', the opioid pain killer is the new dope youth are after - NMRA, law enforcement authorities step up efforts to stop smuggling and over-the-counter sales
View(s):
A disturbing trend among youth is generating red signals across the country, spurring a strong, coordinated crackdown by many government agencies to cut off the smuggling trail over sea and land.
Five brands of tramadol (an opioid painkiller) which are unregistered in Sri Lanka are being smuggled into the country from India. Ferried from India to such areas as Kalpitiya by boat, these large stocks of tramadol are then transported by road to different areas, the Sunday Times learns.
With these smuggled tramadol tablets being available freely on the street, there seems to be a trend towards tramadol misuse, said the National Medicines Regulatory Authority (NMRA)'s Chief Food and Drugs Inspector Amith Perera.
While there were 28 prosecutions in 2016 under the NMRA Act for transporting, selling and being in possession of unregistered tramadol, 2017 saw 70 prosecutions, a sharp rise, he pointed out. (See graphic)
Citing two examples, Mr. Perera said they swooped on a stock of 3,700 tramadol tablets being smuggled in and thought it was a big haul, only to get a huge cache of 225,000 tablets later. While the brands of tramadol registered by the NMRA (30 importers have been granted registration) are available for purchase on 'prescription only' at the pharmacies of state and private hospitals and Osu Sala outlets, it is obvious that the tramadol found elsewhere are smuggled in stocks.
He said several government agencies are working in tandem to ward off the threat posed by the tramadol which is being smuggled in. These agencies include the Navy, the Army and the Air Force which provide intelligence information as well as the Police, the Special Task Force and the Police Narcotics Bureau which conduct raids on the streets along with NMRA officials, as the NMRA mandate is limited to swoops on pharmacies.
Mr. Perera is the focal point in the NMRA, working under the guidance of the NMRA's Chief Executive Officer Dr. Kamal Jayasinghe, for these activities.
A majority of the registered importers bring stocks from India in the form of 50mg tablets or capsules, which are sold at Rs. 10 each here. The smuggled brands come in high doses of 225mg, with the price ranging from Rs. 50 on the street. But at events such as sangeetha sandarshana where young people gather the price rockets tenfold, with a 10-tablet card being sold at Rs. 1,000, according to Mr. Perera.
The Sunday Times spoke to many users and friends of users to fathom why they take tramadol and how the habit affects them.
A 25-year-old who lives in Kollupitiya said he began using tramadol when he was in school to feel better, before switching to heroin, while a 23-year-old from Galle said that "it isn't a big deal" and "we get it from friends".
Accepting that it is a strong drug which was first prescribed to him for knee pain, another 23-year-old from Mount Lavinia said that it gives a "short high…….for about three hours".
The Colombo Medical Faculty's former Pharmacology professor Laal Jayakody, however, dispelled such notions and said that it seemed more like a lot of hype by those who were misusing it about the effects of tramadol. "There is a lot of psychological overlay rather than an actual effect," he said.
"Medications are like double-edged weapons. They are needed for patients and should be used well for good effect. At the same time, when they get into the wrong hands, such medications can be misused and abused," stressed Prof. Jayakody.
For a 27-year-old from Wellawatte, the transition to tramadol began after smoking weed with a gang. Later "they" introduced him to tramadol and though he used it years ago, he has now stopped due to personal reasons.
Attempting to trace the distribution links, the Sunday Times learnt from a 20-year-old in Kurunegala that they call tramadol "apple". As they are unable to get it in large amounts from pharmacies, one person distributes to a set of others who, in turn, supply to the users, he said, explaining, "I use it a lot when going for parties. Usually I have ½ a tablet. It doesn't get me sleepy. I feel high and calm". The pill that he takes costs Rs. 250 each.
In Wattala, it is a 20-year-old who gets the drugs and distributes them to others, while another 20-year-old from Galle had been "introduced" to tramadol by older people he hangs out with. "They told me about it and I saw them have it. I don't have a special time to have it. I just force myself to have it mostly when I'm sad and upset," he said.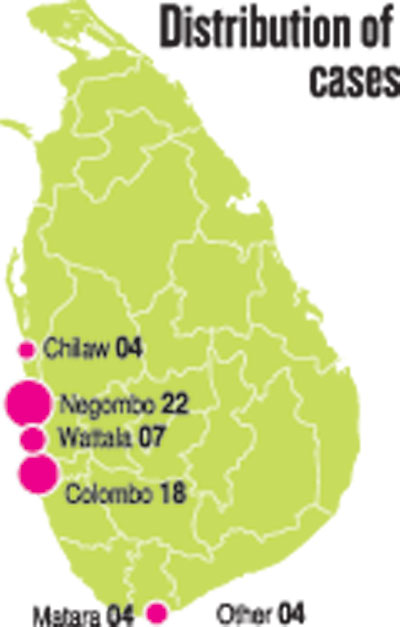 Pharmacies don't supply tramadol easily, but do give to known people, he said, adding that "if we know people who are close to pharmaceutical representatives, it's easy, because that's a way that I get it". Different brands cost different amounts, ranging from Rs. 30 to Rs. 5,000.
"When I have too many tablets, then I don't feel anything around me, I'll be unaware of the time or where I am," he said.
A user's friend from Dehiwela said that he has it in crushed form and also eats some gel along with it. He buys a tablet at Rs. 2,000 each.
Meanwhile, NMRA's Chief Food and Drugs Inspector Perera, rejected calls that Sri Lanka should not import tramadol. Quoting the pharmaceutical reference book, British National Formulary (BNF), he stressed that tramadol is a "potent painkiller" and as such an essential medication for people with cancer, those who have been severely injured in accidents or those in severe pain post-surgery.
"We are taking strong action to prevent tramadol which is not registered with the NMRA from being smuggled into the country or being sold in the black-market for misuse and abuse," he added.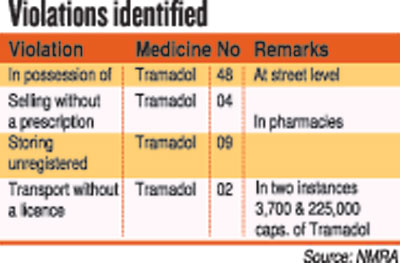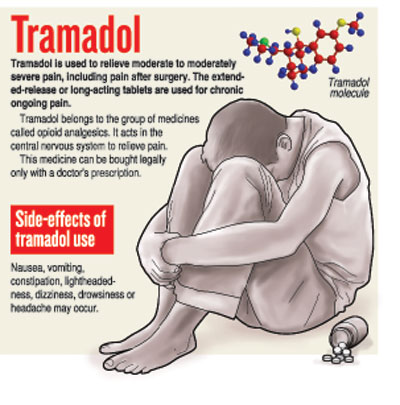 What is tramadol and when is it prescribed

Tramadol is a prescription-only medication that is being widely used all over the world and at the time it was introduced to Sri Lanka about 15 years ago, there was "no abuse potential" indicated, said Laal Jayakody, former Professor of Pharmacology at the Colombo Medical Faculty.

Usually, tramadol is prescribed to help relieve 'moderate' to 'severe' pain. It has properties similar to opioid (narcotic) analgesics (painkillers) and works in the nervous system to change how a person feels and responds to pain, he said.

Pointing out that unlike addictive medications such as pethidine and morphine which are in Schedule III of the National Medicines Regulatory Authority (NMRA) classification, tramadol is under Schedule II B. This is because when it was introduced to the country there were no indications of "abuse potential". (Medications listed under Schedule I do not need a pharmacy licence to store or sell, while those under Schedule II and III need a pharmacy licence. Under Schedule II A, meanwhile, are medicines which can be bought over-the-counter without a prescription and under II B fall prescription-only medicines.)

In current times, though, when the authorities are cracking down on narcotics, it may be that groups using those substances or are addicted to them are switching to tramadol, said Prof. Jayakody, stressing that tramadol is a pharmacologically important medication.

He explained that the "abuse" potential in tramadol will hinge on the physiological and psychological dependence of the user, with the user getting a pleasurable sensation or "a high" or "a kick". With it may come a gradual craving. Some young people may resort to experimentation with tramadol and other similar medications which they can lay their hands on illegally.

Referring to adverse effects, Prof. Jayakody added that they include headache, weakness, sweating, sleep disorders, dyspepsia (gastric issues), stimulation of the central nervous system, difficulty in concentrating and depression.