Existing Laws sufficient to arrest law's delays if used properly: Samayawardhena J
View(s):

Though some say that Laws should be amended to arrest the Law's delays, existing Laws are quite sufficient to deal with any situation, provided they are made use of properly, said Justice Mahinda Samayawardhena.

He was addressing the Ceremonial Sitting of the Court of Appeal (CoA), held on Tuesday (8), to welcome him and Justice Arjuna Obeysekere as Judges of the CoA.

In his address, Justice Samayawardhena remarked that submissions made by Lawyers must be relevant to the matter at hand and to the point. Submissions shall be made to impress the Judge and not the client or audience. He opined that a Judge who does not control proceedings to ensure a full hearing, is not doing the right thing.

"When I express myself in this manner, I am mindful of the fact that, as much as justice delayed is justice denied, justice hurried is justice buried. Quantity without quality is useless. We must increase the quantity without compromising on the quality."

Justice Samayawardhena pointed out a few reasons for the Laws delays. These included Counsel suddenly falling ill on the trial or argument date, taking up unwanted technical objections designed to delay proceedings, and the procedure being complicated.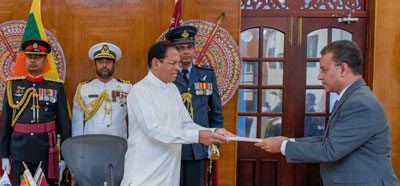 Educated at Gurukula Maha Vidyalaya, Kelaniya, Justice Samayawardhena entered the Law Faculty of Colombo University in 1980 and was called to the Bar in 1985. He joined the Judicial service in 1988 at age 26. He is a former President of the Law Society and counts 33 years in the Legal profession. Justice Samayawardhena also holds LLM Degrees from the University of Colombo and from Monash University, Australia, as well as an MPhil Degree and a Diploma in Forensic Medicine.
Speaking on the occasion, Justice Arjuna Obeysekere stated that the judicial branch cannot function in the absence of public confidence. With Judges stretched to the maximum today, due to thousands of cases, and faced with serious limitations on resources, the question of maintaining public confidence in the judiciary is a challenge, he pointed out.
"While several procedural reforms maybe needed to address the sheer volume of cases, there are numerous common sense tweaks that we can adopt to manage cases," Justice Obyesekere told the gathering. He noted that the requirement to have written submissions prior to hearing, introduced recently in the CoA, was a step in the right direction, as it requires Counsel to narrow down the issues and minimise the time needed for the hearing.
He also suggested that, instead of fixing multiple cases on the same day to accommodate the large volume of cases, Judges should schedule cases for specific time slots, after ascertaining from Counsel the time required to present their cases, with reserve slots available to cater to exigencies.
"We need to take pragmatic moves that recognise that we are now a far larger group with exponentially higher number of cases and accordingly, more professional in our dealings. This, in turn, would increase efficiency and lead to increased public confidence," he added.
Justice Obeysekere was educated at St. Thomas' College, Mt. Lavinia and the Sri Lanka Law College, from where he graduated in 1991. He joined the Attorney General's (AG) Department in 1993, as a State Counsel and thereafter, proceeded to the University of Cambridge, where he obtained an LLM in Commercial Law. He ended his career in the official Bar as Senior Deputy Solicitor General after 25 years, to take up his position in the judiciary.
Welcoming the 2 Judges to the CoA, AG Jayantha Jayasuriya, P.C., noted that, Justices Samayawardhena and Obeysekere had taken two different paths representing two equally important, but distinct, institutions operating in one and the same system of the administration of justice mechanism. "Both these institutions, Judiciary and the AG's Office, make their own contribution to achieve a common goal, working within their respective parameters," he further stated.
"Justices Samayawardhena and Obeysekere are leaving behind a legacy in those respective institutions, where present and future generations can proudly look up to the commitment and dedication with which Your Lordships discharged your duties and responsibilities entrusted to you," the AG said.
Speaking on behalf of the unofficial Bar, Bar Association of Sri Lanka (BASL) President U.R. De Silva, P.C., expressed confidence that the justices would discharge their duties as Judges of the CoA, with the integrity, impartiality, judicial skill, courtesy and patience which they were known for.