Gated communities in despair without proper laws
View(s):
Gated communities are popping up all over Sri Lanka and while they certainly can boost security, a few issues have been cropping up. Unlike apartment owners, those in gated communities which are a rapidly growing phenomenon in Sri Lanka, don't have laws or any authority that govern them.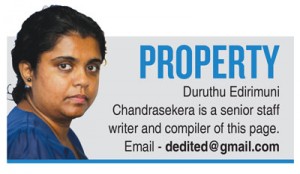 A gated community (or walled community) is a form of residential community or housing estate containing strictly controlled entrances for pedestrians, bicycles, and automobiles, and often characterised by a closed perimeter of walls and fences. On the surface, it's easy to see the appeal of buying property in a gated community, but without any proper law residents are helpless, many who own gated community housing say.
"There is no place we can make complaints against the developer for not keeping their promises or when they start mismanaging the facilities that were promised to the buyers after they sold the homes," Mario Wijesekera, an owner of a house in a well known gated community, told the Business Times.
He said that things such as maintenance of the complex, operating of the club house, etc aren't done at all and it's frustrating. "The only place a complaint can be made is the police but the police say these are civil matters and advice us to file private civil cases which are costly and time consuming. Knowing this fact often the developers try to bully the home owners by not answering their mails, letters, and sometimes not even answering the phones," he said adding that all these projects were started with BOI approval for the developers to get tax concessions but the BOI also doesn't continue to monitor the developers to see if they have kept to the conditions and promises that the developers signed when seeking permission for the projects.
Mr. Wijesekera said that amongst the issues with the developers are sale of land within the perimeter to outsiders; improper handover of management, club house sports and recreation facilities not running etc, are prominent.
"When our project was completed, we were informed as home owners that more construction will not happen within the complex. However blocks of land that were not built on are being offered for sale. If blocks of lands within this community are offered to home owners of adjoining lands we don't see any issues. The problem is if these blocks are purchased by outsiders who will then start constructing new houses, which will be a big disturbance to all the residents," he said. He said that the number one reason people choose to live in gated communities is the security element. Because a gated community is private, it is more difficult to access than a standard community.
He said promised facilities aren't anywhere near expectation. "In all the marketing material this builder used to sell the bungalows claiming that there is a functioning club house with all the facilities. These claims are blatantly untrue," he added.
Another owner of the same complex told the Business Times that this developer promises all between the sky and the earth when they are selling but once they have sold all the houses they disappear without any proper handing over or stop continuing with the facilities that they promised the buyers when they were selling the homes.
He added that despite all their claims, residents aren't provided facilities such as a swimming pool, gymnasium, tennis and squash and other recreational units.
Facilities such as a promised restaurant serving traditional Sri Lankan and international cuisine, well maintained pool and a separate kiddies pool with swimming lessons from an experienced coach, special packages for individuals and families for one month, six months, annual and lifetime membership aren't available, he stressed.
He added that home owners were not provided with the plan/drawings of the houses despite repeated requests. As a result maintenance and repairs are a nightmare for the homeowners. "We have been having a continuous battle with the developer because they are not providing the services that they promised, for example they closed the restaurant at the club house. I think it would be of great help to many buyers who are planning to buy homes in gated communities in the future to know what they are getting into."