Sachin de Silva Overall Winner of RCGC Monthly Medal
By Dion Abeywardena
View(s):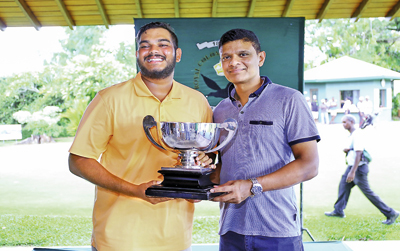 The Royal Colombo Golf Club embarked on its' new calendar year, with the ushering-in of the new Committee for the 2018/2019 Term of Office with the generous sponsorship by Standard Chartered Bank of the April Monthly Medal
Avancka Herath was elected Captain of the RCGC, whilst former RCGC Captain and President of the Sri Lanka Golf Union  Nimal Piyaratne was elected President. Mr. W. A. K. Fernando was elected as the Vice Captain along with a mix of senior and new faces to complete the RCGC committee for 2018/ 2019.
The April Monthly Medal, the first event counted for the RCGC Grand-Prix, comprising 25 rounds was teed-off in exemplary style with about 235 players in varied categories vying for an array of prizes lined-up by the generous sponsorship of Standard Chartered Bank. Sachin De Silva a prolific winner of RCGC event throughout the year continued his excellent form with a three under par Gross 68 to win the Overall beat Nett Score too beating all and sundry with a stunning Nett 66 off a 2 Handicap.
Sachin celebrated his brilliant round in the morning with the Longest Drive of a 'mega' 330 yards to win the Overall Longest Drive for Men in another feature event, the Night Long Driving Contest introduced at the RCGC for the first time, combined with the launch of "Priority TEE PASS" an exclusive 'golf pass' enabling access to Golf Courses around the world by Standard Chartered Bank presenting a special facility to the golfing community. The Night Long Driving Contest created huge interest with the Ladies Event won by Anusha Senadhira with a mighty 180 yards and many Golfers Teeing-off under 'lights' to be the "longest hitter' in the Club!!! The fun was capped by the fellowship, Cocktails and BBQ, hosted by the Sponsors Standard Chartered.  Mr. Bingumal Thewarathanthri, Head of Retail Banking Sri Lanka, representing Standard Chartered Bank together with the Captain RCGC Mr. Avancka Herath gave away the prizes.
ROYAL COLOMBO GOLF CLUB "STANDARD CHARTERED BANK
APRIL MONTHLY MEDAL" RESULTS AT A GLANCE
Overall Winner:  Sachin de Silva 66 Nett B/B 9

Division A – Handicap 0 to 09 – Nett

Winner:  Ravindra S. Wijeguneratne    71 Nett

Runner Up:  Vinod Weerasinghe 72 Nett B/B 9

Division A -Handicap 0 to 09 – Gross

Winner: Sachin de Silva  68 Gross

Division   B – Handicap 10 to 18 – Nett

Winner: Chamara Abhayaratne   66 Nett

Runner Up: Rohan de Silva 68 Nett B/B 9

Division B – Handicap 10 to 18 – Gross

Winner:  Chamara Abhayaratne  78 Gross

Division   C -   Handicap 19 to 28 – Nett

Winner: Dhammika Ranasinghe 67 Nett B/B 9

Runner Up:  Suneth Wijesinghe 67 Nett

Division C – Handicap 19 to 28 – Gross

Winner: A. D. S. Gunasekera 87 Gross B/B 9

Seniors Division  – Nett

Winner: Wijitha Perera 67 Nett

Runner Up: Lester Weinman 68 Nett

Seniors Division  – Gross

Winner: Lester Weinman 85 Gross B/B 9

Masters  Division – Nett

Winner: Niroshan  de Silva 64 Nett

Runner Up: Harendra de Silva 66 Nett

Masters  Division – Gross

Winner: Harendra de Silva 81 Gross B/B 9

 Night Long Driving Contest:

 Overall Winner Men – Sachin de Silva, 330 yards

Overall Ladies Winner – Anusha Senadhira, 180 yards