Storm over Indian doctor's costly stem cell therapy for Lankan autistic children
By Kumudini Hettiarachchi
Local specialists charge that vulnerable and desperate parents are being exploited
View(s):
Are Sri Lankan children with autism allegedly becoming 'guinea pigs' in unproven stem cell therapy research in neighbouring India?
This is the strong concern which has created a storm among medical professionals from many specialties here, following a visit by Neurosurgeon Dr. Alok Sharma from NeuroGen Brain and Spine Institute in Mumbai to Colombo last Saturday.
Following the agitation of these medical professionals, the Sunday Times set about clearing fact from fiction, while the Sri Lanka College of Paediatricians issued a strong statement criticizing such therapies. (Visit for the full statement).
Our investigation has revealed some disconcerting details and uncovered what seems to be a new trend which is gathering momentum among desperate parents – Stem Cell Tourism costing exorbitant amounts of foreign exchange to the country, with the outcome being covered in a haze of alleged danger and uncertainty.
Another grave question which arises, health sources said, is: Can any foreign doctor, whether on someone's invitation or on his/her own initiative land in Sri Lanka and screen and assess patients and offer hope to them through yet unproven therapies?
And in these cases these patients are a very vulnerable category – children with autism whose parents will cling to 'any' straw to get them out of autism, for which there is no cure as at present, only interventions to bring about improvements in the condition, starting as soon as the signs of autism are detected, many doctors said.
It was with difficulty that the Sunday Times pieced together the visit of Dr. Sharma who is allegedly offering "unwarranted" hope to these parents and children with autism, according to not only local but international medical experts. Many experts raised serious concerns about the potential dangers such children with autism and other neuro-developmental disorders who undergo stem cell therapy may be facing?
The Sunday Times understands that it may have been an organization of parents of autistic children who may have invited Dr. Sharma to Sri Lanka this time but the early links with NeuroGen Institute may have been formed by parents after going on the internet.
While the head of the parents' organization was tightlipped about its involvement in the most-recent visit of Dr. Sharma, he was critical of both the Health Ministry and the local Consultants for not setting in motion diagnostic and interventional measures for special children, especially those with autism.
Dr. Sharma had arrived in Sri Lanka on Saturday (March 31) and looked at the medical history of several patients and screened them at a Colombo hotel, a parent told the Sunday Times. He had spoken to them about stem cell therapy for autism. He had also made a presentation at a private hospital, while seeing more patients in Kadawatha about which the Sunday Times could not get confirmation.
One parent whose teenage son has already undergone stem cell therapy seven months ago in a "package" that cost US$ 8,000 and who is adamant that there are "improvements" in his son, said that Dr. Sharma on Saturday suggested that he may have to undergo a second dose later, but not now. In the procedure that this teenager underwent, stem cells taken from his hip bone marrow had been injected into his spine. The teenage had been in Mumbai for about a week, after which he returned to Sri Lanka.
How did Dr. Sharma allegedly screen patients during his most recent visit? When the Sunday Times contacted both the Health Ministry and the Sri Lanka Medical Council (SLMC), sources reiterated that no permission was granted to him to do so. Usually, if a hospital (state or private) or a medical professional college invites any foreign doctor to be part of any procedure involving patients where that doctor would come into contact with patients, they have to write to the Health Ministry seeking permission to do so. Thereafter, on the recommendation of the Health Ministry, the SLMC issues temporary registration to that doctor for a particular period of time.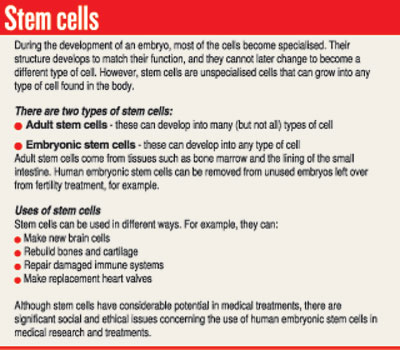 The private hospital at which Dr. Sharma had made the presentation, meanwhile, when contacted told the Sunday Times that with Monday (April 2) being World Autism Day, the parents' organization had requested them to give a venue for a guest speaker and that is what they did. Dr. Sharma's lecture was on autism and only the concluding part dealt with stem cell therapy.
A high-level source at the private hospital was categorical that they did not invite any parents for this session but the parents' organization brought in some parents. There was no screening of patients by Dr. Sharma at this private hospital, the source added.
Dr. Sharma who is offering stem cell therapy for autism and other neuro-developmental disorders is exploiting the vulnerability of desperate parents, said many Paediatricians, Child Psychiatrists and Haematologists in one voice.
At the forefront in debunking these "false promises" of yet unproven origin are Consultant Paediatricians Dr. LakKumar Fernando and Dr. Samanmali Sumanasena and Consultant Paediatric Psychiatrists Prof. Hemamali Perera and Dr. Swarna Wijetunge.
While stressing that so far the only way forward with regard to children with autism is early diagnosis and early intervention, the "principle" of stem cell therapy in this situation was "entirely" wrong, they said.
"In autism, doctors still don't know where the exact lesion is in the brain – most evidence shows changes in several areas or general changes in brain Magnetic Resonance Imaging (MRI). So whoever is transplanting the stem cells is unaware what will work where," said Dr. Sumanasena.
She added that as in autism, even for any other neuro-developmental disorder such as cerebral palsy, there is no evidence to support stem-cell therapy.
"Alternative therapies feed on the sheer desperation of parents with children who have autism," said Prof. Perera, pointing out that in some countries these alternative therapies have become a cottage industry.
Why is it that the Food and Drug Administration (FDA) of America is very cautious about stem cell therapy, while the west is shunning it and only some countries in the east are resorting to it?
The fundamental problem with autism is that there is something wrong with the brain's circuitry caused by a neuronal issue. These children are in a world of their own and stem cells will not be able to address this issue, she said.
Some worldwide experts were also of the same view.
The Associate Director and Head of Department of Haematology of the Christian Medical College in Vellore, India, Prof. Vikram Mathews said that it is distressing to hear about the things being claimed and offered by this group from India.
"There is absolutely no scientific basis for any of the claims stated and the objective seems to be to make money. The only exception is when such interventions can be done in the setting of a Clinical Trial with close monitoring for adverse events after getting appropriate regional and national clearance at no cost to the patients on whom such interventions are done," he said.
The Professor of Paediatrics of McMaster University, Canada Research Chair in Childhood Disability and Co-Founder, CanChild Centre for Childhood Disability Research, Prof. Peter Rosenbaum said that to his knowledge, no stem cell 'therapy' is being done in Canada – only animal studies.
He said, "It is my understanding from the smart scientists doing this animal research that we are years away from human studies — which will, of course, need to be very carefully done and studied and followed for a long time. All I can suggest is that you try to get parents who are leaders of the community, and sensible, to understand that this is a risky procedure of 'completely unknown value'."
Response from Mumbai's NeuroGen Brain and Spine Institute 
When contacted on e-mail with a series of clarifications, Dr. Alok Sharma from Mumbai's NeuroGen Brain and Spine Institute got Dr. Nandini Gokulchandran to send the following replies on Friday night.

With regard to Dr. Sharma's visit to Sri Lanka she states that it followed an invitation from the 'Sri Lanka Parents Association of Autistic Children' on the occasion of World Autism Awareness Day. Dr. Sharma gave a lecture that was not just on stem cells but on all aspects of autism such as the increasing incidence, causes, mechanisms, investigations, rehabilitation, other newer treatments and finally about stem cell therapy.

"Many parents did want to meet with Dr. Sharma and ask questions and so some of them did visit him at the hotel. It is only natural for parents to want to directly talk with a doctor who could possibly help their child and we see nothing wrong with that. In addition, there were some parents whose children had already taken treatment in India and who wanted to see Dr. Sharma to report all the improvements that they have noticed. None of this was a 'screening' as you describe nor was it a medical consultation of any kind. No fees or any direct or indirect payment was made or received. Families who have taken treatment from us were naturally excited that Dr. Sharma was in Colombo and were keen on meeting him. It would be so inhuman and unfair to not let them do so, it states.

According to the e-mail reply, during this visit "we were also invited to meetings where local specialist doctors and senior management of hospitals from Sri Lanka met with us to discuss possible collaborations to start stem cell therapy in Sri Lanka. These doctors had a larger vision for improving the healthcare services for Sri Lanka and were keen on us doing collaborative work, After all with our 10 years, 6,000+ patient experience we could give a good head start to the stem cell programme in Sri Lanka. Presently, we are looking at all possible options but haven't made up our minds as to whether we want to do this. We were very positive and keen on such collaborations when we were in Sri Lanka since we saw the positive, proactive approach in the people we met. However, seeing the negative reaction amongst various sections after we left has made us do a serious rethink".

"We have also offered free professional training at our centre to therapists and doctors from Sri Lanka. Some from Sri Lanka have already come to our institute for this. We have done similar training programmes with other countries as well. We have also committed to send our therapist / doctors, to Sri Lankan centres in Colombo and Kandy where through workshops professional will be trained. This is also done at no cost," it added.

To the query: Do you and your team hope to start stem cell therapy for autism and neuro-developmental disorders in Sri Lanka? If so, when and where?

A. We have been requested by a hospital in Colombo to do so and discussions are in progress. We have been asked by another organization in Kandy too.

Did you and your team obtain approval from the Health Ministry in Sri Lanka including the Sri Lanka Medical Council to screen and promote stem cell therapy among Sri Lankan children with autism and other neuro-developmental disorders?

A. As mentioned earlier, we were invited by various organizations to address their parents and deliberate on updates/recent advances in treatment of neuro-developmental disorders. During this seminar, some parents requested a discussion and we obliged them. There was no screening or medical consultation and no money or fees was taken.
What is Autism Spectrum Disorder?
Autism Spectrum Disorder includes conditions which could range from mild to moderate to severe, Consultant Paediatrician Dr. Samanmali Sumanasena who works with numerous special children at the Department of Disability of the Ragama Medical Faculty said.

The diagnosis of where in the spectrum a child with autism is, will be based on the degree of the child's ability to socially communicate and interact or the presence of abnormal behaviour patterns that will interfere with his/her day-to-day functioning, according to her.

As such, Dr. Sumanasena reiterated that the 'improvement' in a child or young adult with autism can be identified by:

The child's ability to effectively communicate and interact in a social situation –
a) knowing the social norms where to stay silent or understanding when to greet or say bye-bye;
b) understanding happiness and sorrow in another person or situation;
c) having a conversation with reciprocity displayed in language and expression;
d) gradually reducing echolalia (which is repeating words or phrases);
e) maintaining joint attention with another person so that the child is able to react appropriately to social behaviours or conversations;
f) not repeating words in a meaningless manner, but using language appropriately in sentences and in the correct context while children who were non-verbal may learn words and use them in the appropriate context.
n The child will minimize abnormal behaviour and engage in socially appropriate meaningful behaviour –
a) minimize mouthing of toys or repetitively spinning or lining up toys;
b) engage meaningfully in play and appropriately using toys and displaying a variety of activities during play;
c) will not repetwitively ask the same questions or will not sing the same nursery rhymes;
d) will participate with peers at play;
e) will not showcase sensory seeking or sensory avoidance behaviours and tolerate these sensations as part of the natural environment;
f) will move out of restricted interests such as vehicles or dinosaurs into a variety of topics which will improve his/her participation largely in society.

Referring to "improvements" that a parent said he, teachers and therapists saw in his son such as fine motor skills, gross motor skills and speech, after being given stem cell therapy, Dr. Sumanasena stressed that increasing the number of words spoken without meaningful use or being able to pass more beads on a string (improvement in fine motor activities) are not features of effective management of autism as they are not taking place in a social context.