Veggies trashed and thrown to jumbos
By Nadia Fazlulhaq
Public, farmers losers as prices drop
View(s):
Gunny bags full of vegetables being thrown in corners to rot, wild elephants gorging on discarded vegetables, piles of produce discarded at economic centre garbage dumps – these have been common sights over the past weeks.
A glut in vegetable supply raised hopes of a drastic price drop in cities and towns but, unfortunately, both farmers and retail shoppers have not benefited.
The Hector Kobbekaduwa Agrarian Research and Training Institute (HARTI) said the wholesale prices of most varieties have dropped due to increased supplies from Jaffna to markets during the peak Maha season.
All vegetable prices at the Dambulla Economic Centre dropped, with brinjals sold for Rs, 50-60 per kilo, beans for Rs. 70-90/kg, carrots for Rs. 90/kg, cabbage for 15-25/kg, radishes for Rs. 10-15/kg and tomatoes for Rs. 20-25/kg to 25 rupees. Leeks, the only vegetable that saw an increase in price, went for Rs.140-160/kg.
The Sunday Times learns some desperate farmers were even selling off low-priced vegetables for Rs. 10 a kilo.
Diminished prices for vegetables grown in the low country at the Economic Centre included ladies fingers at Rs. 40-50/kg, capsicum at Rs. 80-100/kg, long beans at Rs. 40-60/kg, luffa at Rs. 50-60, cucumber at Rs. 40/kg and snake gourd at Rs. 40-50/kg.
Unfortunately, these low rates did not have a substantial impact on prices in Colombo and other main towns where a kilo of carrots – which fetched about Rs. 90 at Dambulla, went for Rs. 120-200/kg at retail shops, with most supermarkets selling them for Rs. 190.
Green beans, which only went for Rs. 70-90/kg at the Economic Centre, were sold for Rs. 120-200/kg at retail markets and Rs.170 at supermarkets.
Luffa was also sold between Rs. 120-200 in markets, with brinjals and snake gourd at a similar price. Capsicum was available for Rs. 160-240/kg in markets and cucumber for Rs. 100-160/kg. Long bean prices varied from Rs. 100-240/kg depending on quality and so was bitter gourd.
"As vegetables are perishable consumers and farmers are being given step-motherly treatment and the businessmen in between are earning big profits," charged Ranjith Vithanage, convener of the National Movement for Consumer Rights Protection.
"The government needs to serve as a middleman in the vegetable trade. There is so much political involvement. We need to give the farmer a fair price and the consumer good vegetables at a reasonable rate," he said, adding that consumer advocates were determined to meet the President and the Prime Minister over the high vegetable prices and wastage of vegetables in economic centres and remind the government it had a duty to ensure the public had access to nutritious vegetables at affordable prices.
"The vegetable trade should be void of political influences. When we first complained to the Ministry of Trade, it said military and agriculture kiosks would be used to sell vegetables but this proved to be a failure and did not continue," Mr. Vithanage said.
Mr. Vithanage said with children suffering from nutrition deficiency the government should intervene to bring down vegetable prices and making produce accessible to all instead of being thrown away or given to wild animals.
Thilani Munaweera, a research officer in agro-economics attached to the Hector Kobbekaduwa Institute said despite research and suggestions by the institute there was a lack of policy and planning by state authorities and farmers.
Most farmers made their own decisions on what to cultivate.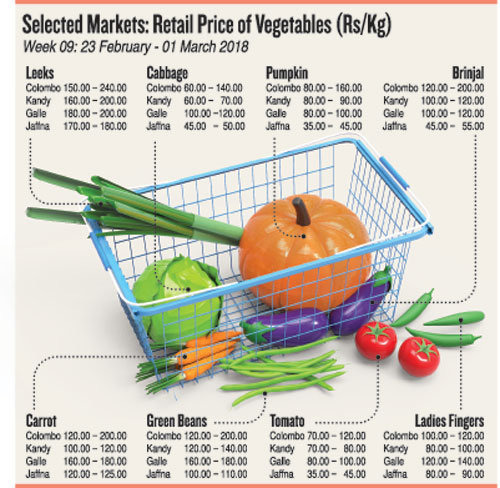 "If tomato prices were high last year all farmers decide to cultivate tomatoes and this results an excess in the market. There is a lack of field-level coordination and a lack of information from agrarian services," Ms. Munaweera said.
Praising the state's decision to establish economic centres to help farmers sell their produce she said more was needed. "Similarly, the government should come up with a plan on transportation to retail markets and provision of storage facilities as price variations from economic centres to retail markets are very high," she said.
Professor M. Abeywickrema, Professor in Agriculture Economics at the Ruhuna University, said governments had failed to come up with a marketing strategy for vegetables.
"There is zero involvement from the government, unlike in the case of paddy. This has resulted in increased middlemen's margins. The Trade and Agriculture ministries should work together for a solution. We are yet to have a strong seasonal plan. This has resulted in extreme price hikes and drops," Prof. Abeywickrema said.
A number of attempts made by The Sunday Times to obtain an official comment from senior agriculture officials failed.