Important gestures by monks bring spirit of healing to Friday prayers
View(s):

Security throughout the country was stepped up in the wake of the violence around Kandy, but it was assurances from the clergy as well as from the public in most areas that boosted public confidence as Muslims flocked to mosques for Friday worship.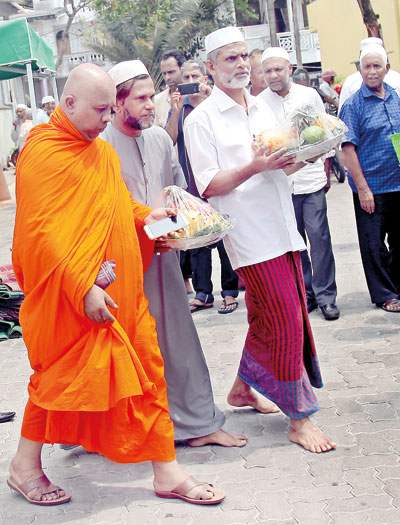 More efforts at reconciliation are expected this coming week.
In several areas on Friday, scenes of Buddhist monks and other clergy coming out to ensure safety were witnessed.
Two monks who came to the Masjid Bilal Mosque at Abeysekara Road in Kawdana, Dehiwela on Friday were invited to speak to devotees on peace and unity among ethnic groups.
Monks also visited three other mosques on Friday, the trustee of the Masjid Bilal Mosque and treasurer of the Dehiwela-Mount Lavnia Masjid Federation, Siraj Ali, said.
The clergy also attended a meeting to improve communal harmony that was organised by the Assistant Government Agent's (AGA) office in the area on Thursday.
The two monks who had pledged to protect the Masjid Bilal Mosque and the Muslims who worshipped there remained until Friday prayers were concluded.
Siraj Ali said the monks, the Ven. Bambarapanni Sugathananda Thera, who is also the Viharadikari of Galkissa Dharmendrarama Vihara, and Ven. Adinuwara Wijithasiri Thera, Chief incumbent of Dandovita Janrajananarama Vihara, had offered to stand guard outside the mosque while people were engaged in worship "but we invited them inside to deliver a talk," he said.
He said 10 monks from temples in Ratmalana and Mount Lavinia had talked with Muslim leaders about their desire to ensure security in the area.
Addressing Muslims at the Masjid Bilal Mosque, Ven. Bambarapanni Sugathananda Thera stressed that if the religious leaders of each community had strong bonds and understanding no outside forces could harm anyone in the area no matter which religion they followed.
"We, as Buddhist monks, especially in Buddhist philosophy, are taught that no-one likes to be harmed. Therefore, if I don't like to be hurt, others should not be hurt," he said.
Every religion teaches that "like thouself, everyone likes to live": therefore anyone should not hurt another, the prelate said.
One bad person could ruin peace within communities. "Therefore, as people of the area, we should join hands and create a movement to stop outside people destroying our unity," he said.
Ven. Sugathananda Thera said the monks planned to hold a peace march with Muslims in the area on Tuesday.