"Wait and see" from foreign investors
By Bandula Sirimanna
View(s):
This week's unrest in Kandy and the imposition of a state of emergency immediately led to tourist cancellations and triggered alarm bells in the economy, officials and economists at the Treasury and the Central Bank (CB) said.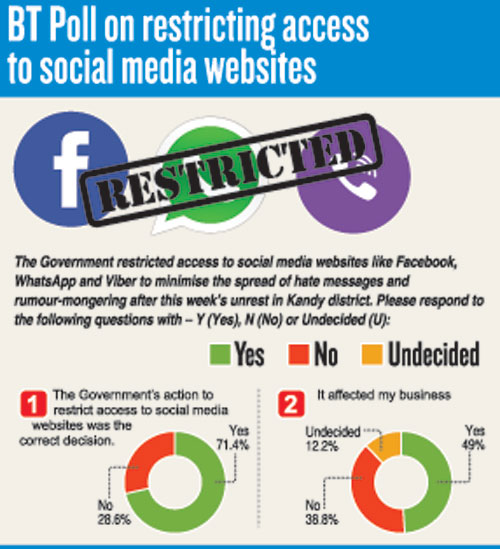 As long as communal tensions persist, the country will be vulnerable to an economic crisis, a senior government official said adding that relations with West Asian countries could get affected and in turn impact on foreign remittance inflows.
A high-level CB official said political instability and racial unrest will affect market sentiment, investor confidence and result in a decline in foreign investments while stressing the need to enforce law and order and deal firmly with any future situation too.
"Most investors are likely to follow a wait and see policy; see whether this crisis would persist and watch how the government is tackling the situation," an economist, involved in foreign investment negotiations, said.
The first, negative reaction came from tourism with Kandy hotels reporting cancellations and travel agents fielding calls seeking information. "After the end of the war, Sri Lanka was the safest destination in the world and now we have lost that significant label," said the head of a travel industry body.
There was no panic in the money markets with the US dollar pegged at Rs 155.50 – Rs.155.55 on Friday.
Business chambers pleaded for calm. The Ceylon Chamber of Commerce (CCC) said that, "A recurrence of such a conflict will impact adversely on the development of this country in many ways i.e. spiritually, socially and economically."
SLASSCOM, the IT/BPM industry's main body urged members to establish a zero-tolerance policy for any incident involving racial or religious discrimination and disrespect.
"We have excelled in positioning Sri Lanka as a compelling destination for innovation and ingenuity. This credibility was earned by individuals from every community, race and religion collaborating as creative, highly-productive teams," it said.
What worried many professionals in government and the private sector was the delayed reaction of the Government to restore law and order in the trouble spots in Kandy. "Capital flows into the stock market and rupee denominated Treasury bills and bonds will get affected if the situation isn't brought under control and the rule of law firmly established," another high-ranking government official noted.
The crisis comes on top of a drop in revenue collection at Excise and Customs Departments due to some administration issues and business disruption in some areas. Another reason for the decline was the drop in revenue from liquor and tobacco taxes as sales have come down following an increase in excise duty.
The economy had been settling down to a more comfortable path in 2018 until the results of the February local government poll, in which former President Mahinda Rajapaksa's party made surprising gains, shocked ruling party politicians.
The reversal has led to decisions bordering on a return to subsidies and handouts to win public support, and at the same time, putting the brakes on tight economic reforms.
The latest crisis sparked by ethno-religious tensions is a further setback to plans to drive increased foreign investment this year, more tourist arrivals and cut government spending.
See below for details of the poll.
Restricted access was 'correct' decision, BT poll reveals

A quick poll on Friday by the Business Times to assess public response to the move to restrict social media websites found a large percentage of respondents acknowledging that it was a "correct" decision by the government.

Asked whether the Government's action to restrict access to social media websites was the correct decision, 71.4 per cent of the respondents said: "Yes". Asked, whether it affected their business, 49 per cent said "Yes" while 38.8 per cent said "No".

What was interesting in the survey, which some 200 people from all walks of life including business professionals, academics, students and prominent civil society activists responded to, was that quite a few young people agree it was wise to restrict social media to prevent hate messages. On the other, there were older professionals who disagreed.

According to comments received, one respondent said rather than blocking social media, tough action should be taken against perpetrators of hate messages on Facebook. "This is okay so long as the restrictions aren't permanent and used with the wrong intent," said another.

A third respondent said hate speech should not be tolerated while social media must be regulated to ensure that it does not mislead people and does not infringe on the rights of another.