Samy Yapa's voting pedigree is hard to beat
By Gamini Mahadura
View(s):
At 103 years of age, Samy Yapa Siriwardena from Kalahe in Galle was one of the oldest voters casting a ballot yesterday.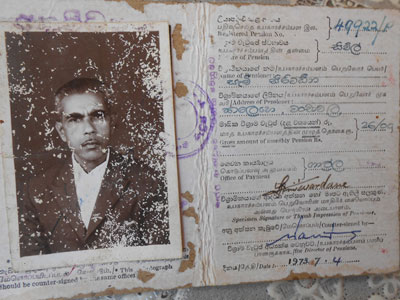 He has been turning in ballot papers ever since voting was introduced to the country.
The ancient gentleman cast his vote yesterday at Sri Sumangala Vidyalaya, Akmeemana.
He is the only living headman in the area, having been appointed Headman in Kalahe, Galle in 1944 and serving until 1963 when the government abolished the headman system.
Statistics show he has been collecting a pension for longer than anyone else in the country – for 54 years, as a former public servant.
Samy Yapa Siriwardena, who was born in 1915 in Meepe, Galle, has never obtained medicine from a hospital. He abstains from alcohol, does not smoke and does not eat beef. His sight and hearing is normal. He reads newspapers and watch the television.
His late wife, Piyaseeli, who he married in 1951, passed away at the age of 92. He has four daughters and a son, and the eldest daughter, now 65 years, is a graduate.