Poll could go 3 ways with SLPP leading: Survey
View(s):
The Mahinda Rajapaksa-controlled Sri Lanka Podujana Peramuna (SLPP) was seen garnering more support than the United National Party (UNP) or the United People's Freedom Alliance (UPFA) led by President Maithripala Sirisena at yesterday's local government elections, a joint survey by the Business Times (BT) and polling partner, Second Curve reveals.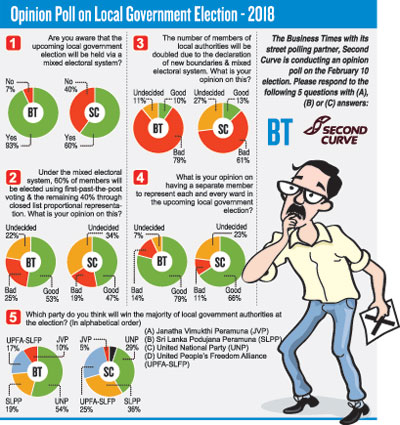 By the time these survey results are read today, based on an opinion poll conducted earlier this week, many results of the election to 340 local authorities would have already come in. The survey was conducted on email by the BT and on the streets of Galle and Colombo by Second Curve, a business research corporation specialised in "providing cut through, actionable insights, guaranteeing results".
Five questions were posed to respondents. The fifth question asked which party (JVP, SLPP, UNP or UPFA) would come on top at the elections. The email poll which usually reflects the views of the Colombo centric, mostly intelligentsia saw the UNP topping the list with 54 per cent followed by SLPP (19 per cent), UPFA (includes SLFP – 17 per cent) and JVP (10 per cent).
However Galle and Colombo (working class) gave the SLPP an average 36 per cent "thumbs up" (Galle – 39 per cent, Colombo – 34 per cent), the UNP secured 29 per cent (Galle – 29 per cent, Colombo – 30 per cent) and the UPFA 25 per cent (Galle – 31 per cent, Colombo – 20 per cent). The JVP ended with an overall 5 per cent, interestingly with 8 per cent in Colombo and just 1 per cent in Galle. The views of 651 people were collated in Galle and Colombo.
The opinion poll reveals that the coalition parties (UNP and UPFA) would together be able to muster a working majority to take control of the councils, if they so desire. The actual results however may reflect a picture different to what emerged in the survey.
Two of the questions drew sharply contrasting responses in Galle and Colombo in the Second Curve survey. To the question whether people are aware of the new mixed electoral system, Galle responded with 82 per cent saying "Yes" whereas Colombo responded with 38 per cent saying "Yes" and 62 per cent "No". It was noted that there were several awareness campaigns in Galle, run by a movement titled "March 12 Movement" and also the Department of Elections regarding the new election system, and this may have been the reason for increased awareness in Galle. In the BT poll, 93.05 per cent said they were aware ('Yes").
Asked for their view on having a separate member to each ward, Galle responded with 64 per cent saying "Good" while in Colombo it was the opposite, 55 per cent said "Bad". In the BT poll on this question, 79.16 per cent gave a "Good" response.
Asked whether the mixed electoral is good or bad, Galle responded with 50 per cent "Good" while the response in Colombo was 45 per cent "Good". The BT poll response on this question was 52 per cent "Good".
Asked for their view on doubling the number of members to local authorities, Galle and Colombo responded with 67 per cent and 55 per cent, respectively, with a "Bad" vote. The response in the BT poll was also consistent with this view, 79.2 per cent saying "Bad".