New Convention Centre, increasing events in Colombo to boost tourism
View(s):
Longer opening hours for pubs and restaurants to sell liquor and streamlining the liquor licence process which last week raised the ire of President Maithripala Sirisena and some hardliners, were in fact recommendations made by a committee to improve the tourism infrastructure in the country.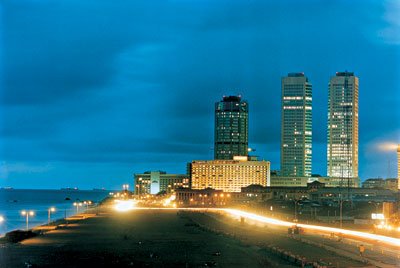 It was one of many recommendations by a 13-member tourism taskforce appointed by Prime Minister Ranil Wickremesinghe in June last year. The taskforce was chaired by Hari Selvanathan and comprised (then) Tourism Ministry Secretary Janaka Sugathadasa, (then) Sri Lanka Tourism Chairman Paddy Withana, Harry Jayawardena, Udaya Nanayakkara, Merril J. Fernando, Dhammika Perera, Abbas Esufally, Shiromal Cooray, Geoffrey Dobbs, Dinesh Weerakkody, Dileep Mudadeniya and Thilak Weerasinghe.
Industry sources said these recommendations led to Finance Minister Mangala Samaraweera issuing an order two weeks ago extending opening hours at bars, pubs and small restaurants. At the same time the Minister scrapped an archaic law since 1955 which prohibited the sale of alcohol to women, women being employed in pubs, and also women selling liquor, for example being hired as bartenders at hotels, etc.
However, three days later on Sunday, the President told an election rally that he was not happy at the changes, that the Buddhist clergy was opposed to it and then ordered the old laws to be retained. The notification cancelling the Finance Minister's extended opening hours rule and connected legislation is to be issued once the latter, who is abroad, returns.
Industry bodies like the Sri Lanka Association of Inbound Tour Operators (SLAITO) and the Hotels' Association of Sri Lanka (THASL) were disappointed with the turn of events, initially welcoming the change in opening hours and that women would be allowed to work in pubs. It turned to disappointment after the President re-introduced the liquor ban on women and extended opening hours.
The tourism taskforce made a number of recommendations – all aimed at making Colombo a happening city and attractive not only to western travellers but those in Asia, particularly India and China.
The team undertook a study to understand "barriers and enabling factors to develop a strategic action plan to enhance events in Colombo."
Recommendations by the taskforce which had titled the document as "A Policy Recommendation to Make Colombo an Event-Friendly City" included many to improve events and activities in the capital after examining how other countries had succeeded.
The success in tourism in Vietnam was examined and how the government successfully handled the new campaign under the tagline "Vietnam Timeless Charm." The "Exciting Vietnam" campaign launched in 2016 was aimed at boosting international arrivals and promoting Vietnam as a "safe, friendly, attractive and exciting tourist destination." This covered 14 events.
Vietnamese tourist arrivals have grown 100 per cent since 2009 and has risen to 10 million in 2016 from 2 million in 2000. Comparatively Sri Lanka's growth in 2000-2016 showed a rise from less than a million arrivals to 2 million in 2016.
The report examined other markets and noted that while Sri Lanka has the potential to double the current tourist arrivals, Colombo will (eventually) be the city that will have the largest number of tourists.
The objectives of the study was to make Colombo an entertainment hub and lively city for tourists, examine what was holding back this promise and what strategic steps needed to be taken by Sri Lanka Tourism to improve events in Colombo.
Initially a meeting was held with key stakeholders which was the first time the government of Sri Lanka took an initiative to consult the industry experts.
During the discussion, the events were broken down to live entertainment – music shows, dance performances, theatre/drama performances, festivals/carnivals and concerts.
In the business and trade segment, it was broken into the MICE sector – meetings, incentives, conferences and exhibitions.
The different stakeholders identified were; event producers, event suppliers, venue owners, artist/performers, restaurants/pubs/clubs owners. The report said other indirect stakeholders include travel, hospitality, venues, technology, media and communication were not interviewed for the study.
Among the key barriers identified within the industry were:
 Lack of appropriate venues with adequate facilities
 Time-consuming, lengthy procedures/approvals
 Difficulty in obtaining liquor licences
 Taxation issues
 Lack of criteria to enable proper standards/quality
 Lack of sufficient marketing and promotion campaign (MICE)
 Lack of coordination between various stakeholders
 Lack of support from Sri Lanka Tourism
On room capacity in Colombo, it was noted that there would be 4,135 new rooms added by 2021 (4-5 stars) from the current 5,367 rooms (3-5 stars).
The report said new rooms were coming from Cinnamon Life (800), Hyatt (559), ITC (300), Marino Sands (270), NEXT (200), Radisson (300), Ritz Carlton (200), Shangri-La (550- already operational), Welcome Hotel (300), Sheraton (306) and 4 Seasons (350).
The taskforce found there were many issues pertaining to event venues in the city.
Among these problems were lack of appropriate venues with adequate facilities to accommodate large crowds; lack of a venue to accommodate over 5000 people for large shows/events; existing venues are fully booked and it was very difficult to get dates while open air grounds are currently used to accommodate large crowds.
The high costs incurred to build temporary fixtures were also recorded citing the cost for the Colombo Jazz Festival being Rs. 10 million and other musical events being Rs.7 to 8 million.
Some venues, it was observed, didn't allow to fix structures and there were too many restrictions. Also there was inadequate space for parking, inadequate facilities such as changing area, backstage area, etc and issues with seating arrangements.
The lack of sanitation facilities, changing area, backstage, etc and difficulty in hiring skilled security guards was observed.
Event organisers had suggested creating a large venue on the grounds that there was increasing demand for venues; the BMICH and the SLECC (Convention Centre) was fully booked for the next two years, there was an increase in the "going-out" culture and corporates were organising events for the public.
It was also noted that international artists refuse to perform with a small audience size.
Stating that there was a lot of potential to expand events, the report said international audiences, particularly within regions, can be targeted and tickets need to be priced higher.
It recommended that an ideal venue needs to have the following features:
 A convention centre with a versatile staging space
 Around 4 – 5 acres to accommodate around 20,000 people
 Preferred venue location is within the territory of Colombo. However Battaramulla, Kotte and Dehiwela were also recommended
 While constructing the venue, entertainment industry stakeholders need to be consulted for the design and structural related specifications and the required technicalities
Among difficulties faced by event organisers, the following were observed: Government bureaucracy and delays in obtaining the required approvals; protocols are followed without any rationale; huge risks are involved as there are various obstacles in obtaining approvals even after paying artists; and purposeful disturbances with the intention of obtaining bribes, one example being Police requests to stop the event at 10 pm.
On liquor licenses, the committee noted that it's very difficult to obtain liquor licenses within the Colombo, due to the close proximity to schools and religious places and recommended that special event or one day liquor licenses /permits need to be provided whereas, for the other industries such as the restaurants/pubs catering to the foreigners need to relax its liquor related laws.
The lack of coordination between various stakeholder groups – hotels-travel operators-restaurants/pubs-artists-event producers-Sri Lanka Tourism/Government was observed as a serious issue.
It was recommended that 5 acres of land be allocated to the private sector through competitive bidding to build a multipurpose convention centre.
It was also recommended that the Cabinet Committee on Economic Management (CCEM) should relax the current liquor policy enabling the Excise Department to issue day-licences for beer and wine.
Sri Lanka Tourism was urged to develop a policy for supporting events and such a policy should be transparent and published on the website. "It should include type of events that tourism will support, criteria, the type of support that can be given and publicity should be given using Sri Lanka Tourism channels," the report noted.