Rugby or what?
View(s):

If you have been watching Rugby for a while, you might have found yourself at a point where it is just not interesting to be at the park any more. If not rugby "what" is the question. To keep the game alive it is the market that is important and the product should fit the souk. Ask Bandu the economics master and he might tell you about limited resources and unlimited wants. It is limited time with a number of choices. That is a reality when it comes to crowds and support. It is not about dancing the jig with sword and stick at half time.

Many people keep assuming you would do rugby a service by saying "all is well." And if you are not, they say, you should. It is about hearing the comfortable lies as against the unpleasant truth. I asked a school master about the age change and the answer was "to be ready to play in Asian Rugby and be with the requirements of U19 rugby. I pushed further and asked what happens to the boys when they leave one year early and have one of eight clubs to play for with no age group availability for them to mature in before they play more competitive rugby. Ask a club why most don't have an age group team such as below 21 or 23. They will revert back by saying "no funds."

"The Junior Tuskers lost out in their bid to secure a place in the World Junior Championship? Does it matter?  Don't upset the young boy's just say they did play well, that is "what" they say.  It is like the days of yore playing footie under the table. The world is much different and accommodating; what will they think if you keep playing footie under the table.

Kandy beat Havelock's in the last of the first round of the Dialog League. This was the match between number one and two and should have been riding on the pinnacle of interest of rugby lovers. Despite the weather clearing up the cheer squads were less: probably they went shopping as against being present to watch rugby.  Rugby was taking a back seat but "what" was what was keeping them occupied. Probably they were having a foot massage.

Some might say that I write with my tongue in my cheek, partly serious, mostly not and certainly not trying to be politically correct. The atmosphere around is gloomy and unpredictable as the weather keeps changing. The centre is a mess as daily somebody wants to meet the President or the Prime Minister. In that sense what purpose does it serve to say rugby should be seen with clear glasses. It is not life giving but a part of life. The vociferous and the diehard see only their school or club and nothing else matters. Yet if you do not read the writing on the wall the game will have or face the consequences.

Talking from the point of the millennial Rugby is not cooler but more fun.  Rugby is better than what?  I could say it's more Christ-like. Why because I read the scriptures on the Park as I watched the last of the first round games. Written in bold letters it says "I can do all things through Christ who strengthens me."

Whoever got that painted must necessarily have had a reason.  You might wonder what it has to do with rugby or for this column. Probably it was to inspire the gullible to assume they are coming to pray and watching rugby; by the way. What a brilliant idea! At a time when right and wrong mean nothing and it is the season where it is "gentle Jesus, meek and mild"   this could be another 'what'.

In rugby as in soccer, hockey or basketball you start at one end of the field and work your way to the other. So you head for a goal that looks like an 'H', and your enemy aims for the other 'H'.  The "H" probably stands for Heaven and Hell, perhaps?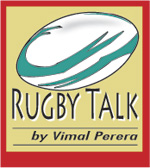 Rugby is a team game and needs all shapes and sizes unlike cricket.  In golf or tennis, it is like first past the post. Look at the business world around do they need someone like a rugby player. We hear a lot about "being a team player", despite this cliché being abused.  We are "not one man   against one man like in golf but many", and rugby uses the different abilities – together.
Rugby is manly, manly to be a fight. Rugby teaches us to fight for what is good, read the charter and the idea might sink in like a tanker that goes down. The point is to be the gentle, mild, and most of all, be the man the world knows and love? You got to be gentle to those who seek help, but be un-gentle to Pharisees and hypocrites.
In rugby this means that if your opponent falls over, you might give him a hand and help him up, for we can't just forget chivalry in a battle. The game gives no quarter when being fought and despite the armory to destroy you become a sport.
The parallels are endless "Press toward the goal for the prize of the upward call."  Among other things, it is telling us to start running for the try-line.
* Vimal Perera is a former Rugby referee, coach and an IRB Accredited Referees' Coach