'The Gathering' – One of the world's greatest wildlife spectacles
View(s):

With the rise of the dry season in the north central province of Sri Lanka, comes the extremely rare opportunity to witness 'The Gathering', the coming together of hundreds of elephants in Minneriya National Park. Globally hailed as a truly incredible sight, 'The Gathering' has been named the sixth greatest wildlife spectacle in the world by Lonely Planet. During the peak months, guests visiting Cinnamon Lodge Habarana and Habarana Village by Cinnamon(which are located in close proximity to Minneriya National Park), will have the fortune of watching herds of hundreds of these gentle giants, as they congregate around the Minneriya Reservoir.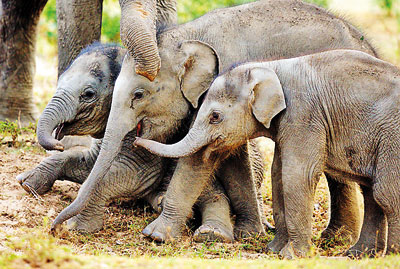 See herds of up to 300 elephants: With the onset of the dry spell in the region, the water levels of the Minneriya Reservoir recede, inducing a fresh growth of vegetation. Despite the hot and dry weather, the lush flora and water readily available at the Minneriya Resevoir attracts hundreds of elephants from various surrounding areas, including Polonnaruwa, Trincomalee, Matale and Kaudulla. It is estimated that during the peak of this great elephant gathering, up to 200-300 elephants come together at the same place to bathe, court, drink, feed and socialise, making it the largest congregation of Asian elephants in the world.
A safari in the heart of Minneriya: The wildlife safaris offered by Cinnamon Lodge Habarana and Habarana Village by Cinnamon in Minneriya National Park, are conducted by Cinnamon Nature Trails, the award-winning eco-tourism division of Cinnamon Hotels and Resorts. These jeep safaris provide the perfect opportunity for wildlife enthusiasts to observe and experience this magnificent wildlife spectacle firsthand. The Cinnamon team works with an experienced team of naturalists, drivers and trackers to provide an insightful safari experience to guests that is filled with valuable information. The safaris enable guests to not only observe these large herds in their natural habitat, they enable them to learn more about their habits and social structures.
Protecting Minneriya's elephants: As part of an ongoing collaboration between Cinnamon Hotels and the Centre for Conservation and Research, Cinnamon Lodge Habarana and Habarana Village have been actively involved in the 'Cinnamon Elephant Project,' an initiative focused on elevating elephant viewing based tourism to the next level. The project endeavours to further enrich and enhance the visitors' experience by providing them with exclusive insights on the congregation and dispersal patterns of smaller elephant herds that come together to form the larger gathering at Minneriya National Park.