A taste of tapas
By Kaveesha Fernando
Chef Carlos brings the flavours of his native Spain to Colombo
View(s):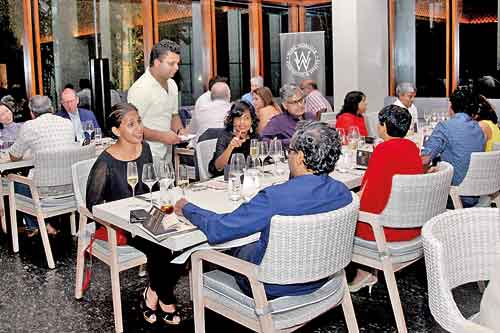 The Colombo Supper Club in partnership with Jetwing Colombo Seven hosted Spanish chef Carlos Montobbio this week. The Colombo Supper Club is the brainchild of former lawyer Naserah Tyebally, a Singaporean living in Sri Lanka. Naserah hopes to bring chefs from across the globe to the island to serve their signature dishes here. Chef Carlos who works in Singapore was glad to share his culinary influences with Sri Lankans through his food.
It was through his mother's cooking that he learned to appreciate food. "She didn't teach me much but she did teach me to appreciate food. We would never eat processed food, it was always food made from scratch; it may not have been the most expensive food but it was always fresh food," he explains.
Chef Carlos himself started cooking for friends and family who liked his food, but it wasn't until he joined culinary school that he decided that he wanted to make it a career. "I knew that I didn't like to study and didn't want a desk job so I thought I would try this out. It wasn't until I started that I decided that this was what I wanted to do," he says. Initially he faced opposition. "People would say that I would smell like fish and onions and it was something I tried to hide whenI met new people because the career isn't as glamorous as it is now," he explains. However, he always knew that this was the career for him. "I always tell people that if you're not absolutely certain that this is what you want to do then you should not do it. You cannot do this if you're only here for the money or the fame," he states firmly.
After culinary school at Hofmann in Barcelona, he worked in Spain at five Michelin star resturants before moving to Singapore. In Spain he has worked under many famous chefs including the Roca brothers from Celler de Can Roca and Chef Hilario Arbelaitz from Zuberoa.In 2013 he joined Antidote at Fairmont hotel before starting in 2015 as Head Chef at Singapore's Esquina -an open kitchen tapas bar which can serve around 60 guests.
In Spanish cuisine, tapas are appetizers, served hot or cold depending on their ingredients. In recent times ordering many tapas to form a full meal has become common. For Chef Carlos, the idea of tapas is simple. "Tapas is two main things – it's tasty food and it has to be something with strong flavour and that's why it has to be eaten in small quantities,"he explains.
Chef Carlos is happy that the Jetwing Colombo 7 kitchen is visible to the guests. "Even if the chef comes out and talks to the guests, it's still strange because the chef is out of his kitchen, and the dining room isn't somewhere he's comfortable. Here, the guests can see the chef while he prepares the food and he can see them and their reaction to the food which is great," he says. "For me, food is the greatest pleasure in the world, it's better than sex or alcohol and I want my guests to feel the same way," he adds.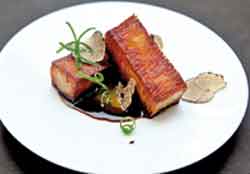 After just two days in Sri Lanka, he is now back in Singapore. He has worked at many pop up restaurants all over the world and feels that his experience at each one has helped him finetune his skills. His hope is that all his guests at Jetwing Colombo 7 shared his passion and appreciation of food – a passion which made him fly 4000 kilometres to serve them his Spanish tapas.