The Good Market finally comes to Kandy
Himaddrini R. Abayanayake talks to some of the vendors
View(s):
I first heard about the Good Market in my 'Colombo days' a few years ago. Fast forward to 2017 and by chance, I stumble upon the Good Market in the cooler climes of Kandy.
Level 1V of Kandy City Centre experienced something new to Kandy city on September 16. The Good Market had finally arrived in Kandy!
The vendors were all smiles beaming with enthusiasm. I felt the same ambience as in Colombo, even if the vendors and buyers were different, as the Good Market concept was kept alive thanks to its founder Achala Samaradivakara.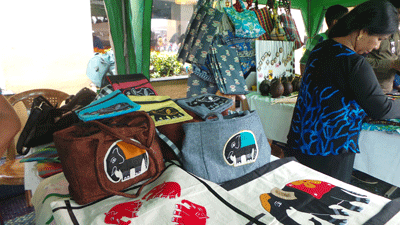 Shamali Patrick has been in the handicraft  business for almost two years now. Her stationery and gift items are original pieces made with recycled and eco- friendly material. Her label 'NRC creations' sells products that are both appealing to the eyes and easy on your purse, all priced at less than Rs. 350.
"At the moment, I only produce for the domestic market through my Facebook page. I'm a small- timer based at home. The Good Market concept is noteworthy as it gives small vendors like us a good platform to sell and gain publicity at the same time," beams Shamali.
I walk a little further to 'EcoRange Creations' owned by Amila De Silva. Amila had heard about Good Market through NEDA (National Enterprise Development Authority). He too is involved with the production of handicrafts.
"My factory is based in Gampola. I'm eight years into the business. At present, I only cater to the local market. There are exporters who buy from me. The Good Market is a very good concept which helps vendors like us with a much needed launchpad to build our businesses," says Amila.
Udeni Pushpakanthi is an award- winner of many national awards for her handloom bags, cushion covers and wall hangers. The export- quality products are made by her at her home- based factory.
"Today's business was more than satisfactory. I am into handloom products, 'Udeni Art & Craft' has been in the forefront for the last decade. I heard about the Good Market concept and how it assists small- timers like me. I'm really glad I participated today. I made some noteworthy contacts for the future," says Udeni.
Dinesh Wijesiri of 'Kaneel Exports' is in the spice business. All his products were lined up neatly, hygienically packed, with the colour and fragrance of each spice intact.
"We registered the company in 2015 – prior to that we have been producing, packing and exporting value added spices in bulk. As we don't have any go- between our consumers can be assured of the highest quality standards. Our product portfolio includes Cinnamon Spice Tea, Cinnamon Powder, Cut Quills among a full range of spices," he spells out.
Director, CEO of LYBS Sampath Senanayake has been with the Good Market since their inception. The Good Market shop, he believes, is a very good alternative for small- time businesses.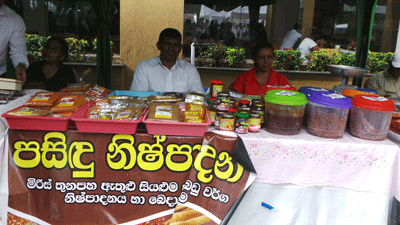 "LYBS is into coffee operation. Coffee is considered as a primary product. We purchase from small farmers in and around the Kandy area and use modern technology to enhance our products to bring the best coffee experience to our consumers. The drip coffee bag is one such innovation and we'll be launching the capsule to the Sri Lankan market," Sampath explains.
Friendly and unassuming, Good Market founder Achala explains what made them come to Kandy.
"Right now, the focus is on outreach and beyond Colombo. Over the past couple of years, there have been several requests from up country vendors and community members to have an event in Kandy. With this in mind the Good Market team has been coordinating with Kandy City Centre to host a one- day Good Market event," she says.
"We have  25 stalls showcasing 35-40 vendors most of whom are from Kandy, Matale, Nuwara Eliya, Kurunegala & Kegalle. The stalls consist of organic vegetables and fruits, dairy products, healthy ready- to- eat food, handicrafts, uncycled fashion and accessories, recycled goods and much more."
Achala summed up the Good Market concept as an event that creates an opportunity to interact and learn from groups engaged in creating dialogues and spreading awareness on responsible consumerism including zero waste, conscious fashion, animal welfare and organic agriculture and certification systems.
Achala Samaradivakara and her team left no stone unturned to make Good Market in Kandy a memorable event and conveyed a special note of thanks to the Chairman of Kandy City Centre who made a part sponsorship of the venue as a kind gesture.
To my mind Good Market has given the olden day 'Sunday Pola' a modern, colourful and sustainable twist.