President angry over some highway contracts, calls for national policy
View(s):

President Maithripala Sirisena is livid over complaints that there are irregularities over multimillion dollar contracts for major road construction projects and he wants "a national policy on highways."
He made the declaration at the Progress Review meeting of the Road Development Authority (RDA) last Thursday at the Presidential Secretariat. Mr Sirisena wanted to know the status of the ongoing road construction projects and the funds being spent.
His remarks came after Highways State Minister Dilan Perera (also official spokesperson for the Sri Lanka Freedom Party) exclaimed that it was not necessary to undertake expressway projects incurring a heavy cost since it would be a financial burden on the country. He noted that since Sri Lanka was a small nation which has raised large amounts of foreign loans, it was unconscionable to spend them on such projects.
Mr Perera urged President Sirisena to first identify such projects on a priority basis and embark on them. He added that there should be a review if tender awards were made to companies which were identified for wrong doing or had been blacklisted.
"Meyka cancel karapu kattiyatada denna yanney," – is this being awarded to a company that has been cancelled for irregularities before, President Sirisena asked. He was alluding to media reports, including in the Sunday Times to a tender being awarded for the Central Expressway to a Japanese company at the behest of a senior official of the country's Cabinet.
Those present included Highways Minister Lakshman Kiriella, Presidential Secretary Austin Fernando and RDA Chairman Nihal Suriyaarachchi.
---
President off to NY today
President Maithripala Sirisena leaves for New York today to attend the 72nd sessions of the United Nations General Assembly.
The theme for this year's session will be "Focusing on People: Striving for Peace and a Decent Life for All on a Sustainable Planet."
President Sirisena is accompanied by Foreign Minister Tilak Marapana, Foreign Secretary Prasad Kariyawasam and senior officials in the Foreign Ministry.
A group of deputy ministers are expected to leave later next week to join the Sri Lanka delegation.
---
Rajapaksa cancels visit to Canton
Former President Mahinda Rajapaksa has called off a planned visit to China next week.
He had been invited by Guandong Province Governor Ma Xingrui to visit an exhibition in Guanzhou (also known as Canton).
---
Don't pull wool,  says Hoole
Election Commission member Ratnajeevan Hoole raised eyebrows at a meeting the Commission members held with representatives of political parties.
He asked why polls should be avoided when there are examinations or a possible polls date falls on Poya Day. He argued that there was no meaning in an Election Commission if that remains the position.
---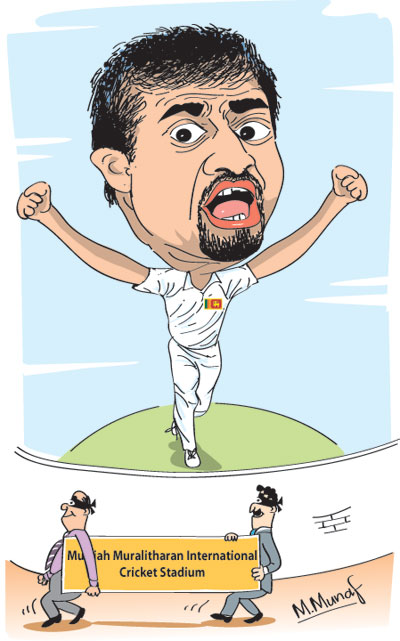 Removal of Murali's name: Mahanayake intervenes
The Mahanayake of the Malwatte Chapter, Venerable Tibbotuwawe Sri Sumangala Thera, is to take up with Sports Minister Dayasiri Jayasekera as to why the name board of Muttiah Muralitharan, the world's highest wicket taker was removed from the Pallekele Stadium.
The champion bowler's father Sinnasami Muttiah had informed the Mahanayake personally that the name board had been removed without a valid reason. The stadium was named after Muttiah Muraltharan following a unanimous resolution by the Central Provincial Council in recognition of his achievement of more than 800 Test wickets, by far the highest in world cricket history.
When the Sunday Times contacted Mr. Muralitharan's father, he said he felt sorry that there were people of this nature who removed name boards honouring people who brought so much glory to the country.
---
Hambantota Port project: Perilous step by China
Chinese projects all over the world can create debt traps for the countries they're in, says a New York Times magazine article on "What the world's emptiest international airport says about China's influence."It deals with the Mattala Rajapaksa International Airport (MRIA) which Brook Larmer, contributing writer, says "….the president at the time, Mahinda Rajapaksa, fixated on the idea of turning his poor home district into a world-class business and tourism hub to help its moribund economy. China, with a dream of its own, was happy to oblige"
He adds: "Hambantota sits in a very strategic location, just a few miles north of the vital Indian Ocean shipping lane over which more than 80 percent of China's imported oil travels. A port added lustre to the "string of pearls" that China was starting to assemble all along the so-called Maritime Silk Road.
Noting that China "marches on with its unabashedly ambitious global-expansion program known as One Belt, One Road the NYT magazine says the branding is awkward: "Belt" refers to the land-bound trading route through Central Asia and Europe, while "Road," confusingly, stands for the maritime route stretching from Southeast Asia across the Indian Ocean to the Middle East, Africa and Europe and adds that "still, the intentions are clear – With a lending and acquisitions blitz extending to 68 countries (and counting), OBOR seeks to create the ports, roads and rail and telecommunications links for a modern-day Silk Road — with all paths leading to China.
Of significance is the historic parallel drawn in the lengthy article with illustrations. This is what it says:
"The last time China was a global power, back in the early 1400s, it also sought to amplify its glory and might along the Maritime Silk Road, through the epic voyages of Zheng He. A towering Ming dynasty eunuch — in some accounts he stands seven feet tall — Zheng He commanded seven expeditions from Asia to the Middle East and Africa. When he came ashore on Ceylon (present-day Sri Lanka) around 1406, his fleet commanded shock and awe: It was a floating city of more than 300 ships and some 30,000 sailors. Besides seeking tributes and trade — the ships were laden with silk, gold and porcelain — his mission was to enhance China's status as the greatest civilization on earth.
"After Zheng He's death at sea in 1433, China turned inward for the next six centuries. Now, as the country has become a global power once again, Communist Party leaders have revived the legend of Zheng He to show China's peaceful intentions and its historical connections to the region. His goal, they say, was not to conquer — unlike Western empires — but to establish friendly trade and diplomatic relations. In Sri Lanka today, Chinese tour groups often traipse through a Colombo museum to see the trilingual stone tablet the admiral brought here — proof, it seems, that China respected all peoples and religions. No mention is made of a less savoury aspect of Zheng He's dealings in Ceylon. On a later expedition, around 1411, his troops became embroiled in a war. Zheng He prevailed and took the local king back to China as a prisoner.
"The sanitized version of Zheng He's story may contain a lesson for present-day China about unintended consequences. Pushing countries deeper into debt, even inadvertently, may give China leverage in the short run, but it risks losing the goodwill essential to OBOR's long-term success. For all the big projects China is engaged in around the world — high-speed rail in Laos, a military base in Djibouti, highways in Kenya — arguably its most perilous step so far may be taking control of the foundering Hambantota port. "It's folly to take equity stakes," says Joshua Eisenman, an assistant professor at the University of Texas at Austin.
"China will have to become further entwined in local politics. And what happens if the country decides to deny a permit or throw them out. Do they retreat? Do they protect?" China promotes itself as a new, gentler kind of power, but it's worth remembering that dredging deep water ports and laying down railroad ties to secure new trade routes — and then having to defend them from angry locals — was precisely how Britain started down the slippery slope to empire."