Fair First topple defending champs Com.Credit on debut
By Lakshman Ranasinghe
MSBA League Men's 'A' division Basketball 2017
View(s):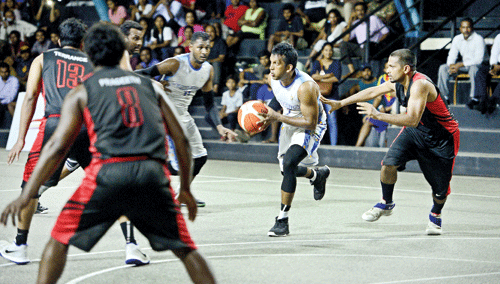 Fair First Insurance who made their debut, dethroned the defending Champions, Commercial Credit and Finance in the final to lift the prestigious MSBA League Men's 'A' division Basketball title 2017 at the 27th edition, concluded at Sir Edward Henry Pedris Stadium, under lights.
Fair first Insurance, who narrowly lost to Commercial Credit (56/53) in the league stage, came out with set plan and took the title 40/33. It was 33/33 when the clock was dying.
Fair First managed to stay in front in all three other quarters – 9/8, 22/14 and 29/27. While skipper, Shehan Udayanga and Hiran Wijesuriya held a water tight defence, former National Captain, Roshan Randima (13), Isuru Perera (12) and Nimesh Fernando (11) spearheaded the attack for Fair First.
The two robust, National players of Commercial Credit Thimothi Nithushan and Clinton Stallon were exciting throughout the game, but they were stalled each time when they raided the Fair First fort. Lasantha Siri (10), Vijitharan Sivanesaraja (6) and skipper, Sanjeeva Kulamina (8) played their hearts out for Commercial Credit.
Roshan Randima of Fair First Insurance deservedly won the Ranil Ganewatte Memorial Trophy, for the Most Valuable Player.
In the Womens 'A' division final, played prior to the Men's final, HNB retained the title with a comfortable 60/49 win over Commercial Credit and Finance. HNB led in all three quarters, 13/07, 36/21 and 45/32.
The shooting stars of HNB were Umanga de Zoysa (22), double International, Kumarine Silva (11) and skipper, Anjalee Ekanayake (12) .
National player and skipper Prasadi de Croos (18), skipper, along with Thushani Rajapaksa (10) and Anne Stephani (10) played a tireless game for Commercial Credit.
Umanga de Zoysa was adjudged the 'Most Valuable Player' of the tournament and was presented with the Ranil Ganewatte Memorial trophy.
The 'A' division awards were given away by the Chief Guest, CEO, Fair First Insurance (the sponsors of the 'A' division), Sanjeev Jha, Patron /MSBA Nishantha Wickramage, Vice Patron /MSBA, Roshan Samidon, President /MSBA, Bravin Fernando, and the MSBA Officials, Rimaz Hassan, Senior VP, Basil Silva VP, Mafaz Mohideen, General Secretary, Lakshan Samarasinghe, Committee Member and Niroshin Paiva, Committee Member.
Results
The results of the other five finals played on 25th, 28th and 29th August at the same venue. (All valuable player awards were dedicated to late Ranil Ganewatte)
 Men's 'E' division: Virtusa Polaris beat Moulana Travels and Tours, 45/40 in extra time (full time 36/36)
Most Valuable Player – Kasun Ranasinghe (Virtusa Polaris)
 Women's 'B' division: Nations Trust Bank beat MAS Holdings, 30/28
 Most Valuable Player – Mishika Gunawijaya (NTB)
 Men's 'B' division: MAS Holdings 'Reds' bea t Kanrich Finance, 69/38.
Most Valuable Player – Shanmuga Sunderalingam Vaheeshan (MAS Holdings 'Reds')
 Men's 'D' division: LOLC beat JAT Holdings 54/44.Most Valuable Player – Naveed Halaldeen (LOLC)
 Men's 'C' division: Standard Chartered Bank beat NDB Bank 44/33.
 Most Valuable Player-Devon Rebert (Std.Chartered Bank (who has accumulated 160 points in baskets in the tournament)