Appreciatios
View(s):

Ardent advocate of Tamil- Muslim unity is no more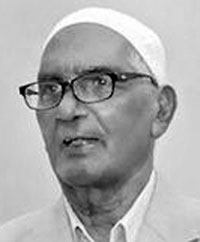 A.R.M.Munsoor
Gentleman politician Abdur Razak Mohamed Munsoor, ardent advocate of Tamil-Muslim unity and known for his honest politics and commitment to the country, left us on Tuesday,July 25, this year. He was buried in his hometown in Kalmunai the following day.
Summing up about Munsoor his classmate Rajes Kandiah had this to state for a souvenir to honour his services to the country;
"The people of Batticaloa District, claim A.R.M. Munsoor as their own son; while I claim him as a dear friend, whom I can call by his first name. We were at school together until we parted ways, but the bond of friendship continues up to date. Even as a student, Munsoor at high school or Law College was diligent and showed promise of attaining great heights. He always had the welfare of the people at heart and worked tirelessly to uplift the poor. This he did, with dedication, not for fame or popularity, but for the sake of helping the less-fortunate in the community.
"Munsoor could have plunged into the lucrative practice of law, but decided to enter the field of politics to serve the nation as well as the people of his constituency. As the Minister of Trade and Commerce in the UNP government, he established positive relationships with foreign countries. As an Ambassador to Kuwait and Bahrain he established peace and goodwill between Sri Lanka and International partners.
Munsoor was a gentleman to the finger tips. He could have minted money as a lawyer, parliamentarian, minister and social worker. But his hands were clean and his modest life did not demand wealth. He continued to live a simple life. His charm and stature endeared him to the people he associated with," concluded Mr Kandiah.
Munsoor always worked for communal harmony and his thoughts were on his people till his death. During my many conversations he often told me :
"In the east Muslims and Tamils need to live together in harmony in their own interests as the other communities need to live in harmony in the rest of the country. I always remember that together with Muslims a large number of Tamils too voted for me and elected me to represent them in the Parliament. I still cherish those golden days of communal harmony and peace which were devastated by the unfortunate subsequent developments due to short sighted and selfish politics."
In a message to a souvenir to mark a reception to Munsoor by his people in Kalmunaikudy on August 28 1992 in recognition of his service the late Neelan Tiruchelvan said;
"Munsoor was an intimate friend of the family and late M Tiruchelvam with whom he worked held him in high esteem. He was sensitive to the political struggle that grappled the imagination of the youth of the country, from the time that he was a law student in the mid fifties. During the language agitation in 1958, he was the victim of an arbitrary assault by unruly mobs which disrupted the Satyagraha campaign in Galle Face".
He contributed a great deal for the establishment of the South Eastern University which appreciated his role and honoured him by conferring a doctorate at a function attended by President Maithripala Sirisena.
The Sri Lankan community in the Australian city of Melbourne felicitated Munsoor who was there last year to attend the swearing in ceremony of his daughter Maryam Nalimudeen as a Barrister/Solicitor by the Adelaide South Australian Supreme Court.
Inna Lillahi Wa Inna Ilaihi Rajihoon
Latheef Farook
He was a true statesman
It was indeed so sudden,
But even so shocking the sad news
Of the demise of Dr. A.R.M. Mansoor,
Whose Janaza ceremony was on the 26th
Of July, 2017, in his own birth-place, Kalmunai,
In front of thousands of grieving gathering,
Witnessing the burial, in deep silence!Great people never die,
But their name and fame lie,
Always high in the hearts of the people.
It was true of Dr. Mansoor, retaining
The Kalmunai Electorate in politics,
For two decades, since 1977, with his
honesty
Shining through, as the quintessential politician,
Who never indulged in sectarian policies
For political expediency!

An exemplary statesman, fondly called by
The people, 'Mr. Clean', he served the nation
With various portfolios, even excelling
In the kind of electoral service, that no one
Could render before and after him!
A lawyer by profession, he remained very loyal
To his people, and his contribution to education
Being tremendous, still seen as monumental signs
In schools, colleges and institutions, to preserve
The indelible memories of his magnificent service!
Of course, his illustrious career's been honoured
With an Honorary Doctorate conferred upon him
By The South Eastern University of Sri Lanka!

A man of dignity, integrity, and humanity,
Mansoor proved to be so decent and disciplined,
In life and politics, whether Muslim, Tamil or Sinhalese
Treating all alike, so was his death news,
That devastated all, irrespective of communities!
May Almighty Allah grant him Jennathul Firdous!
U.L.M. ISMAIL
---
The departure of this noble lady has created a void that is hard to fill
CHANDRANI WEERAKKODY
This sincere tribute is to the noble Lion Lady Chandrani Weerakkody who passed away on January 13, this year after a prolonged illness borne with courage, patience, resignation and calm. The best of medical attention did not save her from the inevitable jaws of death. She was the precious wife of a Bank executive and distinguished Lion Sanath Weerakkody and a devoted mother of two sons Sanjaya and Chinthaka. Chandrani was an understanding mother-in-law of Thanuja and the fond grandmother of Sasmitha.
Chandrani hailed from a reputed family and was closely connected to the well-known Athulathmudali clan of Warakagoda, being a cousin of the late Lalith Athulathmudali. She received her education from Buddhist Ladies College and had a Diploma in Montessori teaching although she did not practise the vocation.
Chandrani was a fervent Buddhist and her principles, attitudes and character were in consonance with the profound tenets of Gauthama Buddha. She would devotedly engage in religious programmes and humbly paid respect and reverence to the Maha Sanga.
It was in the homefront that Chandrani excelled as wife, mother and grandmother wholeheartedly engaging her energy, time and talent to serve the needs of the family. She prepared and served the family with wholesome, balanced and healthy food at all times of the day. It was her pleasure to interact with Sanath and children in intimate conversation touching on happenings at home and elsewhere. Chandrani maintained a well-kept and neat household not forgetting to tend the plants and flowers of an extensive garden.
Our strong association with Chandrani was built as members of the Lions Club of Kandana – Jaela. Her participation and contributions in all activities of the club were prominent at meetings, projects, functions and community services.
Her kindness and sincerity emanated from a framework of good breeding and adherence to accepted values. Chandrani enjoyed the fellowship at meetings, her tall and statuesque figure gracefully moving with one and all.
She did not hesitate to greet friends and colleagues with a genuine and bright smile and camaraderie. Gossip was foreign to her and controversies did not affect nor bother her. It can truly be said that Chandrani was one of most innocent and much loved personalities in Lionistic circles. Her departure from our midst will certainly create a vacuum that cannot be easily filled.
May she attain Nibbana
Lion Ronnie
---

You have left an indelible mark in our hearts
Lakshman Kadirgamar
Twelve long years ago, on an inauspicious Friday,
Spreading darkness in the eve, chased the light away,
Tigers' deep – laid plan was well under way,
To snuff out your life on the fateful day.
Killers were biding time in the neighbouring house,
Sniper was getting ready in the bath house,
Kadirgamar Sir, with you, they had the biggest grouse,
'cos, they did hate the cause you did espouse.
You strove hard with absolute dedication,
Sans dilly – dallying and sans vacillation,
Targeting the deadly outfit's total elimination,
To bring about peace and reconciliation.
At almost every forum, local and global,
You stood for Peace, you stood for a cause noble,
Service you rendered, excellent and remarkable,
Proved that you are indeed irreplaceable.
Twelve years have lapsed since you breathed last,
Your departure was so sudden, we felt it very hard.
The void created by your loss, so huge and vast.
Sir, in our hearts you left an indelible mark
S.G. Ratnayake
---
Golden memories of Aif Force days
NORMAN DHARMARATHNAM
Dharma as he was affectionately called by his near and dear ones, passed away on May 19 at the age of 71 years after a long and hard fought battle with illness. Some fade away after demise, but Dharma lives strong in our hearts. As my pen moves at the present, my mind runs all the way to the beautiful past where we lived and worked in the Air Force Stable Hill Camp (RCyAF) Diyathalawa in the late 60s.
We joined the Air Force as clerical staff. Our most popular mode of transportation was the "Udarata Menike" train. We enjoyed our train trips occasionally from Colombo to Diyathalawa and we did not feel the 8 hours go by. During these trips Dharma was our drummer for the singing group. Army colleagues also joined us. Dharma was a keen enthusiast of gym activities especially for weight lifting and body building. Later he won the title of Most Muscular Man of the Year in the short man category.
After a long and memorable stay in the salubrious climes of Diyathalawa, we were posted to the Air Force Base Katunayake. Then Dharma was again transferred to Air Force Headquarters, Colombo and I continued my services at the Katunayake base until we completed our 12 year contract and both of us left seeking greener pastures in the Middle East. On his return to the island, after a few years, he served as a tour operator attached to a leading travel organisation, but due to his deteriorating health he had to step down.
Dharma was a brilliant student of Dharmapala Vidyalaya in Pannipitiya. He was a unique humanitarian. A Catholic, he married a Buddhist. With God's blessing, they had a happy wedded life.
Dharma leaves behind his beloved wife Rani and loving daughter Lihini who cared for and looked after him during his illness.
May he Rest In Peace
May he attend the Supreme Bliss of Nibbana.
Sunil Fernando
---
A protagonist of reconciliation and a bridge builder of unity
Jehan K. Cassim
After attending a glittering wedding ceremony of my niece Huda, in Scarborough, Ontario, I received an SMS from my good friend Omar Kamil (former Mayor of Colombo) giving me the sad news of the demise of Jehan K. Cassim. I felt a profound pang of sorrow.
It was quite recently that I visited Jehan with my good friend F.A. Yassin, (former President of the Sri Lanka Football Federation), another close friend of Jehan, at his residence down Lake Drive in Rajagiriya. He had been bed-ridden for a long time and showed no sign of recovery, although his beloved wife was meticulously attending to his medical care.
I came to know Jehan about 50 years ago, in the company of some great Muslim leaders at that time at the All-Ceylon Muslim League. His father and uncle – Kamar Cassim and Senator Shums Cassim, were close associates of Dr. T.B. Jayah, Dr MCM Kaleel, Al Haj Falil, A. Caffoor, Jabir A. Cader, MACM Saleh, great stalwarts in the independence movement. Jehan followed the footsteps of his elders and the Muslim League leadership in all social, religious and political spheres, which inspired him in later life to work in the cause of Sri Lankan Muslims.
Jehan always stood for national unity and amity among all sections of the people. Not only did he build up a sense of great brotherhood with the learned Ulemas of Bahjatul Ibrahimiya, a seat of higher Islamic learning in the South (Galle) – the place where even Mamoon Abdul Gayoom graduated in Arabic – but also established a close rapport and friendship with all the Sinhala leadership including learned Buddhist monks, like Ven. Elle Gunawanse Thera and leaders of other religious communities. He was a true protagonist of reconciliation and a bridge builder of peace and unity following the principles and philosophy of the national leader, Dr T.B. Jayah.
Jehan threw in his lot with President Premadasa, and was a tower of strength to the President in his forward march of development. He gave immense support to his Gam Udawa programmes, joining hands with B. Sirisena Cooray to make it successful. Jehan indeed followed Sirisena as the Chairman of the newly created Common Amenities Board.
The success story of Jehan saw him appointed as the Chairman of the Bank Of Ceylon. The international Muslim factor also drew the attention of Jehan. He backed me to the hilt whenever I approached President Premadasa to close the Israeli Interest Section working in this country at that time. Jehan was the happiest man when Premadasa declared that all inimical forces against the interest of Sri Lankan Muslim population would be closed down.
Jehan was also an encouraging factor in the establishment of the Ahadiya school at the Sucharita Hall parallel with the Budhhist Daham Pasala. He urged us to encourage the President in the establishment of a Fund for Muslim widows with Sheriffdeen, (later Ambassador to Kuwait) as its secretary.
During my political career, Jehan always prompted me towards social welfare activities.
The Sri Lanka-Arab Friendship and Economic Association which he founded elected him as its President. The late A.A.M. Marleen (later Ambassador to Saudi Arabia), Omar Kamil and I were Vice Presidents while Ifthikar Aziz was Secretary and FA Yaseen among others played an important role to broaden Saudi and Arab relationships.
Jehan possessed superlative qualities – he was soft spoken, polite, kindhearted, forthright, humble, trustworthy, dedicated, and utterly devoted to the task assigned to him. He was an utmost patriot who loved his country dearly. In all sense of the words he was the most gentle gentleman I have come across in public life.
May Almighty Allah (SWT) grant him the highest felicity in Jannatul Firdous!
AHM Azwer
---
A genuine, empathetic and loyal friend
Rukmani Eheliyagoda
I first came to know Rukie after my marriage. Born to the high echelons of society with a silver spoon in her mouth, she never lost the common touch. From the day I came to know her it was a friendship that blossomed with every passing day. For the past 57 years I found her to be a genuine, empathetic and loyal friend.
The third Saturday of every month was dedicated to prayer and worship. Her generosity knew no bounds, I have seen her caring for and monetarily helping the needy.
I miss you very much, but I console myself knowing that I too will have to go on this journey one day.
Goodbye dear Rukie till we meet again
Your loving friend
Iris D'Alwis
---
Big in stature and at heart, he was respected by the entire village
DON DIYONIS JAYASINGHE
The 50th death anniversary of my father, Don Diyonis Jayasinghe, of Loolbadduwa, in Pasdun Korale, West, fell on August 18. He was 82 years at the time of his death. He had never been hospitalized for medical treatment or for that matter had never visited any Ayurvedic doctor during his life extending over four score years. It was the first and the last time for him.
He was the Vel Vidane of the village for over 30 years, serving his people with dedication and commitment for which he was paid nothing. Instead, he earned the respect of the people. His prestige was more important to him than anything else.
l remember very well, when the whole village agreed with my father's suggestion to refuse giving dane to the Patha Viharaya chief priest, who they thought, was responsible for the defeat of Dr. C. W. W. Kannangara, who was also from Loolbadduwa, at the 1947 first general elections. During that hostile period, the villagers remained resilient and did not resort to any form of intimidation, insult or any form of violent activities against the priest, unlike today. My father and the priest however, patched up after about 15 years when the priest visited my father at home and presented him with a walking stick.
He was a giant of a man, standing well over six foot two in height. He and my mother Devamuni Adikaramge Karlina Hamine had 12 children, seven boys and five girls. All 12 were born at home, in our own karuwala kamare or thimbiri geya.
My friends keep asking me even today-"how on earth did he manage to feed 12 children, educate them and give them in marriage". My mother once told me that father had been in charge of a surveyor's labourers. It was a government job, but he had however, called it quits when he was not granted leave to go home to see his sick wife.
He was a good farmer. He had enough land, five to six acres of rubber and paddy land –more than sufficient to produce rice for the whole family. I cannot remember my mother buying vegetables from the village boutique. The land around the house had more than 200 coconut trees, about 15 jakfruit trees, bearing fruit– sufficient even to distribute free to the villagers. My mother had much to do with the extra produce of jakfruit. She would make attu-kos, weli kos-ata, which was added to the main meal by all households. My father made profits from the betel and areca-nut produce. The rubber products were entirely handled by my mother.
Those jak trees have been felled. All the rubber trees too have been cut and sold for firewood, leaving a barren land.
Many of his grandchildren are doing very well in life. There are engineers, doctors, accountants, bankers, teachers and highly successful businessmen among them. He would have wished to see them doing well in life.
May you attain the Spreme Bliss of Nibbana
D.P. Jayasinghe