An actress in search of recognition instead of popularity
By Susitha R. Fernando
View(s):
Young and budding actress Michelle Dilhara who has made an impressive mark in the Lankan teledrama scene has set out on a different path to achieve her goal to be a versatile actress. Armed with a profound education background, extensive studies on psychology, receiving comprehensive training from well-known theatre and acting gurus, internationally awarded achievements in martial art and mastering mediations and yoga, an expedition for higher spiritual dimensions, Michelle has a crystal clear path for her future acting journey.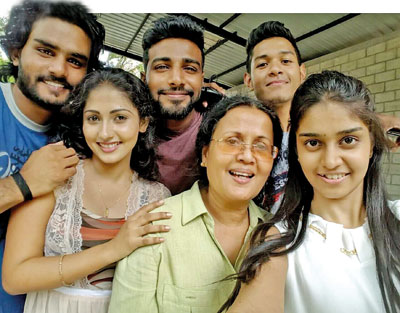 Made an opening in teledramas like 'Dedunnai Adare' (Derana TV), 'Rathu Pichcha' and 'Bodhi' (both on Sirasa TV), Michelle features in a leading role in popular ongoing teleplay 'Salsapuna' directed by Nalan Mendis and main roles in 'Emy' and 'Thuththiri' both directed by Sanjaya Nirmal. They are yet to be telecast.
Hailing from Negombo, immediately after completing her GCE Advanced Level in Arts stream at Newstead Girls' College, Negombo, Michelle joined the Abhina Academy run by award-winning veteran actress, Anoja Weerasinghe. Determined to gain an in depth knowledge in theatre and drama, the young Michelle trained under well-known actress Damayanthi Fonseka and Randika Wimalasooriya, a theatre and drama teacher at Abhiranga Art Centre. There she had an opportunity to be trained under Indian theatre director Ujjwal Singha.
Having impressed by her performances in 'Dedunnai Adare', 'Rathu Pichcha' and 'Bodhi', Michelle was cast for the role of Preethiwa in "Sal Sapuna", one of the highest LMRB rated teledramas directed by "Doo Daruwo", "Nadayo" famed Nalan Mendis. This followed her role as "Michelle"- a character after her very name- in "Rathu Pichcha" directed by Sanjaya Nirmal and produced by Plus One productions and U.A. Palliyaguru.
Awaiting her black belt grading in Karate next month, Michelle has been training and mastering martial arts- Karate Do Shitokai under sensei Rohan P. Udayakumar from her tender age. Having participated in a number of local and international championships and winning medals, Michelle still continues Karate as a hobby and way to become an all rounder.
"I studied martial arts for self defence and also as an added qualification for my acting career," says Michelle explaining her extended plans for future. Added to Karate is long hours of transcendental and Buddhist meditations and yoga which is a part of her daily routine.
"In order to pursue in the field I have chosen, I want to do a proper study and qualify myself," with this motto the young actress in 2013 decided to study Japanese language. "I thought I should be armed with an extra language" added the farsighted young actress.
In 2013 and 2014 Michelle successfully completed her Japanese Language Proficiency Test (JLPT ) Level : N5 and N4, conducted by the Japanese Language Educational Association of Sri Lanka (Sasakawa Centre) and she has plans to enter a university in Japan for her higher studies.
"By entering te ledrama medium I have just stepped into the long journey I have been dreaming of years. But I know I have a long long way to go in acting as it is a vast area and needs in depth learning,".
While Michelle liked to do different characters in the miniscreen, she has plans to join cinema one day.
"I hope to join a film and my target is to do maximum I can do and enlighten and influence the people, through my acting," the up-and-coming actress says.
"I don't want to be popular, I only need to be recognized and to be myself," says Michelle who determined herself to make an identity for herself as a versatile actress.