Think plastic, think creative
By Kaveesha Fernando
A recycling and upcycling plant in Katana is lending a hand to save our planet one plastic bag at a time
View(s):
Where others see waste they see potential.
At the unassuming property that is No. 102/1 West Kaluwarippuwa Road, Katana, you will find a plastic recycling and upcycling plant that is serving the community of Katana. Co-owned by Jayantha Kumarasiri and Akvan Gajanayake, the operation is run by Jayantha who decides how best to use the material he obtains. Gunny bags and old curtains are used to make beautiful files which he feels would probably last twice as long as the standard plastic files Sri Lankans use.
Jayantha started working at a plastic manufacturing plant, after school and higher studies learning a great deal about manufacturing polythene. He learnt the process of injection moulding plastic at another factory before learning of the recycling process. Becoming factory manager of a recycling plant later on, he saw that they used plastic imported from Saudi Arabia to be recycled. "I thought then we can use our own plastic," he says. He then started collecting plastic on his own and sending it to recycling plants. While working as a manager at a factory in Galle, he met Akvan through the Environmental Foundation (where Akvan was working at the time) and later, after purchasing the equipment from a recycling plant which was being shut down, they opened their own plant.
Today, the plant produces recycled plastic pellets and has recently started producing upcycled products. "The upcycling process is very creative and the team designs different things daily," Jayantha says.
The recycling process is long. First the plastic which is collected (from corporations and households at a fee) is sorted according to density. Then it is crushed into rough pieces a few millimetres long using a shredder. Next it is sent through a compactor which transforms it into lumps. The lumps are crushed again to reduce the size and sent through an extruder which converts it into strings of plastic which look like an endless plastic rope. This rope is finally sent through a pelletizer and the final plastic pellets are sold.
While they used to be sold for a reasonable price, Jayantha tells us that now prices have gone down. "Plastic is a by-product of petroleum. This means that when the petrol prices increase, the price of our pellets also increases. We used to sell them for good prices. Now the plastic price has gone down because the price of petroleum has reduced," he notes. The price of virgin plastic pellets is directly affected by the price of petroleum which in turn affects the price of recycled plastic pellets.  What saddens him is the fact that they cannot manufacture a final product from plastic pellets because of the lack of machinery, something he hopes he will to do in the future. He also hopes to set up a plastic research and development centre in the future. Jayantha is grateful to Akvan for all the help he has received. "Akvan has helped me with this project a lot and I am thankful that he is there with me on this project" he says.
Helping Jayantha recycle plastic are villagers from the area. Dilrukshika Niroshani, 36, lives ten minutes away and with two children aged 16 and 8, she finds this job very convenient. "We can tell Jayantha Aiya and leave early or take a day off if we need to attend to our children, and we get paid according to what we sort so it's easy for us," she says. T.P.G. Pushpa, 52, who has been there from the inception, also has the convenience of living close by.  They have both stopped burning plastic at home – a harmful practice they used to engage in before they started working at the plant. Now they bring the plastic to be recycled and have educated their children on the harmful effects of plastic. "They are the experts at sorting– they know what to do and exactly how we want it," says Jayantha. They also help with the upcycling process – transforming waste into beautiful products.
Upcycling is the process of taking discarded plastic and converting it into better quality products which can be reused. A much simpler process than recycling, this project is a collaboration of the Universities of Western Australia, Moratuwa, Sri Jayewardenepura and Jaffna alongside the Australian organisation Waste for Life. The University of Western Australia taught Jayantha and the Lankan universities how to upcycle and the machinery required was also given through this collaboration. "Without any expectations they (the University of Western Australia) spent their own money and let us use their patents and helped us so much," he says, adding that they even trained the workers.
"We were taught to use the plastic outside and the fabric inside, but as the quality of the plastic is sometimes not that good we had discolouration of the files occasionally, so we tried keeping the plastic inside which was much more successful," Jayantha says. Always ready to innovate, he is now looking into making covers for electronic devices such as laptops and tablets and purses for weddings etc.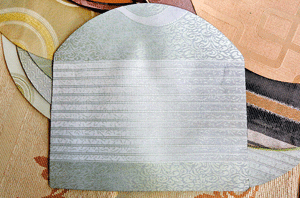 Jayantha, Dilrukshi and Pushpa all agree that people need to be more educated about the harmful effects of plastic. "We can produce much more recycled plastic if people would give us more plastic," he says. Though they see the plastic recycling plant, people still throw plastic on the road, which shows their lack of discipline, Dilrukshi feels. "Api gewala ganna hinda apita dunna nam hondai (because we pay and take it if people gave it to us, that would be great)," Pushpa adds. There is a lack of understanding, Jayantha says, "sometimes people give us plastic with remnants of food and we cannot use them because cleaning that is not profitable."
"This factory will be a good opportunity for Municipal Councils in the Gampaha district to give their waste polythene to be recycled, especially since garbage disposal has become a big problem," Akvan says.
Walk out of No. 102/1 West Kaluwarippuwa Road, Katana and instead of the plain grey walls, your mind's eye will see the potential it holds – the waste it takes in and turns into something quite beautiful – helping save the planet one plastic bag at a time.