Rugby superstars give Milo Whites a thrilling win
TAG RUGBY
View(s):
The hot combination of former schoolboy Rugby superstars enabled Milo Whites to score a thrilling 5-4 win against an equally strong Milo Greens team in the friendly Tag Rugby game played at the Racecourse ground last Saturday.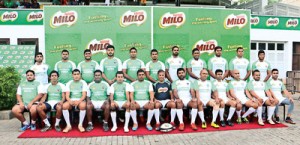 Milo Whites led by Sanjeewa Abeygoonawardane, the 1995 champion Milo President's Trophy outfit of St. Peter's College were dominant against the Milo Greens led by Bandula Mallikarachchi, the skipper of the title in 1996.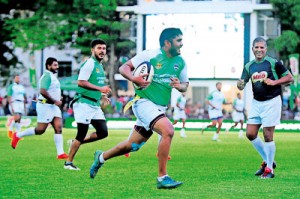 The winning team of the Friendly Tag Rugby game had captains and vice captains of all teams that have won the Milo Knockout Championship played for the President's Trophy over the past 25 years. The game was played to symbolize the 25th year celebration of Milo, coming in to sponsor the President's Trophy since 1995 successively.
Abeygoonwardane's victorious Milo Whites which includes three former captains of Isipathana College — Vajira Hewage, Janaka de Silva and Ranga Perera, who led them to wins in 1997, 1999 and 2001 respectively. The team also included Dinesh Siriwimala (Captain of Kingswood, 2003), Eranda Weerakkody (Captain of Kingswood, 2005), Shanaka Gunasekara (Vice Captain of St. Peter's, 2007), Janik Jayasuriya (Vice Captain of S. Thomas', 2009), Duminda Attygala (Captain of Royal, 2010), Rehan Weerakoon (Vice Captain of Trinity, 2011), Gavin Siegertsz (Vice Captain of Wesley, 2013) and Lasindu Karunathilaka (Captain of Science, 2015).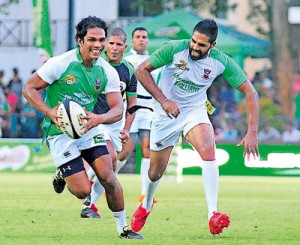 The Mallikarachchi-led Milo Greens included top Rugby superstars who later became renowned match winners at domestic level and at international stage, namely Fazil Marija, Kushan Indunil and Senal Deelaka. The team was formed by skipper Mallikarachchi, Vinoj Kurupunawela (Vice Captain of Thurstan, 1998), Chamara Withanage (Captain of Kingswood, 2000), Dushanth Lewke (Vice Captain of Royal, 2002), Fazil Marija (Captain of Kingswood, 2004), Harendra Ariyawansa (Captain of St. Peter's, 2006), Poornaka Delpachithra (Captain of St. Peter's, 2008), Keith Gurusinghe (Captain of St. Peter's, 2010), Shenal Dias (Vice Captain of Isipathana, 2012), Senal Deelaka (Captain of Isipathana, 2014) and Kushan Indunil (Captain of Isipathana, 2016).
The game was officiated by the legendary referee Dilroy Fernando, who apparently takes the honour of appearing in most number of Milo President's Trophy Knockout matches.
- NA; Pix AG