A veritable legend in her lifetime
View(s):

Suhasini Nadesan

Although Suha spent most of her time in the US, the grief that engulfed her extended family living in India and Sri Lanka at the news of her passing, was palpable.

Of course those of us near to the family knew she was battling these last few months, a dreadful disease that she herself in her capacity as a highly competent Oncologist had overcome for many others.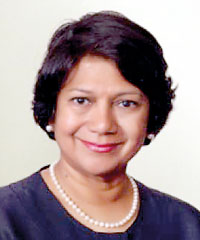 Alas! Nobody could do it for her and when the news of her departure came there was not a dry eye amongst us and the wound in us runs deep.
Someone said, "'Time heals all wounds.' I do not agree. The wounds remain. In time, the mind, protecting its sanity, covers them with scar tissue and the pain lessens. But it is never gone", especially with Suha.
She was a veritable legend in her lifetime — a pride to our family. She packed a whole lot of things into her life.
She was an inspiration to many, admired by all of us for her sheer versatility, her knowledge, and her ability to move with the highest and the lowest.
Her vast store of information on anything worth talking about was profound; her memory power bordered on the unbelievable. There was rarely a subject she could not address and what she did not know she was eager to assimilate.
She was a medical doctor with six board certifications – in Pathology, Geriatrics, Internal Medicine, Hospice & Palliative Care, Hematology, and Medical Oncology.
Indeed she provided long distance medical counseling on the phone to many of us and her word was more trusted than the doctor who attended on us here! She had the rare ability to win trust and confidenceand show enormous compassion and dedication to her patients.
And yet she had time to admire the beauty of nature, and the intricacies of culture, travel widely with (her husband) Kumar mama and sometimes the children. She would happily wake up at 4 a.m. to greet the rising sun in the far-east or stay up past midnight in freezing cold to witness the northern lights in Alaska. She was a disciplinarian of the highest order at one end of the spectrum and demonstrated endless love at the other end. Ask her family!
When God made Suha, as the proverbial saying goes, he threw away the mould.
I speak for the whole family when I say she has left a mark on our lives and a place in our hearts that will only grow stronger with time.
We are comforted by Rabindranath Tagore's words that "Death is not extinguishing the light; it is only putting out the lamp because the dawn has come". – K.R. Ravindran