Around Sri Lanka on wheels
By Tarini Pilapitiya
Lankan-born Karen returns after 30 years for a 21-day cycle tour along with her husband and son
View(s):
To the McEvans cycling is a way of life, a break from the mundane and a pastime which can be shared with loved ones. A tight knit family of four residing in Australia cycling is their ultimate getaway. As parents, Jack and Karen McEvan made it a point to introduce their son and daughter to outdoor activities from their young days.
Sri Lanka holds sentimental value for Karen and so it was a natural choice for an extended cycling vacation. Born in Ratnapura to Teddie and Phyllis Stevenson, her father, Teddie, was a SSP in the Sri Lanka Police force until he retired in the early 1970's and her mother, a well-respected seamstress. When Karen was just a teen, the family, parents with her sister Cleone and her brother Nolan, migrated to Perth in 1973.
Karen was returning to her home country after nearly 30 years, bringing her husband Jack and son Jesse on this visit, their daughter unfortunately unable to join them. Fixing their bikes and loading equipment their plan was to cycle around Sri Lanka for three weeks covering  Puttalam, Anuradhapura, Trincomalee, Dambulla, Matale, Kandy, Nuwara Eliya, Diyatalawa, Haputale and Galle over 16 days. However, like all well-laid plans the travel did not go without a hiccup.
With the assistance of their cousin Warren Solomons and resources available on the internet the McEvans started their approximately 21 day journey (16 days spent cycling) in late January. The first day was eventful: with two flat tyres and hilarious tales of miscommunication with the locals who were always ready to extend a helping hand, the McEvans found themselves 10 km before Puttalam and a realisation that they needed to make new plans.
With a new course now set from Puttalam to¬† Kalpitiya,¬† Anuradhapura, Dambulla, Matale, Kandy, Gampola – Pussellawa, Nuwara Eliya, Welimada,¬† Bandarawela, Diyatalawa,¬† Haputale,¬† Balangoda, Ratnapura, Meepe¬† and back to Colombo, they made their motto 'ÄúLet'Äôs just go out there and cycle'ÄĚ braving bad weather and fatigue in order to see everything they could within their short stay.
Asked what they did for accommodation and food, Jack, Karen and Jesse said they were too old for camping whilst on their cycling adventures. The family instead opted to stay in rest houses, eating from wayside boutiques and revelling in the hospitality of the people.
A fond memory that they took from their travels is their stay at a bright pink house with a single sign stating 'ÄúRooms'ÄĚ. The family, tired and covered in mud was warmly welcomed into the house and served a hot meal of Chinese food, they recall.
The family also recalls a particular episode in Meegoda where Jesse'Äôs bicycle spoke broke mid ride, a nightmare for any cyclist. The mechanics of the area conversed together on the best way to mend the spoke, as they didn'Äôt have the instruments at that given moment. Soon, the trio'Äôs conundrum had attracted a crowd, everyone attempting to give tools and advice.¬† 'ÄúHalf the town was in the shop,'ÄĚ the family chuckles, grateful for the kindness bestowed on them by strangers.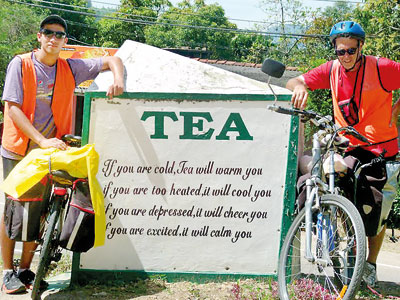 When asked what makes the family want to holiday in this way, Jack summed it up with 'ÄúCycling is a break from the normal.'Ä̬† Cycling is an enabler of 'Äúthe freedom of getting away,'ÄĚ he says adding that they family routinely cycle together as much as possible at home.
They have travelled within Australia before, including New South Wales, Queensland and Tasmania. Most weekends they cycle close to 40 to 70 km together. Jack has had an extensive amount of experience cycling, having been on road trips in countries like Luxembourg, Portugal, Spain to name a few.
Jesse, now on the threshold of leaving high school for college, welcomed this trip as a way of spending more time with his parents before he left. 'ÄúStarting university you don'Äôt always get to do these things with them,'ÄĚJesse said.
The family was able to have a cumulative journey of over a 1000 km by cycle. Jack takes back with him the friendliness of the people and changes of scenery at every turn, the fun element of their vacation being the conversations they had with the people they met on their travels.