An act for awareness
By Joshua Surendraraj
View(s):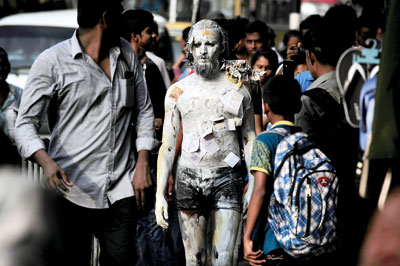 She sat on a piece of recycled paper, on the pavement in Bambalapitiya; her face expressionless, a small bowl in front of her. Then she grabbed a bottle of white colouring and began smearing it on her body.
A man standing by, a part of this movement, threw in a bag of gold dust, which she mixed with the colouring on her body. The curious crowd around her grew with every second. Buses, at a nearby halt refused to move as the honking behind them grew louder.
This performance art project by Thilina Sampath, Vimukthi Sahan and Umeshika Geethanjali , students of the University of Visual and Performing Arts hoped to raise awareness on the recent Meethotamulla tragedy. "We believe that all of us, collectively as a society, should take responsibility for what happened," Sahan says.
"If we look at the small dumping sites, everything is usually dumped together, there is no separation of waste. What's happening now after the tragedy is a case of passing the blame, whereas we are all to be blamed," Sahan added.
Their performances took place at 4 p.m., on Monday (April 24) in three different locations – Fort (in front of the Railway station), Bambalapitiya (in front of Unity Plaza) and Borella (in the junction).
Umeshika, now carried a paper ball, smeared in red. As she approached the crowd some stepped back in surprise. She silently held the ball up, as many assumed she wanted them to touch it.
In Fort, the man, clad only in his underpants, his body also smeared with colouring, went up to garbage bins and dumped the refuse on himself.
Not surprisingly those observing were heard wondering if the individuals, were insane.  However they stuck by their cause, never for once losing sight of it, even if it meant attracting such comments.