Athulugama's rare feat
View(s):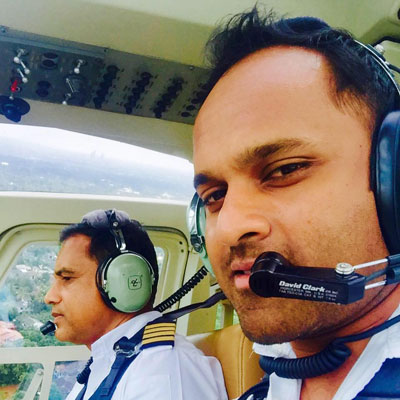 Charles Indika Atulugama achieved a rare feat by becoming the first ever Sri Lankan to represent the Emirates Touch Rugby team at the upcoming World Masters' Games 2017 to be held in Auckland, New Zealand. Though Atulugama, who would be playing in the centre position, was picked to represent his adopted country in Touch Rugby, he had never played the game back home in Sri Lanka even at junior level.
Atulugama was a swimmer and had played cricket for Carey College Colombo, beginning from the Under-13 age category throughout all age groups before playing for the school's First XI team. After leaving school he joined Malaysian Airlines and continued to play cricket at Mercantile Cricket Association (MCA) tournaments representing Hemas Group. Even then Rugby was just another sport for him.
He continued his way up in the career and got an opportunity to join Emirates Airlines based in Dubai. The migration however does not dampen his sports activities as Atulugama continues to play cricket for one of the clubs in Dubai and even goes on to wear two championship titles. The sudden change of his pathway occurs when some of his Rugby-playing colleagues convinced Atulugama to try out Rugby. Soon he realised that Rugby is becoming his passion and joins the Fly Emirates Touch Rugby team.
He transforms into a versatile player by representing the Fly Emirates team at the Phuket 10s in 2016 as a centre. His talent in Rugby is exposed later at the Dubai Exiles Touch 6s, Zurich 6s and the Corporate Touch 6s where he performed tremendously showing the best of his skills. The playing form and dedication finally gives him the opportunity to represent the Emirates Touch Rugby team at the upcoming World Masters' Games 2017 in New Zealand and become the first Sri Lankan to take part in such renowned event which will be held from April 22 to 25. The World Masters' Games, an international multi-sport event, is held every four years for athletes of over the age of 35 where participants compete for themselves as there are not country representation at the event. Touch Rugby at World Masters' Games is being held under three age categories — Over-30, Over-40 and Over-50.