Appreciations
View(s):

A. D. H. Samaranayaka

Thaththi you filled our lives with love and guidance

Our beloved Thaththi passed away peacefully during his afternoon nap on March 30 1996, aged 74, 21 years ago.Thaththi had a vibrant personality and he was an integral part of our lives and his sudden death created a tremendous void in our family.

"Samare" as he was affectionately known to his friends was an outstanding product of S. Thomas' College, Mount Lavinia (STC).  His potential as an athlete was unknown until he was asked to stand in at an athletic meet, for the regular champion who was ill. Not only did Thaththi win the one mile barefoot on his first attempt, but also broke the existing ground record at Mount Lavinia at that time.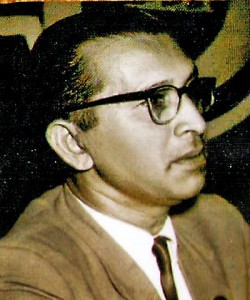 Later on, for several years he helped S.Thomas' to win the coveted Tarbet and Jefferson Cups at the Public Schools' Athletic Championship meets.  The half mile public schools' record he set was only broken 23 years later by another Thomian, S. K. Jayasinghe, when I was a schoolgirl. I vividly recall answering the telephone when Warden Davidson rang up Thaththi to inform him about this.
Many decades later, when he was invited as chief guest to the STC annual sports meet he recalled these events with nostalgia and spoke of how his hostel diet improved overnight on being discovered as a prize winning athlete and how he was also made a college prefect at the next assembly!
During his school holidays, when Thaththi practised long distance running along the roads in his hometown of Kumbuka, Horana, the villagers in their ignorance thought that he was probably mad, and spoke to my grandfather about his son's strange behaviour.
He was an outstanding student of science at STC and was awarded the prestigious Wijewardene Prize for Science and Chemistry. He entered the University of Ceylon where he represented the University in the half mile, one mile and 440 yards hurdles events. At the All India Inter University athletic meet held in Madras in 1943, he was the only Sri Lankan athlete to win an event and that was victory in the 440 yards hurdles. Among the other members of this University Athletics team were Dalton de S. Wijeratne, C.J.E. Anthoniz, A.B.C. Emmanuel and E.H. Amarasinghe.
He obtained an Honours Degree in Chemistry and joined the Government Analyst's Department where he trained in document examination and became the Government Examiner of Questioned Documents.  He received special training at Scotland Yard, the FBI(USA), and the Royal Canadian Mounted Police.
As children, we enjoyed going with Thaththi on his innumerable trips to give evidence regarding forged documents in courts of law throughout the island.
Thaththi's evidence was always clear and precise and he was never ruffled when cross examined by even the most eminent of lawyers. He trained document examiners for the Governments of Singapore and Australia.
He was the eldest in a family of seven. His father, Samaranayaka Snr. was a Notary Public and his mother Sarah Samaranayaka was in the first batch of trained teachers in Ceylon and rose to become the principal of the local school in Kumbuka.
Thaththi was called "Loku Aiya" by some of his relations and "Colomba Mama" by others. He was the patriarch of the Samaranayaka family and was always helpful to his extended family and the village folk of Kumbuka.  Our home in Ascot Avenue was an oasis to his friends and relations from Kumbuka.  Many of his relations lived with us during their schooling days and in later years. He never turned away anyone who came to his gate seeking help. He was a warm and caring person and had innumerable friends and associates.
He took a keen and abiding interest in our education at all times. I recall how reluctant he was for me to miss even one day of school. He often acted as our family doctor. I remember once when I had high fever, how he would not leave my bedside until I promised to go to school the next day. Fortunately the fever was down and I was in school the next day, much to our father's delight.
Thaththi was a staunch Thomian and the annual Royal-Thomian encounter was an important event in our family calendar.  The Friday of the Royal-Thomian encounter was the only day he allowed us to cut school! I recall how Ammi packed Chinese rolls, stuffed chillies and Harlequin sandwiches and bottles of ice-coffee for us during this annual encounter. The Thomian spirit was imbibed in us so much that Akka and I continued to support S. Thomas', although we both married Royalists!
He was overjoyed at our success at examinations and though a fine sportsman himself, the emphasis at home was primarily on education for his three children. However, he did recall that he was sorry for not producing an athlete amongst us and was devastated each time my brother got run out during the years he played cricket for his father's school.
As a tireless social worker, he worked in many capacities at the Sri Lanka Red Cross Society. The ease and interest with which he organized the activities of the Ceylon Red Cross Society during times of natural disasters was remarkable. He and Ammi organized the first flag day for the Red Cross Society many decades ago and he in his characteristic manner, advertised the event by having an elephant with a Red Cross banner parading the streets of Colombo.
During his tenure as Chairman of the Red Cross Society, each time a driver was unavailable (often at night) he would personally drive the ambulance (even long distances to the outstations) to transport patients to hospital.  Such was Thaththi's commitment to the sick. Sometime the occupants of the ambulance never realized that the driver of the ambulance was the Chairman of the Red Cross Society himself.  Decades ago ambulances were not available as freely as now and the Red Cross Society was well known for its efficient ambulance service.
He was a keen environmentalist and Ascot Avenue where he lived for nearly 50 years, was probably one of the greenest and cleanest lanes in Colombo at that time. This was indeed a tribute to his untiring anti-garbage and anti-litter efforts.
As a dutiful son, he showered much attention on his mother visiting her in Horana every Sunday, taking with him food and gifts. Achchi  had a special soft spot for toffees, especially a 50-toffee pack which she walloped in an hour! She died aged 99 years and never developed diabetes. He was devoted to our Ammi and her last illness had a profound effect on him. However, he looked after my mother with great devotion while she received treatment in Australia.
Thaththi was the ideal father who gave us, his three children, the best all round education he could and also took great pride in our achievements. He was an integral part of our lives and also of our families. As a doting grandfather, he continued to teach his grandchildren where he left off with his children.
Thaththi taught us many lessons in life. Foremost among them was the value, of education, honesty, integrity, civic sense and contentment. These were the qualities he had practised and enjoyed throughout his full and fruitful life. He was indeed a man in a million. May Thaththi's journey through Sansara continue to be rewarding and may he finally reach the supreme bliss of Nirvana.
Ever loving daughter
Anula Wijesundere
 _______________________________________________________________________________________
Indeevara Kanishka Samarakoon
He achieved so much in spite of physical constraints
Some men forget to live. Some others life forgets. And there are some, a few, that life can never forget. Even when it denies them things most people take for granted. My brother, I think was one such person.
My younger brother, Indeevara Kanishka Samarakoon, passed away last December when he was exactly 50 years and two months old. He suffered from a genetic condition called pseudo muscular dystrophy.
Although he rarely went out, the large numbers of men,  women and children, who not only showered him with true friendship but also benefited from his encyclopaedic knowledge, show that one does not necessarily have to travel around the world, to bring the world and the good things in life, to one's feet. One of the lessons, he taught us in his comparatively short life, is that, you can do it, if you know how to, without moving your feet.
My brother knew how to do it. It was proved time and again and during his final journey too. One of my brother's classmates  said, that people gather many things in life and finally depart leaving them, but "Samare" , although he did not gather many things, departs taking with him, the thoughts he created in the minds of many of them, of a truly great life.
I heard many people say, that "Samare" never complained about his illness. This trait, which I knew as perhaps his oldest and first friend and play-mate, reminds me of the jovial, practical and matter-of-fact spirit in which he took it, which now makes me see his singular courage and brightness of soul.
He initially attended Trinity College, Kandy but as he often told my parents that he wanted to go to his "elder brother's school" he came to Dharmaraja. When the progressive nature of the muscle disease affected him more, however, he went to St. Anthony's Boys School, Katugastota, as Dharmaraja was on a hill and later completed his school education in D.S. Senanayake Vidyalaya in Colombo as he had physical therapy treatment in a Colombo hospital. Despite these several changes, he secured a place in the physical science stream in Peradeniya University and obtained a BSc degree.
My brother had a keen interest in history. He remembered the exact years of the reigns of many kings not only of this country, but  India and Europe, together with a philosophical analysis of their times. He set the example that knowledge is not limited to any particular field or discipline. When I saw the Sinhalese translation by him of the poem "Ozymandias" by Percy Bysshe  Shelley, I was amazed at how the two sides of his mind, his extraordinary ability in mathematics and his deeply intuitive artistic nature, blended to create a work of such perfection.
He excelled in literary composition including poetry, which I think he inherited from our parents who did everything possible until his last days. Their grief is reduced only by the great impression left by my younger brother on everyone who knew him, as a learned and cultured being. He had written and published several books. His book on the political history of Sri Lanka will be published soon. He had translated up to the penultimate two chapters the great poetic work of Sir Edwin Arnold, "The Light of Asia" on the life of Siddhartha Gautama, the Buddha, to beautiful Sinhala verse.
As a mark of respect to him, I quote below his last poetic work, composed while being treated at the National Hospital Kandy.
Do the good people – who go to heaven
Ever when I asked – the man from the mission
Not according to my religion – certainly not said the Holy Man
Then who came and from where Reverend Father
To tell St. Mary Lord Jesus' Mother – God's own boy child she would beget
Arch Angel Abraham from – Heaven you mustn't forget
I never wanted to hurt the holy man.
Before that I knew they come on God's own mission
Whatever are the caste and creed and name of God
They stay here to do his command
In my two score and ten years – I've met these angels many a time
We normally call them good men and of course good women
Kanishka Samarakoon
10.11.2016 at 10.08 a.m. Ward 71 General Hospital Kandy.
I think his mind was stirred into writing this poem by the kindness shown to him by doctors and the staff in the hospital and it was sent to the respective medical officers who treated him as he requested.
In my own humble words I may be permitted to write,
My brother lived a shorter life than mine –
destined to leave many a road untravelled
But I now feel his life fuller than mine –
though what he had was brief in time
Send him again dear Lord on Your own mission –
Rarely are men born with such vision
to do your command and to make us strong –
to stay longer this time, the angel he believed in.
The good thoughts created by my beloved brother when alive embedded like precious gems in his prose and verse will be read over and over again, by generations to come.
May he attain nibbana!
D.N.Samarakoon
(Elder brother)