Health fitness concerns of elderly pilgrims going to India
By Sandun Jayawardana
View(s):
Calls are growing to tighten regulations regarding Buddhist pilgrimage tours, in the wake of the sudden deaths of at least seven Sri Lankan pilgrims in India this year, according to the Overseas Buddhist Tours Organisation (OBTO). The most serious incident was reported earlier this week, when three pilgrims from a single tour group died.
The pilgrims from the single tour group, all in their 60s, had died inside three days. They are W.P. Premawathi (62) and P.D. Somawathi (62) from Melsiripura, Kurunegala and David Samarasinghe (67) from Walasmulla. A postmortem examination conducted at the Negombo District Hospital into the deaths of two of the pilgrims, concluded the deaths were due to heart attacks.
With distraught relatives seeking answers, the Ministry of Buddha Sasana has now launched an inquiry. Ministry officials and tour operators say deaths among pilgrims occur nearly every pilgrimage season. However, this is the first occasion where three persons died from a single group.
The Ministry of Buddha Sasana has been registering operators who undertake Buddhist pilgrimage tours overseas, since 1994. Ministry officials confirmed that the company connected to this incident, based in Kegalle, was registered and approved to take this particular group to India. Minister of Justice and Buddha, Sasana Wijeyadasa Rajapakshe told the Sunday Times that, he has now ordered the Ministry to temporarily suspend the licence of this tour operator, pending the conclusion of the inquiry. The Sri Lanka High Commission in New Delhi has also requested a report.
According to Buddha Sasana Ministry Additional Secretary (Administration), Nandani Kannangara, who oversees Buddhist pilgrimage tours, 245 tour operators had initially registered with the Ministry. Subsequently, 10 companies had their registrations cancelled, consequent to inquiries held into complaints received against them, which included negligence, ill-treatment of pilgrims and financial irregularities.
Mrs Kannangara strongly disputed media reports, that the Ministry had advised tour operators not to schedule pilgrimage tours to India in March. In fact, according to a weather advisory that the Ministry had obtained from the Sri Lanka High Commission in New Delhi in May, 2016, March, September and October had been identified as the most suitable months for pilgrims to travel to India, she revealed. Nevertheless, in the wake of the deaths this week, the Ministry has suspended approving several pilgrimage tours scheduled to leave in the final week of March and first week of April, until a clearer picture emerges.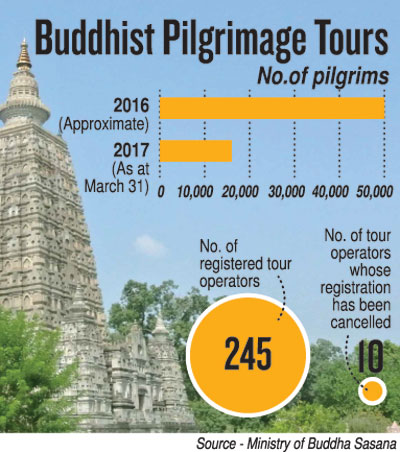 Meanwhile, at a media briefing on Friday, the OBTO lamented that continued negative media coverage regarding the incident was causing undue panic among people intending to undertake Buddhist pilgrimage tours, by tarring all tour operators with the same brush.
OBTO Acting President, Mahendra Halloluwa stressed that, the Government needed to close several legal loopholes and tighten existing regulations, if such incidents are to be prevented in future. In particular, he called for Parliament to enact a law compelling Buddhist pilgrimage tour operators to register with the Ministry of Buddha Sasana, and for a mechanism to check registrations prior to departure. "Many groups do register, but there's no process to check this at the airport. You are not asked for proof of registration before boarding the aircraft." Though current regulations also bar operators who are 70 years or older, from leading tour groups overseas, Mr. Halloluwa said there have been instances of it happening. This is because there is nothing to prevent a registered tour operator of handing the group over to a non-registered individual with a tourist visa, to lead it. "There's simply no mechanism to check any of this."
For the time being, he urged would-be pilgrims to check with the Ministry of Buddha Sasana regarding the registration and suitability of any tour operator of their choice. He also appealed to pilgrims to come forward and complain against errant tour operators, irrespective of whether the companies are registered or not.
While acknowledging that the tour operator under investigation was an OBTO member, Mr Halloluwa said OBTO would condemn any member who asks for money to transport the remains of a deceased pilgrim back to Sri Lanka. Relatives of the three deceased pilgrims have alleged that the tour operator had demanded Rs 300,000 from each family to bring the bodies back to Sri Lanka. According to the families, the company had given them a choice- either send the money and obtain the body or, be prepared to receive the ashes of their loved ones. The Buddha Sasana Ministry insists this is in violation of tour operators' agreement to obtain registration. Mr. Halloluwa believes the fault lies with the tour operator for not obtaining the correct type of insurance. "There are different types of traveler insurance and we think, they obtained the wrong type and asked for money, when the insurance company refused to pay to transport the bodies home."
The tour operators organisation also warned that, due to the increasingly competitive nature of overseas pilgrimage tours, some operators are organising tours which are far too short in duration, which posed a serious risk to pilgrims' lives, especially the elderly who suffer from various health related issues.
Mr. Halloluwa pointed out that, the minimum distance between many historic Buddhist religious sites in India is over 250 km, which requires many hours of travel by road or rail. "Ideally, tours should be spread over 12 to 14 days. But some operators are cramming visits to all these sites inside six to seven days. That means, pilgrims are continuously on the move, and have little or no time for rest in between. This is extremely dangerous, and we urge pilgrims not to agree to such short tours."
Another issue highlighted by the OBTO is that, most pilgrims whose average age is over 45 years, don't disclose existing health related issues, prior to going on pilgrimage. This results in people falling ill during the tour. Many pilgrims also neglect to take their medicines as prescribed, he observed.
Meanwhile, Minister Wijeyadasa Rajapakshe disclosed that Government was considering to make it compulsory for all pilgrims to obtain a medical certificate, as a pre-condition for approval to travel. A medical certificate is currently only optional.
The downside of that, he pointed out, is that, it would mean an additional cost for pilgrims, most of who come from low-income backgrounds. "They will have to pay for the medical tests, which the tour operators, obviously, won't pay. But we are considering whether to make it mandatory for pilgrims to prove their fitness to travel."
Mr. Rajapakshe though, stressed that, whatever laws the Government enacts, pilgrims still had a responsibility to be mindful of their own health and safety. "They must also have some concern and take precautions," he added.