Drought roasts 13 districts, officials feel nature's heat
View(s):

Despite politicians praying for rain, the heavens are not expected to open up soon and people across the island are being told to conserve water in preparation for the worst drought in a decade.

So far, 13 districts in the island are badly affected and worse, including food shortages, are feared.

Officials managing irrigation, water and electricity as well as disasters say they are making preparations.

The Department of Meteorology cites abnormal weather in trying to explain the lack of rain in the first quarter. The Deputy Director, Ms Anusha Warnasuriya, who also heads the forecasting unit, said last year's rainfall was limited due to the lack of southwest monsoons.

Sri Lanka can expect light rains in April, she said, adding that it "will not be sufficient to provide water during the dry period". She said January and February are known to be among the driest months.

"We alerted all relevant authorities as well as NGOs. We advised the Irrigation Department to conserve water for drinking and also advised the Power and Energy Ministry about the lack of water for the hydro power plants," she said.

The Irrigation Department said the average water levels in reservoirs have shrunk to about 26 per cent of their total capacity.

The Director General of the Irrigation Department, S S L Weerasinghe, told TheSunday Times, that the water levels were dropping rapidly, but farmers continued to demand water.

"We advised farmers to grow crops that consume less water. Yet they continued to cultivate 7,050 acres of paddy and some 120 acres of paddy are in danger," he said.

Weerasinghe said weather forecasters have informed them that heavy rains are not expected until October. Whatever water that remains will be saved for agriculture also, he said, since a food shortage is being feared. "Our plan is to dig cultivation wells and provide tube wells for farmers, while releasing water for farmlands."

He said Disaster Management officials have been asked to supply drinking water by using the 400 water tankers they have and 4,000 mobile tanks.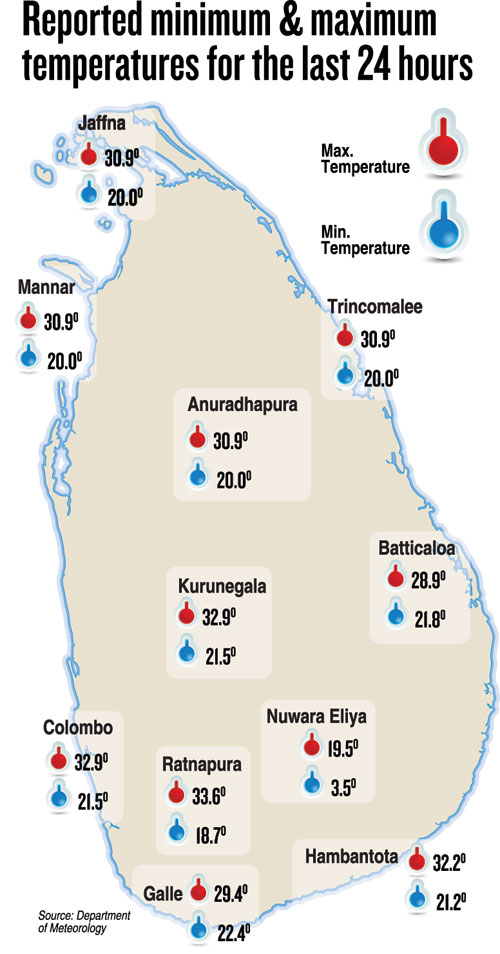 He said Colombo will not face a water shortage considering the high levels of water in the Kelani River. But he warned that the water will be salty because sea water is flowing into the river.
The Deputy Director of the Disaster Management Center, Pradeep Kodippili, said the water conservation message is being promoted. He warned that a food shortage will follow the drought.
The National Water Supply and Drainage Board Chairman, K A Ansar, said that an educational programme will be launched via print and electronic media to spread the water conservation message. "We are already facing difficulties to provide water to elevated areas and interior areas," he said.
Ansar said 1,000 tube wells will be dug, while 400 tube wells island wide will be repaired.
He advised that the waters of the Kalu Ganga should not be used for drinking since sea water has contaminated the river. "We have water tanks and water tankers to provide drinking water," he assured.
An official from the Ministry of Power and Energy Ministry, said that all hydro-power plants would be shut down due to the drought and coal power and fuel-powered plants will be used instead.
He claimed that the ministry is promoting self-power generation using solar power.
The Ceylon Electricty Board has been told to pay Rs 36 per kilowatt of power from suppliers, he said. "We are buying 60 megawatts of power from private suppliers to maintain uninterrupted power during the drought."
Disaster Management Minister, Anura Priyadarshana Yapa, told a news conferenceon Friday, that so far, 13 districts have been badly affected, namely, Anuradhapura, Polonnaruwa, Hambantota, Monaragala, Kurunegala, Puttalam, Trincomalee, Vavuniya, Mannar, Kilinochchi, Jaffna, Batticaloa, and Mulativu. "This drought will prevail for the next three months due to the irregular rainfall we received last year," he said, adding that measures are being taken.
"1,754 water tanks have been requested from our ministry. We plan to distribute them shortly. As a food shortage is possible, the Government is importing 250,000 metric tonnes of rice. This is unusual weather we have not seen for 30 to 40 years. The Government is taking every step to face this from the very beginning unlike in the past when Governments reacted when disasters worsened."
K H S Premalal, the Director General of the Department of Meteorology, said Sri Lanka has not received the expected rainfall in October and December last year. "The northwest monsoon also reduced unexpectedly at the end of May last year. As a whole there was a 50 percent reduction in rainfall last year."
Feel the chill and bundle  up for a few more weeks
Brace for the mildly cool conditions to continue over the next couple of weeks in the Western Province, weather watchers say.
Meanwhile, in the central highlands, the cool weather could cause crop damage, they say.
Weather professionals define mildly cool weather as temperatures between 18 degrees Celsius and 22 degrees Celsius, while cool weather is between 13 degrees Celsius and
17 degrees Celsius.
The Department of Meteorology said temperatures in Colombo and Galle would fluctuate between 25 degrees Celsius and 24 degrees Celsius, while in Kandy the mercury would dip to between 20 degrees Celsius and 27 degrees Celcius.
In Anuradhapuram, the maximum temperature would be 29 degrees Celcius, while in Batticaloa the forecast is for 26 degrees Celcius. Jaffna would be hot, where temperatures would range between 25 degrees Celsius and 28 degrees Celsius.
Weather forecasters attribute the mildly cool temerature to winds from the Northern Hemisphere as well as from the Bay of Bengal.
In Nuwara Eliya, the mercury has dipped to 16 degrees Celsius, Department of Meteorology Director General, Lalith Chandrapala, said adding that temperatures would drop further at dawn and at night. Heavy mist is forecast in Nuwara Eliya, the Horton Plains and surrounding areas.
"This weather will prevail because there is no cloud formation over the country, which results in radiation cooling, fog formation and, in the extreme, frost formation," he said. He expects Nuwara Eliya to feel the chill for the next four to five days. "It is not an unusual experience during December and January."
As for April, the inter-monsoonal period, he predicts evening thunder showers and warmer weather in Nuwara Eliya.
Central Province Agriculture Department Deputy Director Mrs. K. Seneviratne said, extreme weather in the district had damaged crops in some locations in the Ragala-Nuwara Eliya area. She said 30 acres of leeks, beetroot, carrot, potatoes and lettuce cultivation were badly affected in Kandapola, Galpalama and Aluthpara.
She said cultivations suffer frost damage, suggesting that farmers water their crop in the early mornings to minimise damage casued by sunlight.
In Nuwara Eliya, an official from the District Secretary's office said beggars are among the most severely affected by the cool temperatures.
Nuwara Eliya General Hospital, Director, Dr. Anura Jayasekera, said the chill had an adverse impact on those with asthma and the elderly suffering heart disease. If the temperature were to drop below zero, blood-related diseases, headaches and muscle cramps could also occur, he cautioned. He advises that infants be bundled up for warmth and that the elderly and those who are pregnant also keep themselves warm.
Meanwhile, incessant rains have compelled Udawalawe irrigation engineers to open five spill gates of the Udawalawe reservoir in Hambantota to almost two feet, releasing about 16,600 cubic feet of water into the Walawe River.
Food stocks available only until end February: Dr. Wijekoon
Speaking at a seminar organised by the Department of Agriculture, its Director General Dr. Rohan Wijekoon, said the country was facing a critical period due to the prevailing drought conditions. He said around four-hundred-thousand hectares of land needed to be brought under paddy cultivation to meet the needs of the country during the current season.
Because of the prevalent drought he said, nearly 50% of paddy lands remained uncultivated. Another fallout of the adverse weather condition was that waters in the tanks -which provide water during the cultivation season- had dwindled down to 20% of capacity.
Dr.Wijekoon warned the country had stocks which would last until the end of February. To meet this shortfall, he stressed, at least eight-hundred-thousand acres of land needed to to brought under short-term paddy cultivation. This would enable the country to meet basic needs until June this year he added.
Speaking at a seminar on "Conservation and Utilization of Local Varieties and Traditional Knowledge Associated with Genetic Resources and Agriculture," Dr Wijekoon warned the situation was grave.
He called on people to abstain from picking young jak (polos) and suggested allowing the fruit to mature. This particular fruit he said, could be used as an alternate food source in times of food shortage.
The problem would reach a critical position during the Yala season and to meet this situation, he stressed the importance of cultivating cash crops in home gardens.
Dr. Wijekoon said the Agriculture Department was promoting two projects -promotion of biodiversity and conservation of local varieties of paddy.
He said these were among the topics which would be discussed at the seminar as a means of meeting the anticipated shortages.
He emphasised all sections of the population -farmers and the general public- needed to co-operate and implement the conclusions arrived at, in an effort to overcome the situation created by the drought.
Blow hot, blow cold: Min and max temperatures
Widely fluctuating temperatures have been reported in many areas in the past two weeks. Within the past 24 hours Nuwara Eliya saw the temperature dipping to a minimum of 3.5 °C  and rising to a maximum of 19.5 °C.
Other areas too including Bandarawela recorded a maximum of 22 °C and a minimum of 11.6 °C while temperatures in Kandy fluctuated between a maximum of 28.7 °C and a minimum of 15.5 °C, within the past 24 hours
More surprising however, were the low temperatures recorded in areas normally expected to be warm, with Puttalam recording a maximum of 33 °C and a minimum of 19 °C.
The minumum temperatures recorded in areas in the North and East included; Vavuniya – 19.3 °C, Jaffna – 20.1 °C, Mannar – 22.4 °C, Trincomalee – 22.8 °C and Batticaloa – 21.8 °C.
In the South, Colombo, Galle and Hambantota recorded minimum temperatures in the range of 20 to 22 °C.
Thai Pongal in the NE: Farmers pray for rainYesterday's "Thai Pongal" festival was celebrated on a low key by the farming communities in the north and east due to the prevailing drought condition. Many acres of paddyland have been destroyed in Kilinochchi and Mullaitivu.

Iranamadhu farmers' federation president Muthu Sivamohan told the Sunday Times that many farmers were engaged in special religious prayers seeking rain to save their remaining crops.