Art as a place: Canvas of germination and growth
Jyoti Dhar writes on the recently concluded Colombo Art Biennale
View(s):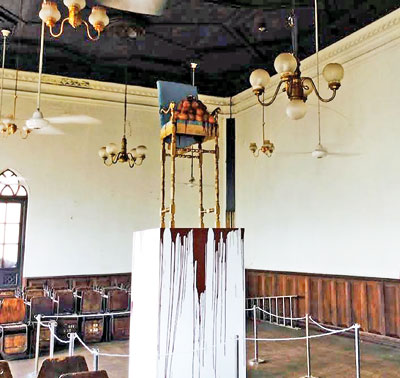 Half-way down Hospital Street - a microcosm of Colombo development, as one of the oldest lanes in the historical Fort district, adjacent to the 17th century Dutch Hospital, and since 2011 part of a high-end shopping, bar and hotel area – a bunch of artists, poets and filmmakers take part in the city's first "Video Jam." Set against this giddy vista, on the bare and unfinished roof-top of a trendy new hotel, we witness a similarly raw and hip mix of live sound and composed films. A woman sings in a staccato, operatic style in response to black-and-white archival images floating above a luscious landscape; a local beat-boxer times pops, clicks, fizzes and sputters to a sinister, stop-motion animation of wooden circus dolls; and deep, electronic beats lace psychedelic imagery of green-tinged growths, morphing like mini-explosions out of multi-coloured pyramids. Paired together by curator Shereen Perera, the latter is an auditory answer by Colombo-based musician Asvajit Boyle to London-based animator Alice Dunseath's chimerical visuals, "You Could Sunbathe in this Storm" (2014). On its own, the short film is suggestive of a gamut of organic forms, from coral and crystals to corpuscles and clouds - but presented here in the context of Colombo, it resonates most strongly with the idea of tropical growth.
As those who nurture art and culture in Sri Lanka's capital know, the city is ripe for encouraging germination and cross-pollination. For the most part, its ecosystem tends to provide saplings and spores that fly in or take root, fertile ground in which to flourish. Sometimes, however, these growths can sprout and multiply before they have time to become firmly planted or stabilized. The Colombo Art Biennale (CAB) can be thought of in a similar vein, beginning in 2009 as a collaborative gesture between gallerist Annoushka Hempel and artist Jagath Weerasinghe, and since budding into a plethora of artistic endeavours. Over the course of three editions, titled "Imagining Peace" (2009), "Becoming" (2012) and "Making Histories" (2014), the event has tried, and sometimes struggled, to respond to the complicated course from war-time to peace-time through its curatorial premises. While the first two iterations brought together a range of artists from Sri Lanka and the wider region, the previous edition was exemplary of a conceptually haphazard collection of artworks, and exhibitions by local and international organizations, clubbed together under one umbrella. Bearing this in mind, the fourth outing of CAB, called "Conceiving Space" and curated by Manchester-based Alnoor Mitha, was a more solid rendering of the biennale format, with a move toward selective, large-scale and site-specific works.
In the Old Town Hall in Pettah, in the middle of a 19th century court-room, a monumental velvet and gold throne with elongated legs towered above the uninhabited seats below. High on top, in place of a monarch, sat a cluster of coconuts covered in crimson-red liquid, which dripped down the sides of the installation, all the way to the floor. This was Toronto-based artist and photographer, Rajni Perera's first sculptural work, "A Long Arm, a Tight Grip" (2016) which she characterized in a curatorial tour as "a theatrical critique of the aftermath of colonial rule, which still exists to this day." While seemingly more in dialogue with a dichotomous past than a nuanced socio-political and commercial present, the notion of imperial power was effectively echoed by the work's historical setting. The staging of Cristina Rodrigues's work, "The Shroud" (2016) in the architecturally hybrid space of the Cathedral of Christ the Living Saviour in central Colombo, was equally dramatic in its positioning. In this case, however, the installation itself, which intended to be a contemporary evocation of the eponymous biblical material of Turin, and consisted of several linen cloths woven by Portuguese artisans hanging from the rafters of the cathedral, did not appear to explore or extend itself beyond its inherent premise.
When asked about this commission in an interview earlier this month, Mitha himself agreed that the work represented a "safe choice." While understanding the need to respect local sensitivities in this situation, the tendency toward moderate and perfunctory installations unfortunately seemed to pervade much of the rest of the festival. In fact, of the artists presenting more risk-taking or radical work, asking to look at current concerns or the city anew, were Colombo-based artists Venuri Perera and Poornima Jayasinghe. As a Kandyan-turned-contemporary dancer, Perera's practice often subverts and challenges notions of the body and its place in the larger body-politic. To engage with her work, "EntryNOEntry" (2016) audience members had to enter a pitch-dark room, one by one, and answer frank questions about their nationality, bank balance, health status and illegal activity, all of which were whispered into their ear, while being gently danced with. With this discomforting performance she asked the biennale-going public to resist complacency on increasingly urgent issues to do with immigration and nationalism, reminding us of how personal the effects of such policies are. In contrast, Jayasinghe's intervention, "Title" (2016) stemmed from well-ingrained, neo-colonial concerns, to do with international cultural institutions and their oft-problematic framing of local culture.
Originally conceived in response to Colombo's other major arts festival, Colomboscope, Jayasinghe's re-staging of the work at CAB – consisting of several labels with phrases heard at the former event including "West Speaks East Listens," "Visuals for Ex-pats" and "Great Contemporary Art Bubble" – held a mirror to some prevalent issues. The charge of elitism and catering to a limited audience has often been lobbied at CAB. Conscious of this, Hempel asked architect Gihan Karunaratne to create an architectural and community-based program for this edition, which would focus on projects in the ethnically and socially diverse suburb of Slave Island. This included ongoing projects such as Theertha Performance Platform, Mullegama Art Centre workshops and CoCA's "Cube out of the box" mobile exhibition. The culmination of this - in the middle of origami birds made with local children, a sky garden connecting two sides of the street and model of an imagined community centre for the Nawala suburb - was the "Great Feast" by the UK-based collective Assemble; a sit-down lunch for 500 people along Dispensary Lane, to which caterers and the community contributed a range of dishes. In the end, this overwhelming mix elicited a host of reactions from neighbouring inhabitants and the local art community alike, including Slave Island resident and artist Firi Rahman.
"It was good because it was a very new experience for many people," he told us. "But I was expecting more, something less temporary, something which could be useful to the residents in the future." The idea that such outreach programs need to be more carefully considered and grounded in local realities was also echoed by Jayasinghe. "We have to ask ourselves, 'Is this what the community really needed?' As artists and curators, we have to think about the sustainability of these projects and what they really mean." In the end, the fourth CAB was certainly stronger and on for longer than previous editions, but still seemed to be affected by inherent issues that threaten to unmoor it. Learning from other biennales in Asia, whether Sharjah, Kochi or Shanghai, we see that they are usually planned two years in advance, are partly or fully state-backed, and remain open to local audiences for months at a time. While it is important to allow CAB to have its own trajectory and identity, it is also clear that there is only so much it can ever do or be given its current infrastructure. Indeed Hempel acknowledges that it needs to change its status from that of a private biennale to a non-profit foundation, if it is to address key issues of framework and execution in the future. Once that happens, perhaps it can re-generate and be supportive once again, not just of its own stable growth, but of organic off-shoots and life-cycles around it altogether.
* Art as a Place derives its name from the Sarai Reader 09 exhibition (2013) in New Delhi, curated by Raqs Media Collective