Let us rebuild our country, starting in our homes
View(s):

Our Lord Buddha and founders of other religions have given a clear direction about the efforts that are expected from us in life. All living beings, humans and animals wish to be happy. We dislike grief. If that is the case both the rulers and the people must realise that as we cannot clap with one hand, we must think diligently and make an effort to develop ourselves.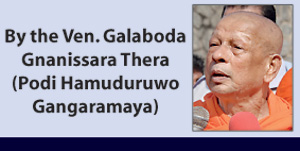 The main aim of education should be training for proper living. In the past, parents had practical experience of this. They were known as the initial teachers and brought up their children without making them a burden to society. When the parents reached old age, with the help of the children they spent that time usefully and passed away peacefully.
If people are sick and unable to move about, and dependent on others, they cannot be happy. The Lord Buddha had preached that good health is the biggest wealth. The people in those days took trouble to take care of their bodies and minds because even if they had wealth they knew it was of little use if they were invalided.
To correct this situation the Gangaramaya and our devotees are ready to help. In a month's time we are hoping to start a health clinic at Mahindarama Road in Punchi Borella. We will educate the people on how to take care of their bodies and minds. Those who are keen to learn, will be able to live in a healthy way, without taking medicinal drugs regularly. Our ancestors have shown us that if we act wisely with good intentions and blessings, we could achieve many things that we cannot achieve with medicine.
I wish to share a recent personal experience. A constant loud noise was coming to both my ears and I suffered from hearing defect. I consulted many doctors and surgery was also recommended. But I got some advice from a patient doctor. He said that when water or some other substance gets into the ear, hearing will be impaired till this is removed. He recommended some medication and I began cleaning my ears and doing some exercise. I was healed in a day or two. For such and related ailments, a few exercises will help. We learnt this from our parents. We shake the ears after a bath. There are many who insert pieces of cotton into their ears and have trouble. Today we do not have proper ear-cleaning devices. These were made of ivory or even gold plated. Things have changed today.
People involved in paper manufacture know that a lot of harmful chemicals are used. So they will not use tissue paper to clean their eyes, nose or ears. There is even the danger of getting cancer because of these tissues. A gentleman who works close to our temple complained to me that he cannot properly feel the taste of food. I advised him to bite a few pepper seeds and clean his mouth with salt. After a few days he told me he was cured. The best medicine against oral cancer is to wash the mouth several times a day with a mixture of salt, lemon and pepper. This is a good primary remedy. People have forgotten such basic remedies practised by us in the past. We need to tell the people about these home remedies for various ailments and popularise them.
If agriculture is going down, something tangible needs to be done about it. More than two thirds of our paddy fields have become fallow. The Gangaramaya is organising village level agricultural societies and we will donate hand tillers to them. We also have educated and made good citizens of young people who had gone astray. This was done at our technical training Institute. But today, only a few youth come for technical education.
Some of them go for labour jobs where they earn a lot. They go for the money. If this trend continues, we will not have the required number of technically qualified workers. We might have to get foreign workers. Already we know that there is a large foreign labour force in our country.
Instead of death donation societies, the Gangaramaya is organising cultivation societies to cultivate lands that have gone fallow. Please donate old or new hand tillers for this mission. In this way we can promote rural development. This week, India demonetized Rs. 500 and Rs. 1,000 notes. I wish this will be done in other countries also. Those who love Sri Lanka must take steps to grow something in whatever space available and obtain a harvest. Many of those cutting plants or trees are not planting anything in its place.
It seems that we have too many lazy people in our country. Without love and dedication, little or nothing could be achieved. So we are we are waiting for learned and honest people to rise and take up the challenge to rebuild society and our country.
If we are to put the country on the correct path people must have sufficient sleep at night. Local TV and radio channels must end their transmission by 10 pm. The government also should control foreign channels. We must be able to have a good family life and help people to live in a proper manner. It is time to cast away the stigma of being lazy, weak, and ignorant and organise ourselves to rebuild our country. Without going far, let us begin this in our homes.