Focus on expectant mothers at Asia Pacific Conference in Colombo
By Kumudini Hettiarachchi
Awareness to be raised on high blood sugar levels and infant mortality rates
View(s):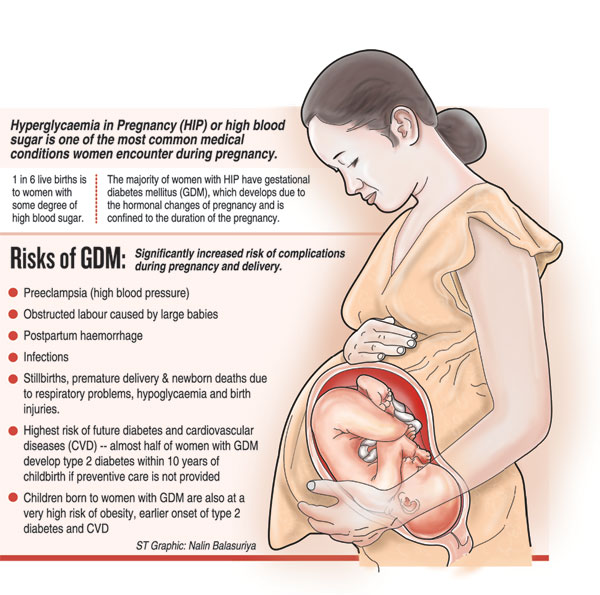 With diabetes and high blood pressure on everyone's minds these days, Sri Lanka will play host to high-level interactions and discussions with the sole focus being a special group – expectant mothers.
The 'two-in-one' First South Asia and Asia Pacific International Congress on Diabetes, Hypertension & Metabolic Syndrome in Pregnancy will be held from September 8-10 in Colombo with both President Maithripala Sirisena and Health Minister Dr. Rajitha Senaratne attending the opening ceremony at the Cinnamon Grand Hotel.
This three-day landmark meeting organised by the South Asia Initiative for Diabetes in Pregnancy (SAIDIP) and Diabetes in Pregnancy Asia Pacific (DIPAP) will feature talks by renowned international and regional experts drawing nearly 350 delegates.
The main thrust of the congress is to provide strong support to vital awareness-raising on the links between high blood sugar levels and poor mother and baby outcomes, not only during pregnancy but also thereafter in South Asia including Sri Lanka.
Explaining that South Asia and the Asia Pacific region contribute to about 50% of the annual global deliveries, the conference's Co-President Prof. Chandrika Wijeyaratne is quick to point out that sadly these same regions also account for more than 55% of the global diabetes burden and about 30% of maternal and perinatal deaths and poor pregnancy outcomes.
She delves deep into the root of the problem to underscore that earlier gestational diabetes mellitus (GDM) was considered as "some form of diabetes occurring in a special situation". Now the world has realised that this is possibly the starting point of the problem.
"Pregnancy provides a window of opportunity for us medics to look at the future of the metabolic health of both mother and baby – like astrology. If a mother develops GDM or high blood pressure, this often returns to normal soon after childbirth," she says, warning that unless special measures are taken with regard to high blood sugar, high blood pressure and high lipids, the ingredients for premature heart attacks, stroke and kidney failure return and remain unrecognised for long periods of time as they cause no symptoms. So, like moths eating a cloth within a closed cupboard, the blood vessels of the unsuspecting mother gets clogged up gradually.
Her fervent hope is that the congress would propagate greater awareness and policy and commitment by planners (administrators) and implementers (care-givers) of the health systems of South Asia, to join hands and address the scourge of risks posed by diabetes and cardiovascular disease (CVD) through the approach, 'Let's start at the very beginning….from womb rather than closer to the tomb'.
When asked about the impact of poverty, Prof. Wijeyaratne reiterates that diabetes and CVD are not conditions of the rich and the affluent, but are a curse of poverty-stricken societies. They are also unaware of the dangers and harms of excess starch, salt, sugar and unhealthy oils offered on a platter as "modern fast food and drink". This creates havoc for the very sector of society that plays a role in productivity – and brings about a huge health burden. The simple answer to the problem is healthy lifestyles.
The Chairman of the World Diabetes Foundation, Dr Anil Kapur, in an e-mail interview with the Sunday Times on the eve of the congress pinpoints the possible tragic consequences of GDM.
"In women who may have pre-existing diabetes before pregnancy which has not been properly controlled or was not previously known, the risk of repeated abortionsis high. The babies may also develop congenital deformities affecting different organs, some of which may be life-threatening," he states, adding that these complications contribute significantly to maternal and newborn morbidity (disease) and mortality (death).
Hyperglycaemia (high blood sugar) in Pregnancy (HIP) also perpetuates the risk of diabetes into the next generation, it is learnt.
On the urgent need to address GDM, Dr. Kapur says that it would have an impact at three levels: Help lower maternal and newborn morbidity and mortality; provide an opportunity to reduce the risk of future diabetes and CVD in women with GDM; and break the chain of inter-generational transmission of diabetes and metabolic problems.
Referring to the significance of holding the congress in South Asia, Dr. Kapur says that as we share similar genetics, lifestyles and socio-economic development, with our health systems more or less facing similar problems of low resources and limited funding, it is necessary that we learn from each other and share our experiences to tackle them.
This is why SAIDIP was formed recently as an informal network of health care professionals. It aims to further collaborative research, capacity building and share experiences and best practices, it is learnt.
Dr. Kapur is hoping for a better commitment from all stakeholders to address the issue and implementation of better practices and guidelines.
Meanwhile, Dr. Hema Divakar, Co-Chair of the HIP Working Group of the International Federation of Gynaecology and Obstetrics (FIGO) adds that professional organisations are proactively coming together to sensitize fellow professionals and governments as well as women and their families. "All stakeholders have to join hands in this battle."
The congress is supported by the Health Ministry, the World Health Organisation (Sri Lanka Country Office) and the World Diabetes Foundation. Among the eminent speakers will be Prof. Moshe Hod, FIGO Chair of the HIP Working Group and Distinguished Prof. V. Seshiah of the Tamil Nadu Dr. MGR Medical University and Founder Chairman of the Diabetes in Pregnancy Study Group in India.
Diabetes affects one in  four of 35-40 age group
Turning the spotlight on Sri Lanka, Prof. Chandrika Wijeyaratne provides chilling statistics:
· Overall, pre-diabetes and diabetes together are afflicting over 25% (1 in 4) of the adult population over the age of 35-40 years
Lauding the wide and almost 96% maternal coverage from early pregnancy in the country, she says that the Family Health Bureau — the focal point of mother and child health (MCH) programmes — together with all stakeholders has taken up the challenge of the rise in diabetes in general and within this circle diabetes/hyperglycaemia in pregnancy (DIP and HIP) and commenced universal screening with blood sugar testing.
If the test turns positive in early pregnancy, then it is more likely that the mother is vulnerable. If 'normal' blood sugar levels in early pregnancy turn 'abnormal' in late pregnancy, then it is GDM.
The preliminary results are worrying, according to Prof. Wijeyaratne:
· 1 in 10 expectant mothers developed GDM in Homagama in 2004, in a study of over 800 consecutive pregnant women who had no complaints.
· Recent testing of more than 1,500 mothers in more rural Gampaha found that the rate has increased to 14.9%.
· Previously unknown diabetes is also raising its ugly head.