PM arranges alternative venue for Rajapaksa rally
View(s):

Though they are arch opponents in politics, there is still camaraderie between former President Mahinda Rajapaksa and Prime Minister Ranil Wickremesinghe when it comes to personal relations.

That is why Mr. Rajapaksa telephoned Mr. Wickremesinghe last Monday morning, just hours before the four-day long Opposition protest march from Kandy to Colombo entered the city limits.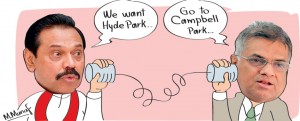 He wanted to know why the Government was denying them a venue to hold a meeting. The one for which permission was granted and the charges were paid for was the Hyde Park in Colombo. The application for the venue was made by Vasudeva Nanayakkara, one of the 'Joint Opposition' stalwarts. At the eleventh hour it had been cancelled.
Premier Wickremesinghe was to explain that some restoration work had to be carried out at the park and hence that venue could not be made available. The next question from Mr. Rajapaksa centred on another venue. Mr Wickremesinghe said he would look into the request. The former President, who left for South Korea on Thursday night, was to remark to a confidant that the Premier was in a "jovial mood."
Premier Wickremesinghe was to later tell President Sirisena about the matter. Concern over disruption of traffic and inconvenience to the public was discussed, among other things. It was decided to ask the Opposition to hold the rally at Campbell Park in Borella. That would have confined them into one part of the City instead of converging on a busy zone. The Police were advised to allow the rally and provide the necessary security.
Lalith Pathinayake, DIG Colombo, had a problem in hand. He was unable to reach ex-President Rajapaksa to convey the decision. He found his whereabouts through Mr. Rajapaksa's Police security contingent. Mr. Rajapaksa was at the Abhayarama Temple in Borella.
DIG Pathinayake, who went there, handed over a letter of approval of the venue to Mr. Rajapaksa only to be told that they were not interested in it at that late hour. Arrangements had been made to hold it elsewhere. Indeed, plans had been finalised by then to allow the protestors to converge at Lipton Circus near the Colombo Town Hall. It was felt that this venue would have a better impact.
Interestingly, it was not only the Police who were using walkie-talkies for communications. So did one of the frontliners in the protest march, former Minister Mahindananda Aluthgamage. He was talking to his colleagues leading the protest march some distance away and co-ordinating arrangements. That included the positioning of a stage mounted on a van. The walkie-talkies had been hired from a private company.
If UNP ministers Kabir Hashim and Lakshman Kiriella made a strong attempt, which included action in the Magistrate's Courts to stall the protest, it was a different story elsewhere.
A strongman, now from the United National Party (UNP), had planned a rally in Kelaniya, his new home ground. There were those 'victims of Rathupaswela' where there was an Army shooting on those protesting against a factory for reportedly polluting the water bed, had also wanted to show their anger at the protest marchers. However, these did not happen.
---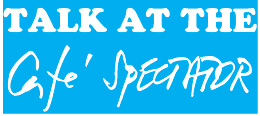 Yesterday's tyrant: No riches, no rags also
In business, they call him a wheeler dealer. His rags are used to fight his enemies, perceived and otherwise. The less said about financial matters past, the better.
Some of his deals that came into question could soon create a sensation. The legal eagles are poring over the voluminous documents for an indictment. Little wonder those in the big city state shut their doors and told him "go back, clear you name and come." He tried to do that with a senior-most politico who he had lambasted in the past but whose help he now needed. He was referred to a top cop. However, the cop declared there was nothing he could do.
Again, he went to the politico with a one-time close ministerial buddy who he also castigated in news sheets in the meanest way. Perhaps, he felt the buddy was now more important since he held a key portfolio, one where he could move and shake matters in any world capital. How the worm turns.
During the conversation with the politico, he confessed that he was no longer financially sound. His so called news empire was running at a dead loss. While sipping a tot of whisky offered to him, he asked if the politico was willing to take over his collapsing venture. With a wink, the politico in turn asked the minister to "look into the matter".
While this was going on, a hireling is lobbying privately with business houses to buy over the venture. According to him, it is not only the monies owing to the bank and other assets that should be acquired. Even his services have to be retained. "No way, tush, tush," said one businessman in the export trade.
---
Chinese firm gets Kirinda harbour contract
A Chinese firm has won a deal to carry out a feasibility study and detailed design of the Kirinda Harbour in the Hambantota District. This harbour is located close to a Naval Detachment positioned in this coastal area on the outer boundaries of the Ruhunu (Yala) National Park.
The firm Hae Chun Corp Limited has been formally commissioned by the Ministry of Fisheries and Aquatic Resources.
---
Big boss says march a success
The so-called Joint Opposition's protest march from Kandy to Colombo had ended and the big boss in Colombo was talking about it with some of his blue eyed confidants.
One of them, a hoary one, declared that the march was a flop and there was no point talking about it. Perhaps he wanted to please the boss.
The man got a shock when the boss exhorted "don't talk like that. It was a success." The boss should know better.
The other confidants remained mum thereafter.
---
Anti-Corruption Secretariat gets extension
The Cabinet of Ministers have approved a proposal to extend the term of office of the Anti-Corruption Secretariat till December 31 this year. The move comes on a recommendation from Prime Minister Ranil Wickremesinghe. His recommendation that the Government spend two million rupees on the Secretariat every month has also been approved.
This Secretariat receives public complaints regarding bribery, corruption and other misdeeds of the previous Government. After study they are referred to the relevant state investigation agencies for follow-up action as a prelude to prosecution if there is sufficient evidence.