A tired march
View(s):

My dear Mahinda maama,
I thought I must write to you after seeing you in the 'paada yathra' last week – although, for you at least, it was more a 'jeep yathra' than a 'paada yathra'. Therefore, I hope you don't have blisters on your feet- something Maithri was very worried about, given his concern for your wellbeing.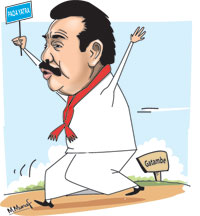 As you know very well, Mahinda maama, this is not the first time we saw a march of this nature. In fact, the first such march was held almost sixty years ago, when JR tried to march from Colombo to Kandy to try and stop SWRD from signing a pact with Chelvanayakam.
Although JR's march was stopped at Gampaha, it also stopped SWRD from signing the pact and it could be argued that we all paid the price for it because terrorism erupted a quarter of a century later. And of course, whatever your faults, we are forever grateful to you for putting an end to that.
But this is not your first march either. It seems that you resort to a march whenever you are cornered within your own party. Do you remember what happened twenty five years ago? JR had retired, an insurgency by the rathu sahodarayas had been crushed and Premadasa was ruling with an iron hand.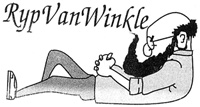 More importantly for you, Satellite has just returned from England and there was every indication that the Blues would want her to lead the party, just because she was the daughter of important parents. That is when you organised your famous 'paada yathra' from Colombo to distant Kataragama.
That march was a success, giving the Blues some momentum that translated in to an election win two years later but it was Satellite who enjoyed the spoils of that victory. It did however confirm your position as a contender for the party leadership-thereby also becoming Satellite's lifelong rival.
Since then, even the Greens have learnt a lesson or two from you. Ten years later, with Satellite in power, they held their own march, again from Kandy to Colombo. Within a year or so, the tide had turned and the Green Man was in power although he had to work with Satellite who was still the boss.
By marching from Kandy to Colombo, I suppose you must be hoping that history would somehow repeat itself and you will be back in the saddle. And no doubt it must be very reassuring to hear your supporters shouting 'apita oney Mahindagey aanduwak' at hundred metre intervals!
Don't get me wrong, Mahinda maama. I think 'yahapaalanaya' also needs a reminder that they are not doing the job that they were supposed to do. Some of their ministers are behaving as if they are a law unto themselves – and they could certainly do with a protest march or two against them.
It seems as if the police are also stupid enough to go to every court between Kandy and Colombo to try and stop your march or place some restriction against it. Surely, that is not 'yahapaalanaya'? Weren't we were made to believe that, under 'yahapaalanaya' the Police was independent?
Anyway, we have to be thankful to you for providing us with some comic relief during the march. Young Namal has confirmed that he is a better dancer than a politician. And now, a child shouting slogans on the virtues of 'aappa' is being talked about more than the reasons for the march itself.
Then there was Geetha telling us that the march had over two million participants. The lovely lady may have been an outstanding star of the silver screen in years gone by but she needs to go back to school to get her arithmetic sorted out!
However, Mahinda maama, what I am disappointed about is that those around you in your march are the same old persons who brought about your downfall. These are also the people who are accused of corruption and several other misdeeds and against whom many inquiring are still pending.
I think the majority of people in this country voted against you not once but twice – in January and August last year – because of these people who surround you, even though they knew very well that they owed you some gratitude for defeating terrorism and restoring peace in our country.
That is why this march may not bring you the results you wish for. I know you cannot choose your enemies but surely, Mahinda maama, you can choose your friends. And that is why I think the biggest problem you must deal with now is not Maithri, Satellite or the Green Man – it is those around you.
Yours truly,
Punchi Putha
PS:Your chaps got caught hooting near the Blue party headquarters at Darley Road. You say that it could be people from other parties who had 'infiltrated' the march to bring it into disrepute. Come on, Mahinda maama, that is like saying that Sri Lanka Cricket sent Murali to coach the Australians!