Consultants galore in this land of kiri (ella) and pani
View(s):

It was not too many moons ago that the loquacious Rajitha Senaratne, minister and cabinet spokesman, claimed that the condition of some of our roads demanded that ministers and others of such elevated status straining every sinew to serve the people, need to have comfortable (not to mention expensive) vehicles to perform their sacred duties.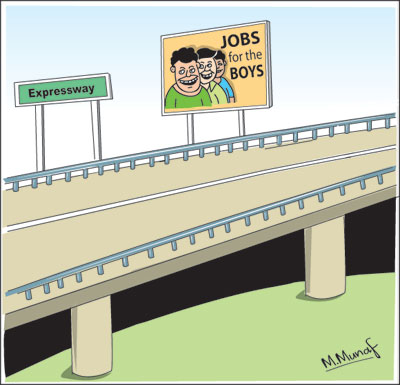 Don't get me wrong. Minister Senaratne is an honourable man. So are they all, all honourable men (and women, naturally). So if he says the roads are bad, especially in the hilly, estate and wooded areas of the country where he and others of his ilk have planted their political stakes, they must be bad.
What some of them were doing while serving-faithfully one assumes — in the previous government for many years without getting those dilapidated roads repaired and restored remains unanswered but does cast some guilt on their own performance.
It would have been much easier to have had this remedied then by getting the relevant ministerial colleague or other honourable district politicians to pass on tenders to kith and kin to make the existing roads even worse so that more tenders could be granted to the same kith and kin to repair them time and again. Minister Kiriella must surely know about the tender touch as something about colleague Daya Gamage did make the news quite recently. That is by the way of course.
That the roads had not been done shows not the lack of kith and kin to gain from profitable ventures but others more politically powerful and enterprising with an understanding of ministerial financial perquisites and enhancement appear to have beaten them to the waiting booty.
At least it must be said to the eternal gratitude of Higher Education and Highways Minister Lakshman Kiriella that he had lent an ear to the latest lament of our dentist minister who cries for new cars to travel on old roads. JVP Parliamentarian Nalinda Jayatissa mentioned in Parliament the other day that Minister Kiriella, who patrols the highway to higher education, had appointed 56 consultants to the RDA's Southern Road Development Project.
Oh, no, said the aggrieved minister, it is not 56 but 45 or words to that effect. If one might adapt the words of the Bard what's in a number, after all. That which he calls 45 smells as bad as 56. Dr. Jayatissa who has delved into this issue with the persistency of a mole has found that only two in that galaxy of consultants had GCE "A" level qualifications while the rest had only an "O" level pass or had not even got that far.
So what is Dr. Jayatissa's grouse? He should take a 'roll call' of the educational qualifications of the 224 other members he sits with in parliament today. That once august Chamber was in years gone by virtually second home to many intelligent, widely-read, knowledgeable and articulate persons who could hold their own with counterparts elsewhere in the world. Would he not be even more shocked at the crass lack of education and ignorance that pervades those corridors of power today for which the tax- payer coughs up huge sums to maintain and feed today's parliamentary multitude.

He might recall that two years ago a survey of the educational status of members of the last parliament found that 94 of them had failed the GCE O/L and 142 of them had failed the GCE A/L. I doubt whether any such survey has been done on the current crop of MPs that make laws for the rest of us. Never mind. It would save the citizenry of Sri Lanka more shocks to the nervous systems and disturb their mental equilibrium were they to learn of the quality of those who have been elected to the legislature supposedly to represent the people.
Dr. Jayatissa might have collected his medical degree and Rajitha Senaratne practised open-mouthed treatment but there are many out there among them who had struggled to get a few steps up the educational ladder and failed despite the free education system.
Since entry to the public service at the lowest level requires at least an "O" level what could be more lucrative than bulldozing into politics, a vacation rather than a vocation that requires more brawn than brain — the ability to bully, assault, coerce, abuse, misuse and revel in corruption and be corrupted as though the last needs any persuasion.
This is of course not to say that all politicians have acquired these attributes during their political journey in this samsara but there are many who make the headlines when their deeds and misdeeds lie exposed. There is no sense blaming the media for exposing the corrupt or those who abuse and misuse the system at the expense of the public. If there were no misdeeds, no abuse, no corruption there would be no headlines. Comprende?
When those who make laws on our behalf have little or no formal education and at the first sight of public exams disappear into forest reserves which will themselves disappear before long or into political parties, should it come as any surprise that the consultants politicians appoint should have even less education than those who appoint them.
As though the consultant fiasco was not another embarrassing moment of misplaced yahapalana morality and public betrayal, the JVPer revealed another dimension to this Kiriella saga.
The public was told that a Buddhist monk was among those who were to be consulted on road development. Minister Kiriella disputed this but then when the name of the venerable monk was mentioned and whence he came the ministerial protestations appear to have subsided by more than a few decibels.
If all what has been revealed in parliament is true — and which outsider would be brave enough to say that lies are uttered by honourable members — then precisely what advice on road development the monk, or for that matter any of the 50-odd consultants, would offer or be consulted on remains quite a mystery like the missing millions (or is it billions?) under the previous dispensation.
It is possible, of course, that as a consultant to the Road Development Authority the venerable monk has been appointed to teach those who have strayed from the righteous road to return to the true path of Buddhism and Buddhist values that they seem to have abjured in their daily existence.
One must not forget, as the Gammanpilas and the BBS keep reminding us, Sri Lanka is a Buddhist country and those who undertake civic duties solemnly swearing to follow the fundamental tenets of Buddhism need regular admonitions to adhere to them even if they come from the sacred Buddhist city of Kandy or thereabouts.
As a Marxist — or so we think — the good doctor might be more concerned with worldly matters but those who publicly display their undying faith in the Buddha, Dhamma and Sangha need to be reminded that accumulating ill-gotten wealth, cheating and misleading the public betray the commitments on transparency, accountability and impartiality they gave the country as followers of good governance.
While crime busters are running around looking for 'rogue' elements to question and prosecute, this episode is surely a clear case of admission of guilt. In the very assembly that is said to represent the essence of parliamentary democracy, a minister admits that the consultant jobs he gave were to those who worked at last year's elections to bring his party to power.
He says each consultant is paid Rs. 65,000 a month including Rs. 40,000 for travel. Fine, though it is not mentioned where these consultants are travelling to work from, if they travel and work at all.
The critical question is whose money is the minister or the institution concerned which is responsible to the minister, using to pay the wages? If Kiriella wants to thank those who worked for his party and pay them for their troubles, then he should do so from his own purse or from the party coffers.
But he is not doing that. The taxpayer has been asked to pay for the political work these so-called consultants did for the minister and his party. So why are the law enforcement authorities — that often pass the buck when an irate public asks about the delays in prosecuting those allegedly guilty of misappropriation of public assets, abuse and misuse of power — not questioning Minister Kiriella over the use of public funds to pay the salaries of road development consultants who have found an easy road to salvation?
Why must the public pay the minister's political debts especially at a time when higher VAT and other taxes are being imposed on the public claiming the government needs additional revenue? If there is a debt to be paid it should be paid to the voters of the Kandy district who made a fatal error in voting for Kiriella.
And what are the UNP leaders who appeared before the public as clean and incorruptible doing against a senior party man who has made a damning admission that surely violates the principles of good governance that they promised the people? This is not the first time that Minister Kiriella's name has cropped up over misuse of his position. Remember his attempt to influence appointments to positions in two universities by writing letters to university authorities.
And it is this country with more warts appearing regularly on the face of this yahapalana administration that Sri Lanka's dear friend in the US State Department, the mid-level diplomat Nisha Biswal, wants to turn into another Singapore. Such a herculean task would surely make Sri Lanka the miracle of Asia.
Or are those principles and pledges made last year about clean government now part of the paleolithic age?