A sitting Cabinet
View(s):

My dear Shadow Cabinet Ministers,
I thought I should write to you to congratulate you on your new appointments. After all, it is a great honour to be bestowed with ministerial responsibility, even if it is of the 'shadow' type. I am sure it will lead to greater things later although I do have a few questions regarding your new positions.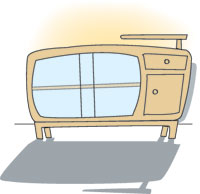 Many people in 'Yahapaalanaya' have ridiculed your appointments saying it is a joke and that you are trying to live a fantasy because most of you have been in power for so long and now cannot do without it. I am sure they say that only because they are worried that you would pose a threat to them!
I think you should take this Cabinet to the next level: you should have regular 'shadow' Cabinet meetings and announce 'shadow' Cabinet decisions. You could even ask for offices and vehicles. We already have ninety-odd ministers and deputies, so another fifty one won't make a huge difference.
Like with all appointments to the Cabinet, some of your appointments are more interesting than others. There was young Namal being appointed as 'shadow' Foreign Minister. He must be thrilled although his first official tour as 'shadow' Foreign Minister was not overseas but to Welikada!
I am not sure who selected you for your 'shadow' posts but you should be careful about hurting the sentiments of elderly people. Just imagine how poor old GL must be feeling. After being kicked out of Parliament, he now has to tolerate the sight of Namal strutting around as 'shadow' Foreign Minister!
I like the idea of Bandula being appointed as your 'shadow' Finance Minister. This chap made his mark as a tuition master in Economics and became famous for saying a family of four can live on two thousand and five hundred rupees a month. I am sure he will make that happen when he is a Minister!
But I suspect that Basil must be jealous after seeing Bandula being appointed as the 'shadow' Finance Minister. I know that Basil is not in Parliament but surely that is not an excuse; all you had to do was to appoint a 'shadow' National List, appoint him to a 'shadow' Parliament and make him a Minister!
Another appointment that is really appropriate is that Udaya fellow being appointed as the 'shadow' minister for Law and Peace. He tries to disrupt the peace at every given opportunity and is out on bail on charges for breaking the law, so his practical experience will, I am sure, be very useful in his job.
I noticed that MPs we haven't even heard of have been given a ministry. I don't see anything wrong with that because under 'Yahapaalanaya', even chaps like Palitha are ministers. Besides, if you don't give everyone a 'shadow' ministry, Maithri is sure to give them a real ministry and win them over.
I think I know why you thought about a separate ministry to oversee the prisons. At the rate members of your 'shadow' Cabinet are being charged and sent to jail, you can hold your Cabinet meetings at Welikada- and I am sure that the Field Marshall will happily give you an introduction to life there!
There is confusion about one aspect though and maybe you could explain that. Usually, a 'shadow' Cabinet 'shadows' the real ministers of the day. We have only forty seven real ministers but you have fifty one 'shadow' ministers – but I am sure either Wimal or Udaya will find a reason for that too.
Of course, some are saying the Constitution permits only a Cabinet of thirty Ministers and you didn't even take that into account when deciding on your 'shadow' Cabinet. Now, If Maithri can get away with that by calling his government a 'national' government, I don't see why you can't do the same.
I feel that you have already started to act like a real Cabinet: why, you even had your first resignation! That Lohan chap has resigned saying no one asked him before appointing him but I suspect the real reason might be because 'Yahapaalanaya' is fond of investigating the murders of rugby players!
Dear members of the Shadow Cabinet, we wish you well. It is true that most of you are now a shadow of your former selves and if it gives you any pleasure to be known as the 'shadow' minister for some subject or the other, we shouldn't complain because for some of you, that is all you will ever be.
Yours truly,
Punchi Putha
PS: I heard that Mahinda maama has resigned from his post as 'shadow' Prime Minister. In recent times, I think that is one of the smartest decisions he took. He would be better off if he extended his resignations to a few others titles he now holds too, but that would be asking for too much, isn't it?