Decadent generation sending parents to elders' homes
View(s):

Many people try to pursue happiness and improve their lives with courage, determination and tact. But there are others who try to make their lives miserable on their own. They do not realise that they are not living properly. The number of such people may continue to increase. Development needs to be for the happiness of all. Since an increasing number of people seem to be turning development into something negative, it may be a sign of the end of the world.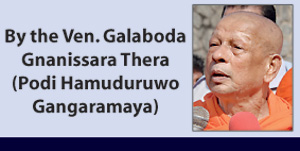 I received a letter from an 80-year-old man from Thalawathugoda in Jayawardenapura. In brief he says, "Rev. Sir: With great pain I raised a family and took care of them. On a decision taken by the family I will soon be confined to an Elders' home. This is not a decision taken by legal authorities, but by my family. Most of these homes are like prisons. I do not know why they are trying to put me there. Could you kindly help me?"
This is a true story of an elderly father who is suffering. Cannot the children see the plight of their father? Do they not know that they too would grow old? When our Lord Buddha wanted to attain Buddhahood, the deities had to show him the past to get an idea of reality. When his father King Suddhodana used all means not to show his son any evil in life, the sight of an elderly man, a sick person, a dead body and a monk changed his life. Prince Siddhartha was not given any opportunity to see or hear anything to discourage him. Because of this the Devas had to intervene.
After bringing up children and reaching old age and when one is about to reach the end of life, if the children and former dependents try to create sorrow and fear in a person it is indeed a great sin.
There appears to be little unity or human qualities even among people who are living in one home. Why talk about the neighbours and others outside? Today there are more elderly people coming to the temples on Poya days. Children who give a proper meal and take care of their parents are going down in number. There are more elders coming to the temples so that they can find a satisfying full meal at least once a month. It is the same at many Dansal. There are some countries wherein people die of hunger. We have not come to that stage yet.
We see some sort of development in the country with people managing their lives, and living in comfortable homes, with vehicles, clothing and other means of living. Though we say that happiness is wealth, some who earn a living continue to live in want and fear. There are increasing number of rogues, evildoers and people gone astray. We know how the law operates and how it is dispensed. It is common talk that judges, lawyers, doctors and security officers, who are kind and act with integrity, are decreasing in numbers. We see that Sri Lanka is becoming a country with religious and ethnic conflicts and political disputes. All religions that preach kindness, equanimity must abhor jealousy, anger and revengefulness. They have to open their eyes to reality.
These days there is a great public outcry in the Okinawa islands in Japan over the rape and murder of a Japanese woman by an employee of a US Marine base. In our country learned people appear to have no backbone to raise a cry against evil and injustice. At least cannot the members of a family raise their voice against any injustice happening at home? If we can start a campaign against injustices at home and spread it outside to minimise the evil, we can preserve the peace and happiness that we received from Arahath Mahinda. We need to lead by example instead of mere talk and criticism. If we are able to spread peace and kindness, we can minimise sickness and sorrow. Spreading it in our homes will make our homes happy like on a festive occasion. If we can develop our homes with cleanliness, good health, happiness and peace, we can avoid disputes. We do not require courts. Wealth will be preserved. We can save time. We can have happiness and wealth.
Not only for the laity, there is a move to construct elders' homes even for the clergy. Let all those benefactors who are trying to do this withhold their efforts and contributions. The more you build such homes the more the children would be tempted to send their elderly parents there.
At Kimbulawala in Madiwala some 15 years ago, we wanted to construct 40 luxury rooms as a home for the disabled. But when applications were called for, we found that children were trying to send their parents there. When we realised this we stopped the project.
Today there are only a few homes for destitute children. There are no destitute children now. It is not that there are fewer destitute children now but it appears not as relatives are making use of them to earn an income. They are using children for child labour in houses. If all those living together at home use their heads we do not need outside labour. Laziness has resulted in our destitution. If we can see the meaning of being destitute we can minimise our problems and do our duty intelligently.